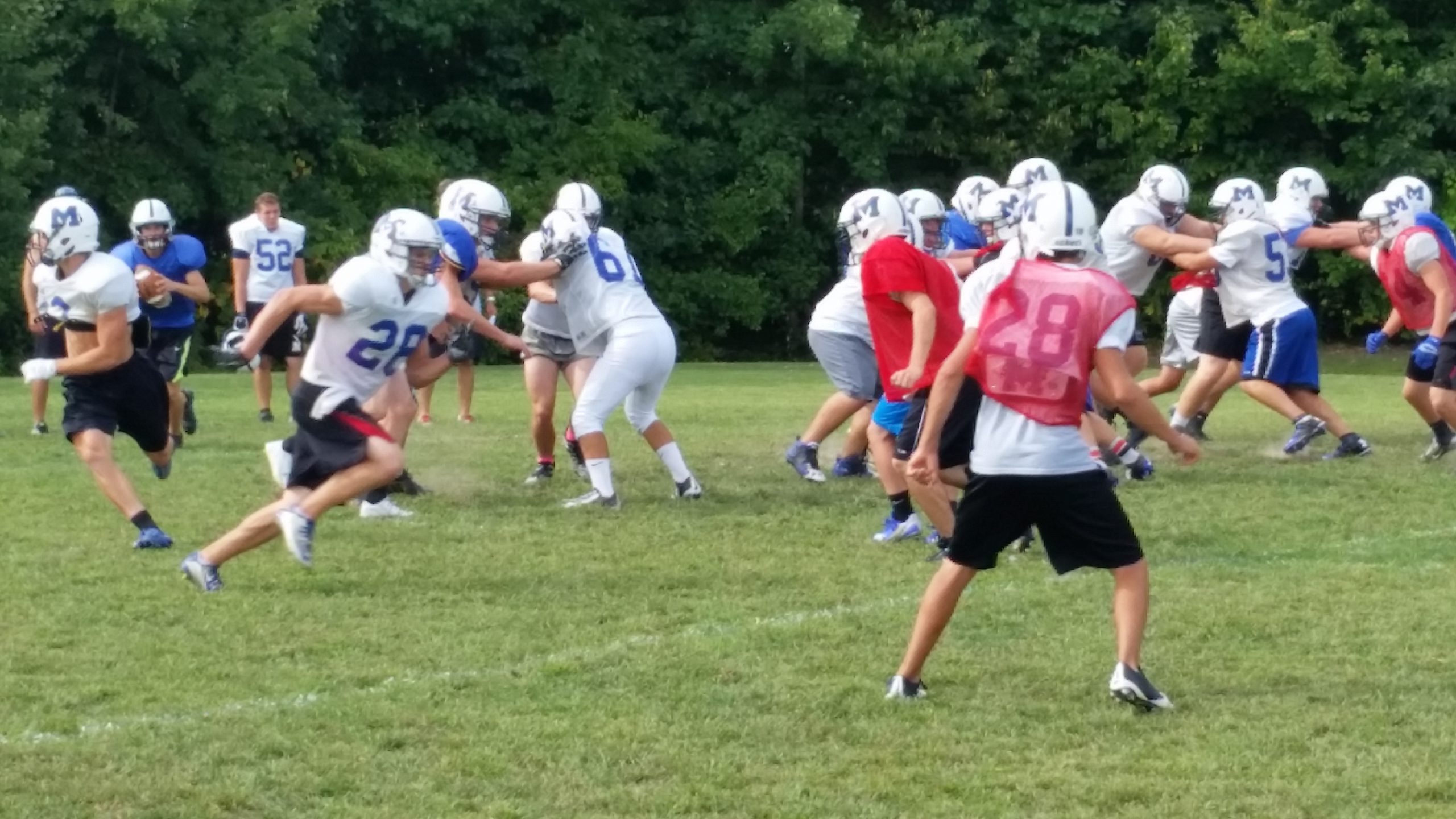 By Scott Piker
If the Madison Blue Streaks football team needed any more motivation for Friday night's game against their non conference rivals, the Perry Pirates, head coach Tim Willis took care of it early this week.
Willis went into one of the trophy cases at Madison High School and took out the "Little Brown Jug." Both schools battle for it every year. It has been in Madison's possession for the last four years. The goal is to make it five in a row.
"It's huge for the communities," Willis said. "A lot of people outside of football are into it because it is Madison vs. Perry. There is a lot of history with Madison vs. Perry. It's a great thing for high school football. This is why kids should play football to get into games like this. It's fun, someone's gotta win, someone's gotta lose, hopefully you are in games like this where people care."
The Blue Streaks will make the ten minute trip to Perry Alumni Stadium with a 2-0 record. Madison has scored 85 points in their first two games against Geneva and Lakeside while only giving up six.
This is the eighth straight year the Blue Streaks and Pirates will square off for the "Little Brown Jug." Madison is 4-3 in the previous seven meetings and are on a four game winning streak in the series.
The rivalry was renewed back in 2008 after a 12-year hiatus. Up until the rivalry was dropped following the 1995 season, the Blue Streaks and Pirates would open up the season against one another. No matter when the game is scheduled, what's important is two neighbors face each other every year.
"I sort of like it not to be game one because then your whole summer is emphasized on that," Willis said. "If you play them game three then it just as one game in that season. I like playing them game three because we really can't think about them until this week as opposed to thinking about them for four or five months."
The Blue Streaks are lead at quarterback by senior Connor Smith, who is in his second year as Madison's signal caller. Smith scored four touchdowns in the Blue Streaks season opening 41-0 win over Geneva, but missed last week's game at Lakeside as a precaution. Smith is good to go for Friday against the Pirates and looks to finish his high school football career 4-0 against Perry.
"It's very important to us, we've been talking about Perry since like January," Smith said. "It's a hometown rival, they are right next door. It's huge it's not just about us as team it's about the entire community, it means everything for us."
Senior Nick Law is a key contributor on both sides of the ball as a running back and a defensive back. Just like Smith, Law wants to keep the "Little Brown Jug" for a fifth consecutive year and finish his Blue Streak football career unbeaten against the Pirates.
"We've been working hard all week and I think we've got what it takes even though it's going to be a hard one," Law said.
Memories last a lifetime in a rivalry game like this. If someone makes a big play that could lead to a victory, it's something nobody will forget.
"I remember being a freshman, my very first start out on that field against Perry, I had a pick six that game," Law said. "It was unbelievable, we won by one point."
The Blue Streaks will see a very familiar face in the other uniform on Friday night. Pirates wide receiver Josh Petruccelli played at Madison last year. Petruccelli's former teammates will be ready for him as the rival.
"We wished we had him on the team but that's not how it is," Law said. "We just gotta do what we gotta do. I think it's going to fun to play against him because I know him and everything, it'll be cool."
"At first it was odd, but now we're over it," Smith said. "He's not just somebody we know now, Friday he is going to be the enemy, Saturday he's our buddy but Friday he's our enemy."
The Blue Streaks will also face a tough test defending the Pirates tight end Luke Farrell. Madison held the Ohio State recruit to just one catch in last year's game and look to do the same on Friday night.
There will be plenty of excitement at Perry Alumni Stadium and it's being noticed by members of the Cleveland media. The game will be televised by SportsTime Ohio as it's game of the week and expanded coverage of the game can be seen during WJW FOX-8's high school football show "Friday Night Touchdown" as it was voted as the game of the week.
Despite all the extra attention Madison plans to treat the game just like any other game on the schedule.
"You know you always got to say there is but you can't act like it," Smith said "If you start acting like it then everything gets too big and you start to play not well. You got to act like it's just a game, it's like playing your scout team you got to act like it's nothing."
"I don't put a lot of emphasis on what media is going to be there or not," Willis said.
"It's a good thing for Madison to be looked at. This is our third STO game you know, this is pretty big for Madison High School, I'm very proud of that they want to come out and hopefully watch Madison football. That's something the kids will be able to watch over the next couple of days but not one thing has been said about the STO game of the week or anything like that."
Friday's night matchup should provide a terrific tune up for both team's conference seasons which get underway in week four.
Check out Some Pics of Madison at Practice

NEO Sports Insiders Newsletter
Sign up to receive our NEOSI newsletter, and keep up to date with all the latest Cleveland sports news.