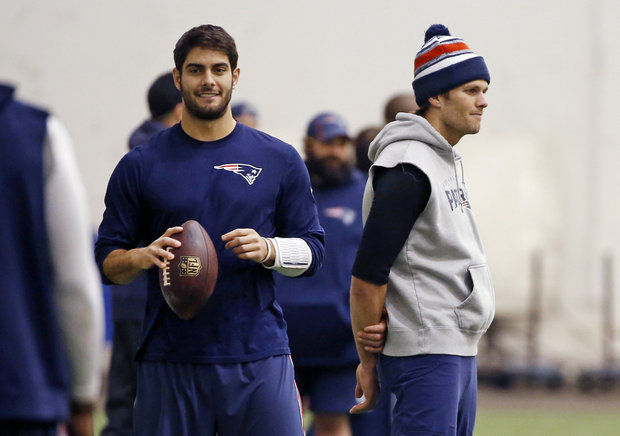 With the NFL Draft eight days away, Browns fans have pretty much turned their quarterback focus to a player that may be taken at some point over the two day event, and have all but forgotten about the teams' long time interest in Patriots backup Jimmy Garoppolo.
It was thought after the team made a deal to acquire picks and Houston Texans QB Brock Osweiler on the first day of free agency the Browns would have enough to entice the Pats to send Garoppolo packing to Cleveland.
Now though it appears Garoppolo is staying put, as no matter what the Browns have dangled, it hasn't been enough.
Patriots Personnel Director Nick Caserio danced around the future of Garoppolo, not really giving much of an indication if the team was truly interested in moving him or not.
"Anything that we do, we're always going to do what we think is in the best interest of our football team, and that's how we approach it," Caserio said.
"That's not going to change. Whatever you think is best for our team for 2017, for that season, then that's what we'll do. However that manifests itself, not exactly sure, but that's where the focus is, is trying to put together the best team possible for the 2017 season. However that comes about, then we'll take it as it comes."
So take that for what it's worth, it sounds like New England still is sold on keeping Garoppolo, and the Browns are going to have to look elsewhere for their next signal caller.

NEO Sports Insiders Newsletter
Sign up to receive our NEOSI newsletter, and keep up to date with all the latest Cleveland sports news.