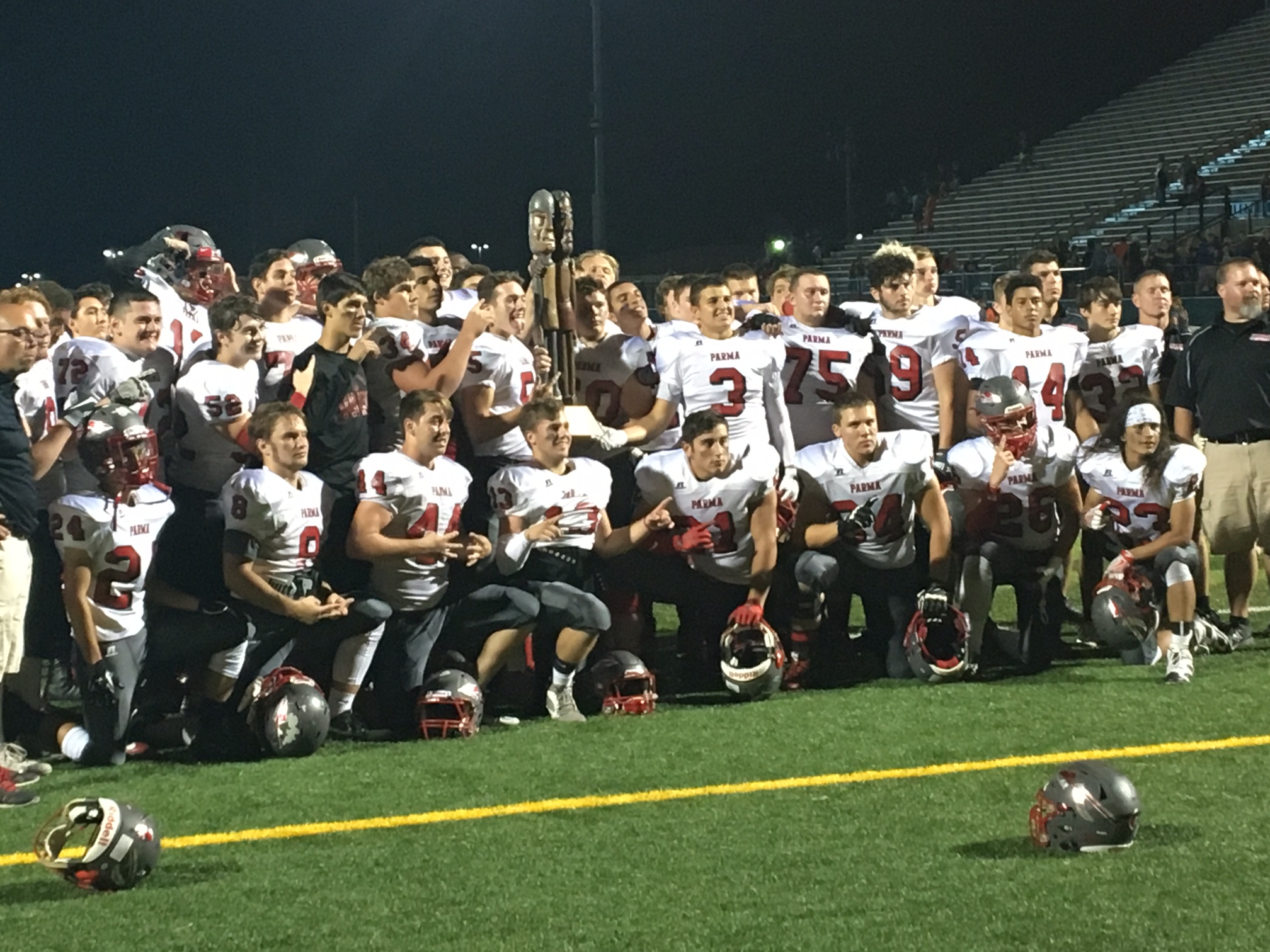 This High School Football Recap was brought to you by Setta Trophy.
PARMA, OHIO – When Parma Redmen Head Coach Bruce Saban was asked before tonight's game at Byers Field what the keys were to victory over neighborhood rival, the Normandy Invaders, he said "Turnovers. We have to protect the ball. We've been much better at it this year than we were last year. We cannot put the ball on the ground and give them a chance to make plays, because they are going to play with a ton of heart, no doubt about it. They have some guys over there who are very hungry. We have to protect the football, and control what we can control".
Coach Saban's words rang true, as Parma piled up unofficially 271 yards on the ground and ran for 4 touchdowns on the night, to retain "The Goal Post Trophy", which is given annually to the winner of this game.
Parma grabbed the an early 7-0 lead in the first quarter as Senior QB Kyle Lyon scored on a 29 yard scamper on a 4th and 11 play. Normandy was then forced to punt on their next drive, and the Redmen drove right back down the field, this time Junior runningback Mark Post galloped 29 yards to paydirt to give Parma a 14-0 at the end of the first quarter.
Normandy could not get any offense going, as they again had to punt the ball back over to Parma. The Redman then drove back down the field, and after a big 12 yard reception by Junior wide receiver Dylan Herb, and a nice catch and run by Junior wide receiver Andrew Shields for another 18 yards, Senior runningback Vinny Livdur was able to complete the drive with an 8 yard jaunt into the endzone, to give Parma a 21-0 halftime lead.
The third quarter is when Parma grinded their way to their final touchdown on the evening, as Senior runningback Bryson Durham barreled into the endzone from 3 yards out, to give the Redmen a 28-0 lead. Normandy was able to get on the scoreboard with under a minute to go in the game, as Junior QB Ryan Dengler scored on a three yard touchdown run to make the final score 28-7.
Coach Saban had this to say about his team's performance tonight: "We played really hard. We played a little undisciplined at times, getting in our own way." Coach Saban went on to say "A little sloppy tonight. I am really pleased with our effort. I tip my hats to Normandy, they played hard for 48 minutes. Gotta a lot of respect for those guys and what they are doing and what they are trying to accomplish. But I am really happy for our Seniors. The trophy stays at our place. We are 2-0 in rivalry games and we are looking ahead to EC (Elyria Catholic) this week."
Senior runningback Bryson Durham was asked his thoughts on tonight's game, and he said "I was really excited for it (the game). But I thought we could of done better. We kind of shot ourselves in the foot and got penalties on ourselves, and I could of done better personally, but overall, it was a good game. We came out with the W, and that's all that matters".
Parma has now won three games in a row, to move their record to 3-1 on the season. Normandy falls to 0-4. Parma was led on offense by Senior runningback Bryson Durham with 13 carries for 81 yards and a touchdown. Junior Runningback Mark Post finished the game with 5 carries for 70 yards and a touchdown. Sophomore runningback Jonah Bagby chipped in 62 yards on 13 carries for the Redmen.
SCORING SUMMARY
1ST QUARTER:
PARMA: LYON 29 YARD RUN (CHUHA KICK)
PARMA: POST 29 YARD RUN (CHUHA KICK)
2ND QUARTER:
PARMA: LIVDUR 8 YARD RUN (CHUHA KICK)
3RD QUARTER:
PARMA: DURHAM 3 YARD RUN (CHUHA KICK)
4TH QUARTER:
NORMANDY: DENGLER 3 YARD RUN (BOWER KICK)
Next Week:
Parma hosts Elyria Catholic at Byers Field next Friday (9-23).
Normandy is at Holy Name next Friday (9-23).

NEO Sports Insiders Newsletter
Sign up to receive our NEOSI newsletter, and keep up to date with all the latest Cleveland sports news.