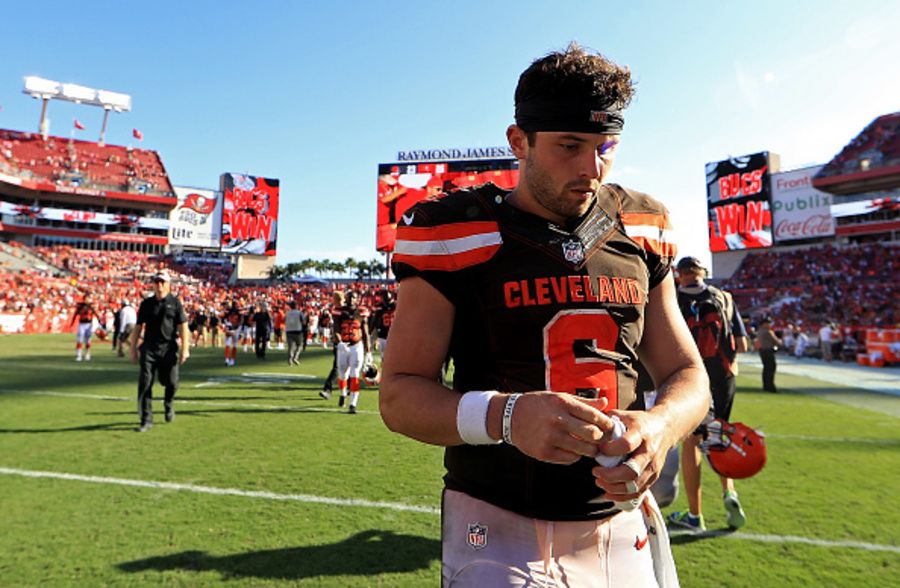 Fair or unfair, it's become commonplace to compare rookies entering the NFL to current or former players at their position. For Browns quarterback Baker Mayfield there have been plenty of them, starting with former Browns first-round pick Johnny Manziel. Mayfield has also drawn comparisons to future Hall of Fame QB Drew Brees, mostly for his similar "undersized" stature.
But as the Cleveland gets ready for a matchup this weekend with the Carolina Panthers, it's Panthers' head coach Ron Rivera compared Mayfield to a different Super Bowl winning quarterback. For him, Mayfield reminds him of former Bears QB Jim McMahon.
Panthers' HC Ron Rivera on his evaluation of QB Baker Mayfield, who will square off Sunday vs Carolina: "I will tell you what. He reminds me a lot – I hope that he appreciates it – of a guy that I played with named (former Bears' QB) Jim McMahon."

— Adam Schefter (@AdamSchefter) December 5, 2018
As Rivera mentioned, he played with McMahon in Chicago from 1984 to 1988 before McMahon was traded to the then San Diego Chargers in 1989. But Rivera and McMahon were both part of the historic 1985 Bears squad that won the Super Bowl.
The comparison between the two is actually pretty spot on. McMahon, like Mayfield today, brought a magnetizing swagger with him to the NFL that Bears fans loved and opposing teams viewed as cocky. One time, McMahon mooned a group of reporters when they asked about an injury to his buttocks. He also was known for rocking headbands, which on several occasions got him in trouble with the NFL and then-commissioner Pete Rozelle. Another one of his signature moves was rocking sunglasses all the time, which was actually due to an eye issue that left him very sensitive to sunlight.
In the 85 Bears famous Super Bowl shuffle music video, McMahon even described himself as "punky."
While, McMahon didn't finish his career with the most eye-popping numbers by any means, his two Super Bowl rings – one of which came with the Packers as a backup to Brett Favre in 1996 – and unique bravado make him a memorable figure in NFL history.
Mayfield also wears headbands when he plays (see above) but his antics haven't quite reached the level of McMahon's yet in his first season. However, there was the infamous crotch grab during his senior season at Oklahoma and planting the flag at Ohio Stadium after beating the Buckeyes. The No. 1 overall pick hasn't shied away from speaking his mind at press conferences either, particularly on the subject of his ex-head coach Hue Jackson in recent weeks.
Browns fans certainly hope Mayfield leaves a similar legacy behind though, one with multiple Super Bowl titles for the plagued franchise. Ideally, Mayfield also ends his career as a Hall of Famer though too. For what it's worth, Mayfield is already on pace, in just his rookie season, to throw for more yards than McMahon did in any season during his career. So while McMahon and Mayfield have very similar personalities, the comparisons may just stop there.
Follow: @Spencito_

NEO Sports Insiders Newsletter
Sign up to receive our NEOSI newsletter, and keep up to date with all the latest Cleveland sports news.