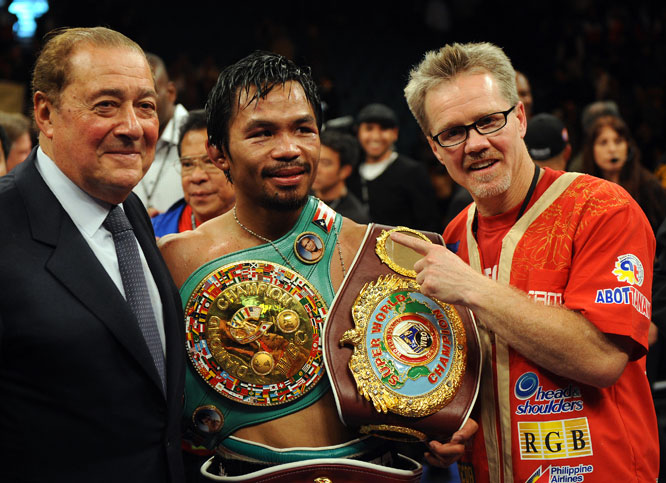 Manny Pacquiao returned to the ring tonight and defeated WBO Welterweight Champion Jesse Vargas by decision to win the title.
Vargas looked sharp early, and controlled the pace in the first round to take the round 10-9. Manny gained firm control in the second round however and floored Vargas with a stiff left handed shot that put the champ down for the standing 8 count. Giving Pac Man the round 10-8
Pacman retained control in the third round as well, using his combos well to keep the champ off balance and take the round 10-9. Vargas still looked shaky in the fourth round as well, and Pacquiao used it to take his third straight round and build a solid lead on the scorecards.
Realizing his title may be slipping away, Vargas formed a sharp rally in the fifth and sixth rounds, doing just enough to win both rounds. He used a series of steady head shots to keep Manny at bay.
Pacquiao got back to work in the seventh, using a stiff jab to throw off Vargas and keep him from getting inside to do any damage. He continued the on slaught in the 8th, 9th and 10th taking all rounds and grasping firm control of the bout.
With two rounds to go, Vargas would become a desperate man, knowing only a knockout would save his title.
Also, a bad cut had opened over the eye of Vargas, pretty much eliminating any chance he may have had at winning.
When it was all over, Manny Pacquiao was once again WBO Welterweight Champion after winning on all 3 judges score cards by scores of 118-109, 188-109 and oddly enough, 114-113
Do we know get a second Superfight with Floyd Mayweather Jr who was at ringside for this? Only time will tell!