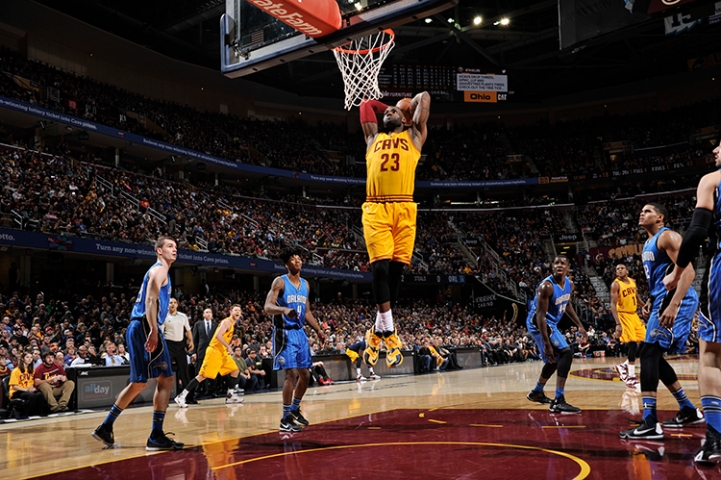 Please excuse the Cleveland Cavaliers if they view the Orlando Magic as a 'little brother' of sorts.
When you beat up on someone for so long there is a good chance you can't help but to look at them as little more than a pest or nuisance…and the Cavs have slapped Orlando around for quite a while.
With their 104-79 victory over the Magic Jan. 2 at Quicken Loans Arena, the Cavaliers ran their win streak over Orlando to 13 games. They have won all three match-ups between the teams this season, and none of the three have been close.
In fact, the three biggest losses of the season for Orlando (19-15) have all come at the hands of the Cavaliers.
In the latest installment, Kevin Love continued his mastery of the Magic, scoring seven points in the first 4:53 as the Cavs jumped out to a 13-2 lead and coasted most of the evening. Love ended the contest with his 14th double-double of the season, scoring 10 points and snaring 13 rebounds.
Orlando has been Love's favorite opponent this season. On Nov. 23, in Cleveland's 117-103 win, Love scored a season-high 34 points. He scored 20 of those in the second quarter and, at one point, scored 17 straight Cleveland points.
On Dec. 11, a 111-76 Cavaliers win at Amway Center in Orlando, Love scored eight points, grabbed 13 rebounds and handed out a season-high six assists in just 28 minutes of action.
"They're a good team, we just got off on the right foot tonight," Love said of the Magic. "The ball was moving, guys were getting great looks and on the defensive end we felt like we did a great job throughout the entire game. We put pressure on them, we had a great game plan so we're happy with the way 2016 started."
The Cavaliers dominated the first half, taking a 55-32 lead into the locker room at halftime. LeBron James, who was questionable before the game with an undisclosed illness, controlled the first half, scoring 20 points on eight of 11 shooting while adding five rebounds, two assists and two steals.
The Magic came into the game sixth in the Eastern Conference, but were overmatched…as has been the case against Cleveland, who sits first in the Eastern Conference at 22-9.
The Cavaliers built their lead to as many as 31 points on four different occasions in the second half.
"We just play physical against them," Tristan Thompson, who scored 10 points and pulled down 12 rebounds, said. "It also helps when you have guys making shots, making great plays and moving the ball. They're a good team and you have to give them a lot of credit. We were just making shots and picked it up tonight."
By winning their 13th straight against Orlando the Cavaliers have now won more consecutive games against one opponent since winning 12 straight against the Philadelphia 76ers from the 1994-98 seasons.
"I can't speak about anything before last year because I wasn't here," Cavaliers coach David Blatt said of his team's mastery over Orlando. "I believe we caught Orlando twice either after tough games or west coast trips or, in this case, a back-to-back. That has an effect, no question.
"That, to me, is more a reason than any other but you could say we match up well against them. You could say that."
Orlando coach Scott Skiles did not like how his team failed to compete.
"We didn't compete and we're starting to struggle now and showing signs of (not) competing for long stretches of time," he said. "We mentioned it at halftime…we were playing like we have no heart. A team like (Cleveland), with the way that they beat us last time…they figure if they play well early and get on top of us they can coast it in. And that's pretty much exactly what happened."
Orlando guard Evan Fournier, who scored nine points and took just five shots in 28 minutes of play, said he had no answers.
"I don't know," he said. "For some reason we're just struggling against the Cavs and we have no answer for them. I don't know if it's a question of matchups, but we're really struggling with them. We've just got to play harder anyway."
The Cavaliers' exceptional ball movement was one reason Cleveland was able to build the big lead and hold it. In the contest the Cavaliers had 24 assists on 34 field goals. They were also shot 39 free throws to 17 for Orlando, a statistic that was skewed by the fact Orlando fouled five Cleveland 3-point shooters.
Love was thrilled with his team's ball movement.
"It keeps everybody in sync and on the same page and makes the game really fun to play," he said. "When the ball is moving like that everybody is getting great shots. Guys come into the game and feed off that energy. Bron always says 'that ball has energy' so it was a great game for us tonight.
"On top of that we didn't turn the ball over."
Magic center Nikola Vucevic admitted the Cavaliers took any suspense out of the game early.
"It's frustrating and tough when we let them build their lead like that," he said. "They're not going to let you come back, especially at home. We have to pick it up as a team on that (defensive) end if we want to be the team that we can be. It's important for us to do that."
Kyrie Irving, who scored 13 points in just over 21 minutes, said there probably wasn't much Orlando could have done against the Cavs, who were in rhythm all evening.
"Everybody was locked in from the jump," Irving said. "You could tell, the verve we had out there. We played with a chip on our shoulder and we need that every single night."

NEO Sports Insiders Newsletter
Sign up to receive our NEOSI newsletter, and keep up to date with all the latest Cleveland sports news.