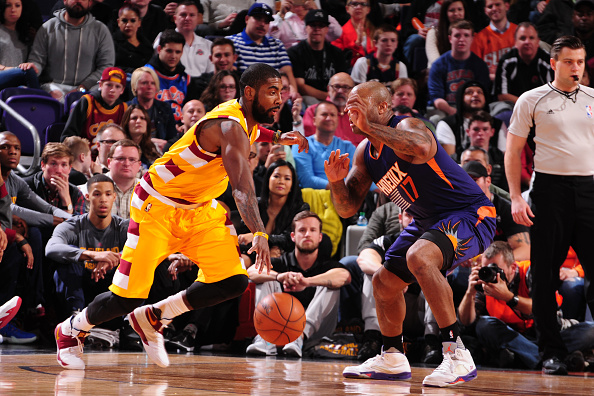 CLEVELAND – A few weeks ago, the Cavs were rolling out lineups that did not include Iman Shumpert and Kyrie Irving while JR Smith, Mo Williams and Matthew Dellavedova were also absent at times.
Their depth has been tested from the start of training camp and after weathering some early storms, the reigning Eastern Conference champs are starting to look like the team we all know they're capable of.
"You appreciate being around these guys everyday at practice," Irving said. "We understand it's a process but we are taking the right steps."
The Cavs latest victory, a 104-79 drubbing of the Orlando Magic on Saturday, was a tutorial of what this team can be when healthy and firing on all cylinders.
They used crisp ball-movement, unselfish passing and great communication on the defensive end to put together one of their most impressive wins of the season.
Kevin Love, who finished with a double-double of 10 points and 13 rebounds, only took five field goal attempts yet had a huge impact on the game.
"The ball has been moving well and it keeps everyone in sync ," Love said. "The ball has energy and it makes it a lot of fun when we're moving it around out there."
The Cavs recorded 24 assists on 34 field goals and turned the ball over just four times in the game.
It was their third win in a row coming off tough back-to-back loses on the west coast against Golden State and Portland.
Cleveland now sit atop the Eastern conference at 22-9 with a 2.5 game lead on Chicago in the suddenly ultra-competitive conference.
They have all their players available and Irving is close to being taken off his current minute restrictions.
"I'm starting to feel really good in terms of my pace and getting up and down. I'm still knocking off a bit of rust with my shot but I feel great." Irving said.
The season is now making its way to the half way point and this is the time of year that the superior teams really start to separate themselves.
The Cavs will host the Toronto Raptors tonight before heading on a long road trip that will be a key stretch of their season.
They'll play six straight road games during the nine day trip before returning home for a huge game against Golden State on Monday January 18th.
Health permitting, it will be a great test to see where they stand after that tough stretch.
After all, it will be the first big trip that they have the whole team close to 100%.
Though the season is already three months old, it is really just beginning for the Cavs and their championship admiration's.
It should be a fun ride.

NEO Sports Insiders Newsletter
Sign up to receive our NEOSI newsletter, and keep up to date with all the latest Cleveland sports news.