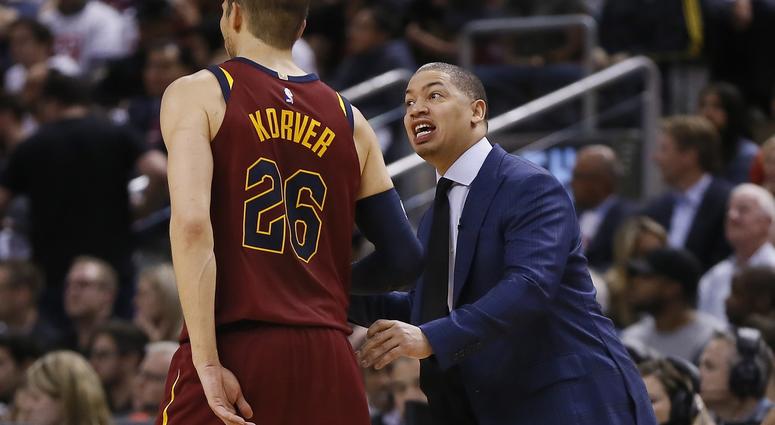 It's hard being a professional coach, no matter what sport or league. No one envies the position these men and women are in due to the extreme amount of pressure and responsibility that comes with the gig. Everyone understands the decisions needed to be made aren't always done due to a variety of reasons, that being an injury or maybe a bad matchup.
But Cleveland Cavaliers head coach Tyronn Lue gets no free pass for the stunt he pulled in Game 5 of the Eastern Conference Finals.
Kyle Korver has been by far the second-best option for Lue in these playoffs. The 37-year old has provided a spark offensively thus far with his catch-and-shoot ability and instinct of knowing the right basketball move. He's also been surprisingly tough to shake on the defensive side of things, locking down younger guards that probably don't even remember Korver's Philadelphia days. It would be a no-brainer to put him out on the floor in important spots of the game.
Apparently, nobody told Lue.
Korver played a meager nineteen minutes in Wednesday's game and didn't even enter the game until the second quarter. While the Cavs faced a thirteen-point deficit after twelve minutes of play, Korver could only watch from afar as his team struggled. He only finished with seven points but that shouldn't be placed on him.
Lue has mismanaged Korver's minutes in the playoffs from the beginning. In the eighteen-point loss to Indiana in Game 1 of their first-round series, Lue played the sharpshooter for just over three minutes. After playing him over the twenty-minute threshold for twelve straight games, the third-year head coach fell back into his bad habits and it cost Cleveland in a crucial game.
Here's the information you need to know in a pretty straightforward manner. The Cavs are 10-3 when Korver plays twenty or more minutes in the 2018 playoffs. If Korver's minutes drop below twenty, Cleveland is 0-3. One would think with the information presented that it would be simple to just stick with what works and play Korver more. But that's not where we are.
Instead, Korver and his talents wasted away during big moments of the contests. When he did enter the ballgame, he never could develop a rhythm that he had going in the first four games of this series. It left Cleveland in a bad situation due to the fact no one besides LeBron James and Kevin Love were garnering any offensive flow.
If you would've told me I'd be writing an article on why not playing Kyle Korver twenty minutes in an Eastern Conference Finals game could be the nail in the coffin back in October, I would've rolled my eyes. No one, including myself, is ignoring that statement's validity now.
It's going to be anything but simple for the Cavs moving forward but playing the sharpshooter is one the musts in Game 6. Korver opens the floor for everyone around him and kickstarts an offense. Oh yeah, JR Smith seems to play a lot better with him too. Smith is only averaging 8.3 points per contest when Korver doesn't hit the specific minutes that shows success. When the two play together extensively, Cleveland has two three-point threats in their main rotation.
With no consistent offense coming from the other ten players, Korver provides a two-for-one deal. He'll light up the basket and ignite his teammates to do the same thing. That is. of course, if Tyronn Lue doesn't overthink the situation and plays one his better players.