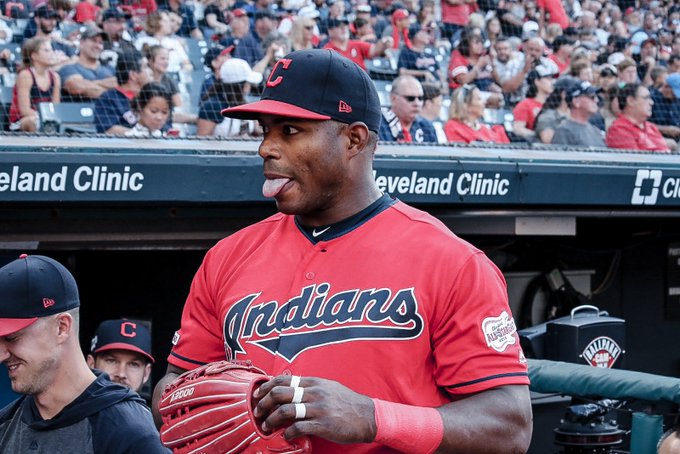 Yasiel Puig is just one of those players that you have to hate when he isn't on your team but when he is on your team, he is a very special player to watch and easy to appreciate.
Puig came to the Cleveland Indians in a three-team trade between the Cincinnati Reds and San Diego Padres. The Indians only had to give up Trevor Bauer to the Reds and got a huge haul in return, including Padres outfielder Franmil Reyes.
Puig has only played in nine games for the Indians but he is extremely beloved by the Indians fanbase. From the dance moves, the waving on the basepaths, the blowing of kisses, and lastly beating out an infield single.
Puig also seems to be someone that teammates are able to rally around and the Indians have been able to see success. Yasiel Puig might have been the better option if it was a possibility to have on the team instead of the likes of Edwin Encarnacion who was just a power-hitting designated hitter that had a high amount of home runs but was never really remembered in his time in Cleveland for many memorable moments. Many fans even believe that they didn't see the best version of Edwin Encarnacion, which is disappointing for the amount of money the organization spent on him, along with the anticipation of success that came with Edwin.
When the trade was made at first glance many fans were worried about Puig's attitude along with if he would accept the city along with his new teammates. It's safe to say now that the Indians right fielder has accepted Cleveland and his new teammates, and you can see it just by looking at his Instagram story.
Cleveland can definitely use someone like Puig in the future but the team will have to pay him because following the 2019 season, Puig will be a free agent. More than likely Puig might not be seen in an Indians uniform come 2020 and all hope wouldn't be lost due to the fact that the Indians outfield will still have Franmil Reyes until 2025. If Cleveland did decide to pay Puig though for another 3 to 4 years to be a member of the Indians, fans would love it. Fans have turned in favor of the antics that Puig carries with them that were once hated due to fans "getting the bird" back in his Dodgers days. Cleveland has gravitated to Yasiel Puig due to the fact that he is fun to watch and brings a new style/enjoyment to the game.
As for the Indians signing Puig to a contract following the 2019 season, I personally don't think it would be out of the question. When you have the opportunity to play for a contender or when you win a championship, money is not always the determining factor. Money still can be a pretty large factor but if you are winning you care a little less when you and your teammates are performing on the field. Puig could continue his time here following the 2019 season also because of his connection with Jose Ramirez in which he was good friends with before he was traded to Cleveland.
Regardless if Yasiel Puig is no longer a member of the Indians following the 2019 season, Cleveland fans are enjoying him now and would love to see him here following this season. Fans would enjoy Puig even more if somehow the Indians and Puig can bring home a World Series Championship to Cleveland for the first time since 1948.

NEO Sports Insiders Newsletter
Sign up to receive our NEOSI newsletter, and keep up to date with all the latest Cleveland sports news.