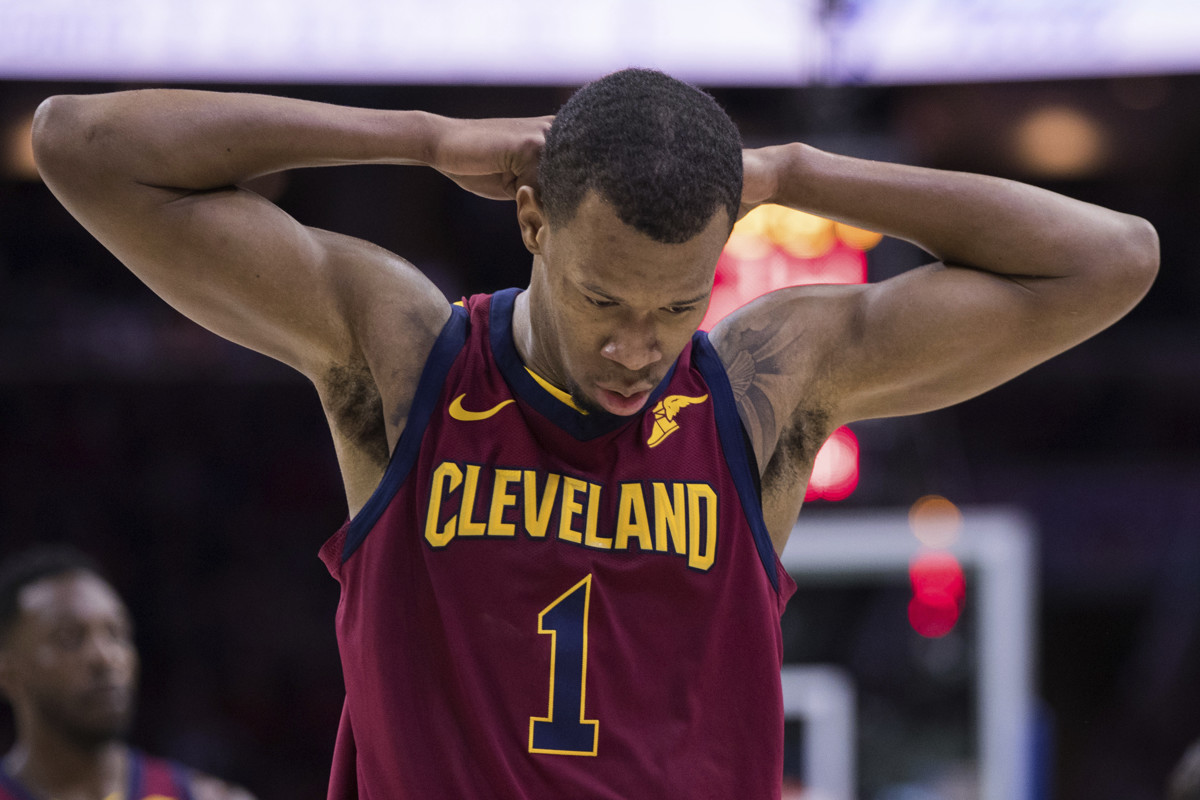 It's time to play Rodney Hood for the Cleveland Cavaliers. No ifs, ands, or buts about it.
You can argue that Hood's attitude or mentality are reasons why he isn't playing. But those arguments are played out at this point.
The fourth-year pro was brought in to be a stylistic nightmare for teams like Golden State. However, he's spent less time on the floor than on it. That's a nightmare in itself for Cleveland.
When Cavaliers general manager Koby Altman acquired Hood along with Jordan Clarkson, Larry Nance Jr. and George Hill, the former Jazz wing was heralded. Altman spoke with high praise about Hood's ability to play as a guard in a wing's body and how he can create his own looks to generate scoring. He looked forward to pairing him up with LeBron James as another ball-handler who could score consistently.
It started that way. Hood received a very good amount of minutes from Cavs head coach Tyronn Lue, seeing upwards of 20 minutes per contest. Injuries started to hamper Hood's role with the team, as the Cavs were anxiously trying to find an identity. They really weren't sure what they had with Hood due to the lack of games. The former Duke standout played in 21 regular season games with Cleveland, missing eight of those contests due to injury. That's a good amount of games missed in that small of a stretch.
But let's not act like Hood isn't a player in this league.
He averaged 16.8 points per game for Utah in 39 games, with only twelve of them being starts. The 25 year old also showcased seven games in which he scored 25-plus points for the Jazz. With Gordon Hayward's departure, he and Joe Ingles were the two best wings that the team had to start the year. That absence created an opening for Hood to show his ability to be a top scoring option on a team and he did so. That's why Cleveland wanted him.
So the playoffs didn't start the way Hood or the Cavaliers planned. Hood received a start in Game 1 against the Indiana Pacers in the opening round and it was far from his best showing. He had nine points and two rebounds in just over 20 minutes of game action, picking up two quick fouls that seemed to derail his flow. Cleveland lost that game by 18 points.
That was the last time Hood started for the Cavs. He's had three other games where he's seen the right side of 20 minutes, all of those coming in the Indiana series. There might be a reason for his inconsistency and frustration.
It wasn't ideal for Hood to behave the way he did at the end of the Cavs' sweep of Toronto. When called from the bench to enter the game in garbage time, Hood refused to check in. The backlash was expected and it was rightfully anticipated by local and national media outlets. Hood's reasoning wasn't too great, either, as he said he just wanted Jose Calderon to get some minutes.
But is that seriously enough to hold him out of the biggest series of the year, the best time to utilize his talents?
Hood played one game against the Warriors this season back in December. He came off the bench for a 26-point effort in just 29 minutes in a losing effort, but really showed his knack for lifting an offense through ruts. It wasn't just that game either, as talked about through this article.
Lue said Hood would get an opportunity in this series. An opportunity to do what? Sit on the bench while the game is still in reach? Play in the waning minutes while fans are heading for the exits?
There shouldn't have to be a "Rodney Hood is good at the game of basketball and can help your team" article published at this time. But sadly, here we are.
So Hood will probably keep getting skipped over and left out of the Cavs' rotation in these Finals for whatever mind-boggling reason, whether it be his antics in the Toronto series or Lue not knowing what to do with him. Meanwhile, the Cavs continue to search for a steady third option on the floor.