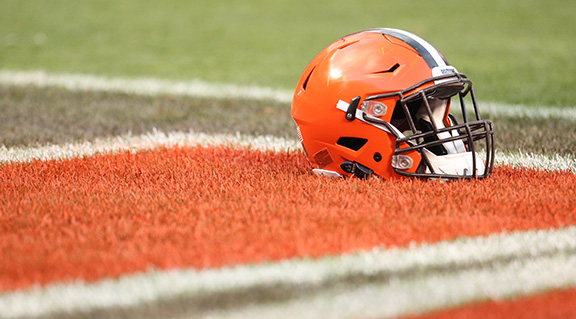 That's a wrap for the preseason. Not only did a 20-16 win over the Lions earn the Browns the coveted Great Lakes Classic trophy, it also saw them finish with a a 3-1 record in the preseason; hopefully a sign of things to come.
Before the Browns can officially start playing meaningful football though, John Dorsey and Freddie Kitchens have some tough decisions to make as they'll cut their roster down to the required 53-players by Saturday at 4 pm.
Thursday served as the last chance for any bubble players or players fighting for a roster spot to make one last memorable impression on Dorsey and company. While some guys made the most of their opportunity and could find themselves surviving roster cuts, others may have played their way out of a spot and will be looking for work elsewhere. It's the toughest time of year in the NFL.
With a full slate of four preseason games to reference, it's time for one last projection of what the Browns roster will look like come Saturday afternoon.
Quarterback (3)
Baker Mayfield, Drew Stanton, Garrett Gilbert
Cut: David Blough
At this point it's essentially a guarantee that Freddie Kitchens with opt for keeping three quarterbacks. Baker Mayfield and Drew Stanton are QB1 and QB2 and AFF refugee Garrett Gilbert is a shooin for the third spot after an impressive preseason. David Blough, meanwhile, gets the short straw here.
Running Back (3)
Nick Chubb, Dontrell Hillard, D'Ernest Johnson
Suspended: Kareem Hunt (8 games)
Cut: A.J. Ouellette, Trayone Gray, Joe Kerridge
Another position group that seems pretty clear cut at this point. The Browns brass are clearly big fans of Dontrell Hillard and he had a pretty solid final preseason outing, posting 65 yards rushing on 12 carries and scoring a receiving TD. Behind him D'Ernest Johnson has emerged as a solid third string option as well. This should be the group until Kareem Hunt returns from his suspension and hernia surgery.
Wide Receiver (6)
Odell Beckham Jr., Jarvis Landry, Rashard Higgins, Derrick Willies, Ishmael Hyman, Braxton Miller
Suspended: Antonio Callaway (4 games)
Cut: Damion Ratley, Dorian Baker, Damon Sheehy-Guiseppi,
This group is tougher. A week ago it looked like Jalen Strong was a roster lock, only for the team to cut him earlier this week. Moving on from Strong puts Derrick Willies in the driver seat to make this roster. I think Braxton Miller is safe by virtue of holding down Antonio Callaway's spot until he serves a four-game suspension. For the sixth wideout, I gave the nod to Ishmael Hyman. The AAF product has put together a pretty decent preseason with 11 receptions for 130 yards. The bigger reason for him earning a spot over Ratley though is his availability. Ratley has barely played this preseason due to a hamstring injury. Perhaps the Browns were keeping him off the field as protection because he is going to make the roster but in a world where the best ability is availability Hyman could sneak in past him.
Tight End (3)
David Njoku, Demetrius Harris, Seth DeValve
Cut: Pharaoh Brown, Stephen Carlson, Rico Gathers
David Njoku and Demetrius Harris are virtual locks. Seth DeValve on the other hand is a question mark. The one saving grace for hm is that he was asked to try his hand at full back in the third preseason game, a position the Browns are lacking as Joe Kerridge continues to deal with a concussion. DeValve makes the roster for now but it's unlikely that John Dorsey is satisfied with the final spot in this group and will probably look to upgrade.
Offensive Line (9)
Greg Robinson, Joel Bitonio, JC Tretter, Eric Kush, Chris Hubbard, Drew Forbes, Austin Corbett, Kendall Lamm, Wyatt Teller
Cut: Kyle Kalis, Willie Wright, Bryan Witzmann, Brad Seaton, Travis Vornkahl, Brian Fineanganofo
The Browns will go into the season with plenty of concern along the offensive line. From both tackle spots to right guard this group is an obvious weakness right now, which is why they traded a fifth and sixth round pick to Buffalo yesterday to acquire Wyatt Teller. It's safe to say he's making this roster. Besides Teller you have the starters: Greg Robimson, Joel Bitonio, JC Tretter, Eric Kush (at least to start the season) and Chris Hubbard. Gotta think Austin Corbett is safe based on his draft status and versatility to potentially play guard or center. Drew Forbes has given Kush a run for the starting right guard spot, so he's in. And Cleveland can't possibly start the season with only two tackles on the roster and Lamm has stood out as a solid option to back them up. Come Sunday though, there could be even more new faces in this group as Dorsey will most certainly scour the waiver wire for more O-lineman.
Defensive End (5) 
Myles Garrett, Olivier Vernon, Chris Smith, Chad Thomas, Anthony Zettel,
Cut: Wyatt Ray, Jarrell Owens
This year the Browns have so much defensive line depth, be ready for some surprises when it comes to cuts. That said, I'm rolling with my original five for the edge rushing group. Zettel could be a miss here but his versatility in being able to play outside or inside on the defensive line saves him for now. The rest seem like pretty solid bets.
Defensive Tackle (4)
Larry Ogunjobi, Sheldon Richardson, Devaroe Lawrence, Trevon Coley
Cut: Brian Price, Brandin Bryant, Carl Davis, Daniel Ekuale,
For the interior defensive lineman, Larry Ogunjobi and Sheldon Richardson are the only obvious locks. The trio of Devaroe Lawrence, Trevon Coley and Daniel Ekuale are likely fighting for the other two spots. Of that group, Lawrence seems to be trending toward making the roster after putting together a solid preseason. We watched him get better each and every week of the preseason. That leaves Coley, who started for the Browns each of the last two seasons, and second-year man Ekuale.
Linebacker (7)
Joe Schobert, Mack Wilson, Sione Takitaki, Christian Kirksey, Genard Avery, Ray-Ray Armstrong, Adarius Taylor
Cut: Willie Harvey, Anthony Stubbs, Dedrick Young III
Nothing changes here from my midway through the preseason 53-man roster projection. The seven guys listed as making the team feel pretty comfortably set at this point.
Cornerback (5) 
Denzel Ward, Greedy Williams, Terrance Mitchell, T.J. Carrie, Phillip Gaines
Cut: Robert Jackson, Lenzy Pipkins, Tavierre Thomas, Donnie Lewis Jr.
The first four of this group are pretty set. It's the fifth spot where the Browns have a decision to make. Tavierre Thomas has shown some promise this preseason. So too have Lenzy Pipkins and Donnie Lewis Jr. Ultimately, I opted for the veteran in Phillip Gaines to make it over those younger options.
Safety (5)
Damarious Randall, Morgan Burnett, Eric Murray, Sheldrick Redwine, Jermaine Whitehead
Cut: J.T. Hassell, Tigie Sankoh, Montrel Meander
No changes here either as Damarious Randall, Morgan Burnett and Eric Murray should expect plenty of usage this season. Sheldrick Rewine had a disappointing training camp and preseason but there's no way the Browns are giving up on a fourth-round pick that quickly. He's safe. So too is Jermaine Whitehead.
Kicker (1)
Austin Seibert
Cut: Greg Joseph
Talk about the ultimate preseason comeback story. Even about a week ago Austin Seibert was being called a wasted fifth-round pick. Now, he's the clear top dog in what's been a roller coaster of a kicking competition with Greg Joseph. Seibert is some sort of magician cause he was just about left for dead before nailing all four of his field goal attempts against the Buccaneers and then going two-for-two in the preseason finale as well. For what it's worth he also nailed both of his extra point attempts last night too. That along with the fact that he alone handled all the kicking duties the last two weeks is a pretty telling sign for Greg Joseph.
Punter (1)
Britton Colquitt
Cut: Jamie Gillan
It seems like the Browns have tried a few different ways to get the Scottish Hammer on the roster, even letting him handle the holding responsibilities for Seibert against Detroit. Ultimately, I thin Dorsey and company opt for the veteran presence of Colquitt.
Long-snapper (1)
Charlie Hughlett
Who else is gonna do it?

NEO Sports Insiders Newsletter
Sign up to receive our NEOSI newsletter, and keep up to date with all the latest Cleveland sports news.