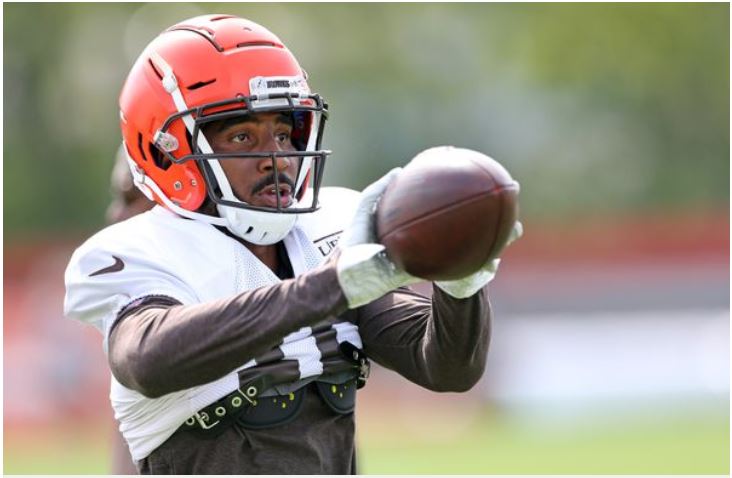 When the Cleveland Browns signed Braxton Miller last week, I had two initial reactions.
First, I felt he would struggle to find opportunities to make an impact in Cleveland. That said, I also didn't think he'd even get a chance to try, as it seemed there weren't any openings for him on the depth chart.
While nothing's official just yet, it's looking as though I may have been wrong on that last one.
Despite competing against receivers who've had plenty of time to learn Cleveland's offense, it's looking like Miller is on the verge of locking up a roster spot.
It didn't seem lofty to assume the former Ohio State standout had an uphill battle in front of him. Miller was signed by the Browns just a little over two weeks before the regular season, and one week before final roster cuts.
He essentially joined a crowded receivers room, with only days left in training camp, having to prove he deserved a place on the team over several players who had a whole summer of work in Cleveland.
Toss in the fact Miller has underwhelmed in his three-year NFL career, and it all just seemed as though this signing was nothing but some friendly pandering to local fans.
Two preseason games later, it's feels as though the Browns have more planned for him than just appeasing the Buckeye faithful.
Miller finished his preseason with 30 yards on five receptions. Despite the bulk of his catches coming off short-range passes, he was still able to show off agility, speed and an ability to make something happen in open space. Helping his cause is the fact he was doing this despite only having a week to learn a brand new offense.
Braxton Miller: Still shifty 🌪️🌪️ @BraxtonMiller5 pic.twitter.com/ClPrb1UjnS

— The Checkdown (@thecheckdown) August 30, 2019
The Browns were unlikely to uncork any trick plays which could take advantage of his skillset, so it was important for him to find whatever opportunities he could to show his value. While nothing will be determined until Saturday, he should feel optimistic about his chances.
Of course, Miller wouldn't have found himself on the verge of a roster spot without a little help. That's exactly what he received this week.
Several of the wideouts Miller was competing with lost ground in the competition, or were just eliminated from it completely.
Many, myself included, felt Jaelen Strong was on the safe side of the Browns' roster bubble. As a result, Cleveland's decision to cut him earlier in the week came off as quite a surprise.
Likewise, while Ishmael Hyman was hardly guaranteed a roster spot, he had himself an uneven night in Cleveland's preseason finale. Hyman made a few solid catches late in the game, but also dropped several passes thrown his way early on.
D.J. Montgomery was placed on injured reserve. Damon Sheehy-Guiseppi showed little after his punt return touchdown from Cleveland's preseason opener.
Essentially, Miller may have done just enough to earn a roster spot, but he also received just enough help to remove what doubt may have remained.
Icing the cake for Miller is the fact the Browns have a temporary opening on the wideout depth chart thanks to Antonio Callaway's suspension. While there's no indication Cleveland plans to cut ties with him, the team can use his roster spot on another receiver while he misses the first four games of the year.
That said, if Miller does officially land a place on the team, it should be viewed as just an extended audition.
As mentioned, it's unlikely Callaway is going anywhere yet. Miller would likely have just four weeks to avoid being the one who's cut once the suspended wideout returns. In that time, he'll have to find a way to stand out on an offense featuring Odell Beckham Jr., Jarvis Landry and Rashard Higgins.
It certainly wouldn't be easy. Then again, I felt the same way about his odds to make the team in general.
Right now, those odds look better than I thought they would.

NEO Sports Insiders Newsletter
Sign up to receive our NEOSI newsletter, and keep up to date with all the latest Cleveland sports news.