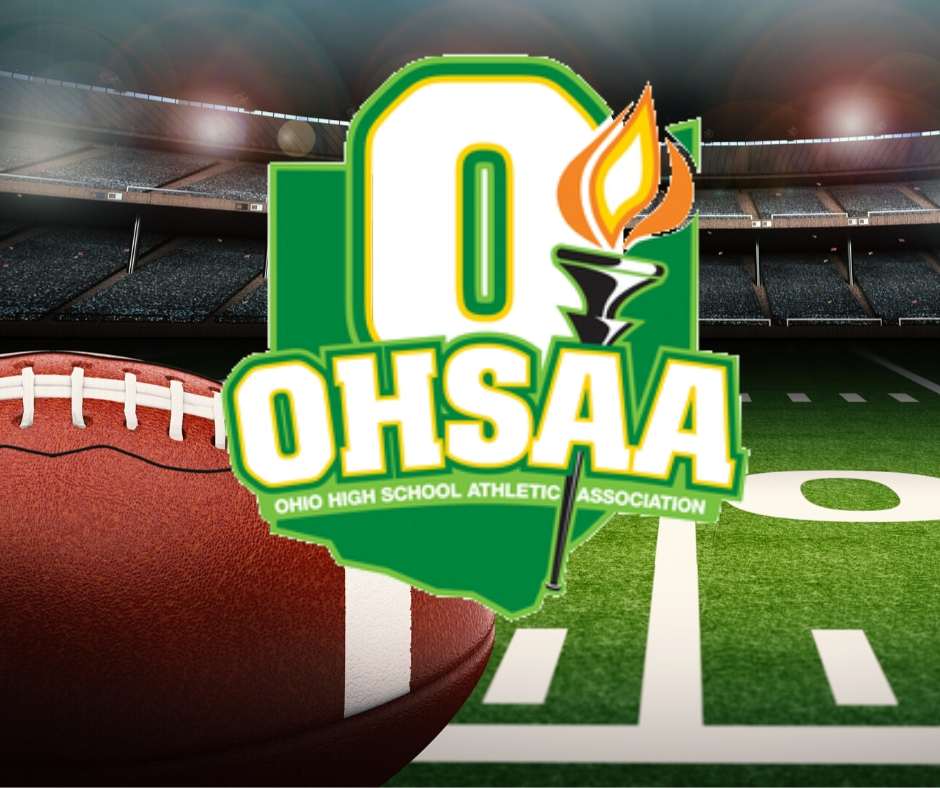 CANTON, OH –
This week, seven teams will have the honor of being crowned State Champions in their respective Division. Some schools are looking to make history for their programs while others are seeing familiar territory. All 14 teams have fought hard up to this point in their season and will put it all on the line this week. All games will be held at Tom Benson Hall of Fame Stadium in Canton. 
Division 2 Thursday 7PM: Archbishop Hoban (14-1) vs Toledo Central Catholic (14-1)
The Division 2 matchup is one of 2 powerhouses that have a 14-1 record coming into play. Hoban had impressive wins throughout their season against Cleveland St. Ignatius, SVSM, and others. In their Semi-Final game, they took down Massillon Washington to advance to the Finals. The Knights are led by Ohio Mr. Football Finalist, Lamar Sperling. They are looking to redeem themselves from last year's 2nd place finish. Last week, Toledo Central Catholic defeated Kings Mills in a shootout 52-49 to advance to the Finals. The Fighting Irish have a high-powered offense that has led them to most of their wins this season. Central Catholic is returning to the Finals for the 1st time since 2015 and looking for their first championship since 2014. Both teams were handed their only loss of the season to Lakewood St. Edward's. 
Division 5 Friday 10:30AM: Ironton (15-0) vs Canfield South Range (15-0)
On Friday morning, both schools will be playing for the rights to a perfect season. Ironton is led by the Senior offensive duo of Quarterback Tayden Carpenter and Running Back Jaquez Keyes. Last week in the semi-final, Keyes rushed for 152 yards and 3 touchdowns in a victory over Valley View. Ironton returns to the State Finals for the 3rd time in 4 years. However, they will look for their first championship since 1989. Canfield South Range is heading to the State Championship Game for the first time in program history. South Range has a well-balanced team with both sides of the ball being very dominant. The Raiders scored an average of 42 points per game while giving up just 8 points per game throughout the year. They defeated Liberty Center in the State Semi-Final 35-0 to advance to the Finals.
Division 3 Friday 3PM: Canfield (13-1) vs Carroll Bloom–Carroll (14-1)
Coming into Friday, both Canfield and Bloom-Carroll will be playing for their program's first State Championship. Canfield has made it to the State Finals just once where they fell short in 2005. They advanced to the Finals after defeating Holy Name 38-21 last Friday. Bloom-Carroll is playing in its first State Championship ever. However, in both 2020 and 2021, they reached the State Semi-Finals. They made the leap into the Finals this year after defeating Tippecanoe in the Semi-Finals 35-12. 
Division 1 Friday 7:30PM: Lakewood St. Edward (14-1) vs Springfield (13-1)
The Division 1 matchup on Friday night will be a State Finals rematch of 2021. Last year St. Edward defeated Springfield 23-13 in the State Finals. This year, St Edward comes in ranked 20th in the Nation according to MaxPreps. On average, the Eagles are outscoring their opponents 35-4 in the playoffs. They held offensive juggernaut Mentor scoreless in their quarterfinal matchup. Their defense is led by Coastal Carolina commit, linebacker Wyatt Gedeon. St. Edward looks to repeat last year's performance and bring home another State Title. 
Coming into play, Springfield is ranked 2nd in the State according to MaxPreps. They had a tough road to the State Finals. They went through Archbishop Moeller in the Semi-Finals to advance to the State Finals. Springfield is led by their Senior Quarterback Bryce Schondelmyer. On the season, Schondelmyer passed for over 4400 yards and 40 TDs to lead the Wildcat offense. The Springfield offense will look to continue their dominant offense and right the ship from last year's Finals loss.
Division 6 Saturday 10:30AM: Maria Stein Marion Local (15-0) vs Kirtland (15-0)
The Division 6 matchup comes with 2 programs that know a lot about state championship games. Last season both Marion Local (division 7) and Kirtland (division 5), made the State Finals game for their respective divisions. Marion was victorious and took home the D7 State crown, while Kirtland fell short of the D5 Title. However, these schools have a combined 18 State Championships throughout their history. Kirtland won it 3-straight years from 2018-2020, while Marion Local has won it 4 times since 2016. These programs take their perfect records into Saturday morning with a chance at another State Title. 
Division 7 Saturday 3PM: New Bremen (12-3) vs Warren JFK (13-1)
Saturday afternoon will be a rematch of the 2020 D7 State Finals. New Bremen came out on top in 2020 with a score of 31-0. The Cardinals come in after a Semi-Final win over Lima Central Catholic. New Bremen looks for the same fortune of 2 years ago and take another D7 State Title. Warren JFK comes into the matchup after defeating Danville in a close Semi-Final game 22-21. The Eagles look for their first State Championship win since 2016.
Division 4 Saturday 7:30PM: Cincinnati Wyoming (15-0) vs Cleveland Glenville (14-0)
The final game of the 2022 OHSAA Football season will be on Saturday night between Cincinnati Wyoming and Cleveland Glenville. Wyoming brings a powerful defense that does not give up much to opposing offenses. During the regular season, their defense gave up just 28 points in 10 games. They advanced to the Finals after defeating Steubenville 32-20. Glenville will be a great test for Wyoming as Glenville has averaged 38 points per game throughout their season. The Tarblooders advanced to the State Finals after defeating Jefferson Area 52-7 in their Semi-Final game. Glenville is looking for their first State Championship in program history.
State championships information, live stats, and coverage
:
 https://www.ohsaa.org/Sports-Tournaments/Football/Football-2021/2022-OHSAA-Football-Playoffs-Coverage
All games live on Spectrum News 1, Spectrum app, ohsaa.tv and OHSAA Radio Network.

NEO Sports Insiders Newsletter
Sign up to receive our NEOSI newsletter, and keep up to date with all the latest Cleveland sports news.