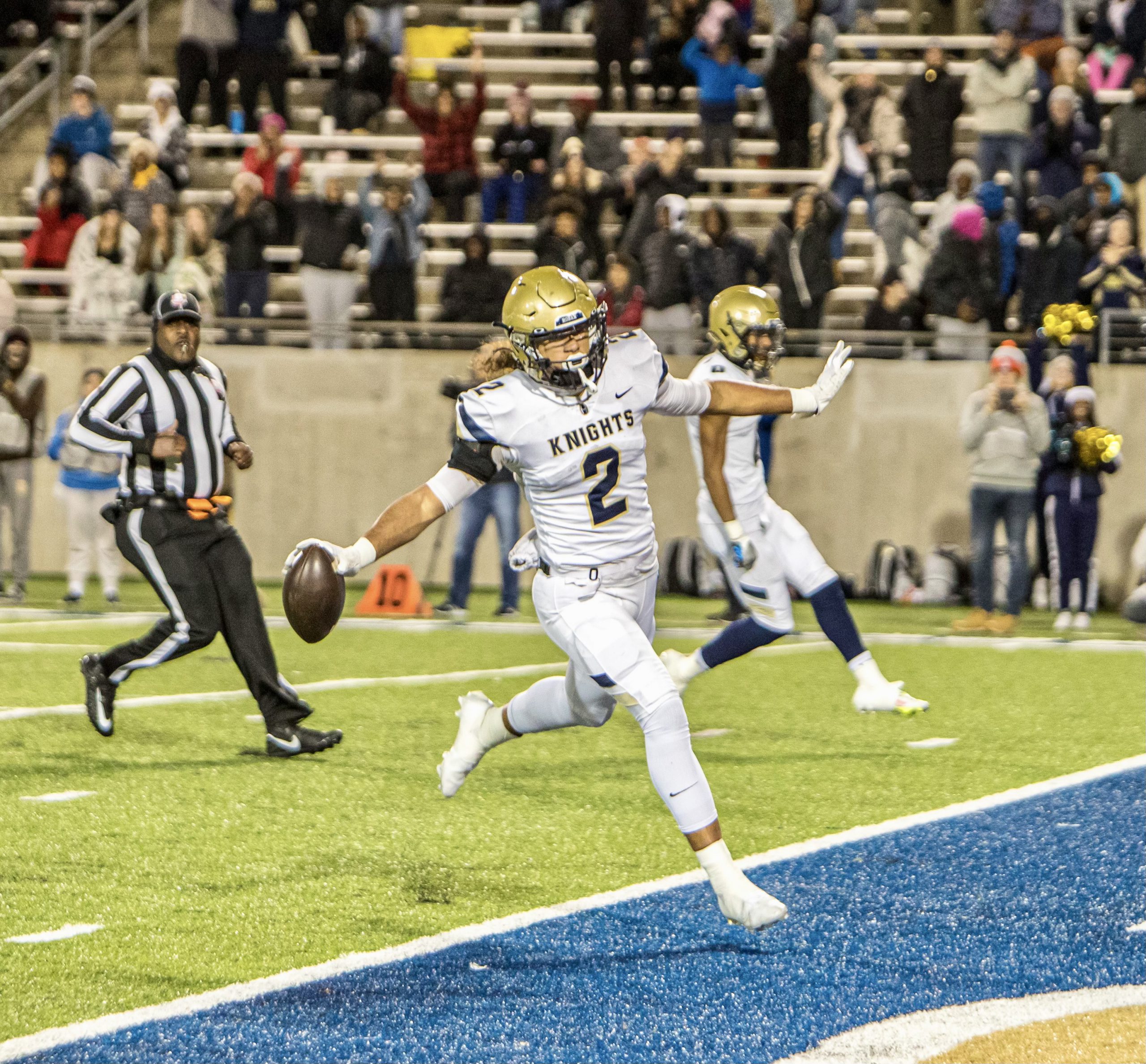 Akron, OH-
All eyes were on InfoCision Stadium in Akron Friday night as the Hoban Knights took down the Massillon Tigers 41-20 to advance to the Division II State Championship. With the Tigers selling out to stop star RB Lamar Sperling (278 yards 4 TD), QB Jacqai Long came up big when they needed him most, finishing the first half with over 200 yards and two touchdowns. The win puts the Knights back in the title game where they will look to avenge last year's loss.
First Half
The Tigers received the opening kickoff but wouldn't hold onto the ball long, as Hoban's Tylan Boykin picked off Jalen Slaughter on the third play of the game. The Knights would give it right back though as the offense couldn't get going and went four and out. On the second play of the ensuing Knights drive, Deon Rodgers got behind the defense and Jacqai Long found him for the 50-yard touchdown, putting Hoban up 7-0.
After forcing another Massillon punt, Hoban used some misdirection and Long found Jayvian Crable behind the defense for a 64-yard score, making it 14-0 Knights early. Neither team could get anything going on their next drives and Hoban took a two-score lead into the quarter break.
Needing a score to keep it close, Tigers RB Wiltrell Hartson exploded for a 20-yard touchdown to make it 14-6 Hoban early in the second. On their next drive, the Knights put together a six play, 76-yard drive finished off by a two-yard Lamar Sperling touchdown, stretching the score to 21-6. Both teams would have chances, but the defenses stood strong, and Hoban took a 21-6 lead into the half.
Second Half
The Knights received the second half kickoff and put together an impressive drive, getting into Massillon territory. As Sperling pushed for extra yards, Massillon managed to pop the ball loose, stopping the Knights in their tracks. Then, the Tigers put together their most impressive drive of the night.
Starting at the Hoban 30, Massillon put together a 10 play, 68-yard drive that was capped off by a seven-yard touchdown run from Dorian Pringle. A two-point conversion drew the Tigers closer at 21-14 late in the third. On the drive, Massillon picked up four first downs and converted a big fourth down, using a hard count to draw the Knights offsides.
As they have all season long, Hoban answered back right away. On the fourth play of the drive, Lamar Sperling sprinted down the sideline for a 55-yard score, stretching the Knights lead to 28-14. After both teams traded punts, Massillon started their next drive backed up on their own two-yard line.
Jalen Slaughter scrambled, looking for the open man but was intercepted by Tysen Campbell, setting Hoban up on the Tigers 37. Five Sperling carries later, the senior plowed in from a yard out for his third touchdown of the game, making it 34-14 Hoban midway through the fourth.
Massillon wasn't finished yet though, as the Tigers would get on the board again. Slaughter found Hartson in the corner of the end zone where the senior made a spectacular catch, drawing Massillon closer at 34-20.
After a failed onside kick, Hoban would take over at the 50-yard line with just over five minutes to go in the game. For the second straight drive it was all Lamar Sperling, as the senior carried the ball eight times for 50 yards and his fourth touchdown of the game. The Tigers would get one more possession, but the Knights held strong, coming away with a 41-20 victory.
Keys to the Game
Coming into the game, everybody knew the key to a Tigers win would be limiting Lamar Sperling, and the Knights used that to their advantage. Twice in the first quarter, the Massillon defense sold out to stop the run and Hoban hit them with two long touchdown passes. When you play Hoban, falling down two scores early is a recipe for disaster. The Tigers hung tough, but those two early touchdowns really made an impact.
Speaking of Sperling, the Mr. Football candidate once again turned in a dominant performance. Despite being held under 100 in the first half, Sperling finished the game with 305 yards and four touchdowns on 39 carries. The goal for the Knights all season long has been redemption in Canton, and they'll get their chance next Thursday night.
Next Week
One game stands between the Knights and their fourth championship in the last six seasons. Hoban will take on Toledo Central Catholic (14-1) Thursday night at Tom Benson Hall of Fame Stadium in Canton. The Fighting Irish advanced to the title game with a 52-49 win over Kings Mills Kings. Both teams' only loss this season came to the same opponent, Division I favorite St. Edward.
Top Performers
Massillon
Jalen Slaughter: 15-32 200 yards 1 TD 3 INT
Wiltrell Hartson: 20 carries 67 yards 1 TD   1 catch 20 yards 1 TD
Braylyn Toles: 10 catches 125 yards
Archbishop Hoban
Jacqai Long: 9-15 212 yards 2 TD 1 INT
Lamar Sperling: 39 carries 305 yards 4 TD   1 catch 12 yards
Jayvian Crable: 5 catches 139 yards 1 TD
Scoring Summary
1st Quarter
Hoban 6:40- Jacqai Long to Deon Rodgers, 50 yards (Ryan Burns kick good)
Hoban 4:39- Jacqai Long to Jayvian Crable, 64 yards (Burns kick good)
2nd Quarter
Massillon 10:24- Wiltrell Hartson, 20-yard run (Nolan Hendricks kick no good)
Hoban 7:03- Lamar Sperling, 11-yard run (Burns kick good)
3rd Quarter
Massillon 3:57- Dorian Pringle, 7-yard run (2pt conversion good)
Hoban 1:56- Lamar Sperling, 55-yard run (Burns kick good)
4th Quarter
Hoban 7:43- Lamar Sperling, 1-yard run (Burns kick no good)
Massillon 5:57- Jalen Slaughter to Wiltrell Hartson, 20 yards (Vinney Keller kick failed)
Hoban 2:15- Lamar Sperling, 4-yard run (Burns kick good)
| | | | | | |
| --- | --- | --- | --- | --- | --- |
| | 1st | 2nd | 3rd | 4th | FINAL |
| Massillon | 14 | 7 | 7 | 13 | 41 |
| Hoban | 0 | 6 | 8 | 6 | 20 |
Follow me on Twitter @devinlowe123 for more high school football coverage!

NEO Sports Insiders Newsletter
Sign up to receive our NEOSI newsletter, and keep up to date with all the latest Cleveland sports news.