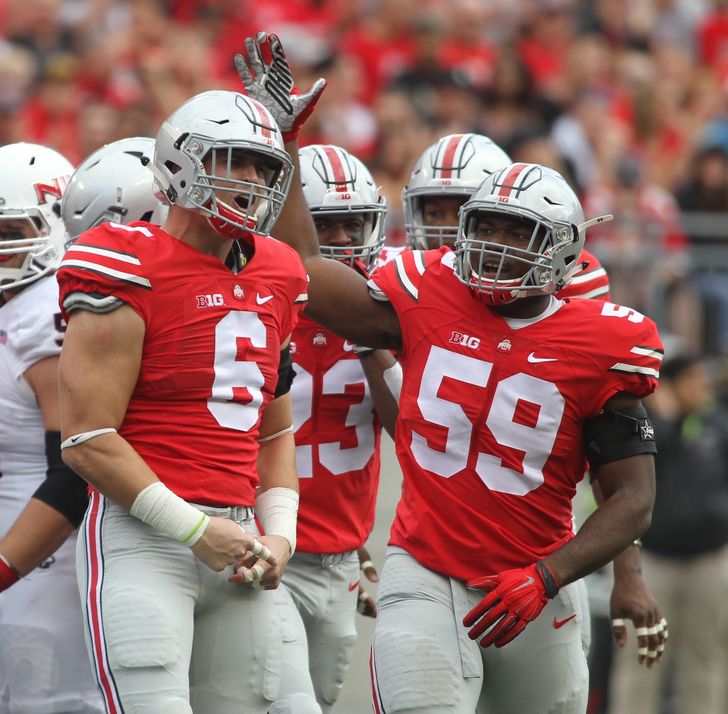 As we continue our (3) Ohio State @ (14) Oklahoma preview series, we'll take a look at the Buckeyes' front seven and how it will match up with the big bruisers on the Sooners O-line, along with the two running backs, Joe Mixon and Samaje Perine.
Coming into the season, most expected a drop-off with a fresh crop of new playmakers on both sides of the ball, and early on, it appears that Ohio State's offense might be its biggest strength.
But to the credit of the defense, the Buckeyes were dominant on both sides of the ball to start the season against inferior opponents.
Ohio State's defense did not allow a touchdown in the first two games against Bowling Green and Tulsa, but Oklahoma's potent offense will be the first true challenge of the season and one of the most dynamic opponents the Buckeyes will see all year.
It's also going to be the first true test for some of these young Buckeyes, some of whom have big game experience, but perhaps not in large roles, like they are playing in 2016.
Oklahoma has an efficient passing game, led by quarterback Baker Mayfield and a wide variety of receivers, but the Sooners will look to open up that passing game with the one-two punch of running backs.
If (6) Houston provided the blueprint to beating Oklahoma in Week 1, part of that recipe included shutting down the run.
The Cougars held Mixon and Perine to just 71 rushing yards on 12 carries.
Perhaps Oklahoma became a bit too one-dimensional in that game and head coach Bob Stoops will make an adjustment heading into the Ohio State game, but limiting the success of the run game should make life easier when it comes to stopping the Sooners through the air.
Take this with a grain of salt, but Ohio State only allowed 69 rushing yards to Bowling Green in Week 1 and 61 rushing yards to Tulsa in Week 2.
Clearly, Oklahoma is expected to surpass those numbers.
It will be interesting to see how the Buckeye defense performs in this marquee matchup and if Oklahoma can take advantage of the fact that the Buckeyes lost six starting defensive players to the 2016 NFL Draft, most notably Joey Bosa.
Ohio State's defensive line already was viewed as a question mark heading into the season, even before defensive tackle Tracy Sprinkle went down with a season-ending injury in Week 1 against Bowling Green.
Thankfully, for Ohio State, some of the next guys on the list, like freshmen Davon Hamilton and Dre'Mont Jones, saw significant playing time in each of the first two games.
Perhaps freshman Nick Bosa, who made a couple big hits in the first two games, will also get a chance to shine against the Sooners.
The players who have stepped in, whether for injuries or for departed Buckeyes who are now in the NFL, have done an admirable job through two games.
However, there's no way to know how they will handle the challenge of a marquee matchup until we see them on the field on Saturday night.
Although inexperience is a legitimate concern, Ohio State still has some key players who have been in these situations before, and proven they can make a difference on the big stage.
Redshirt sophomore defensive end Sam Hubbard is already a stand-out player, who came away with 6.5 sacks and eight tackles for loss in 2015, and already has seven tackles and one sack in the first two games of 2016.
He'll certainly be a player to watch on Saturday and will play in integral role in stopping the run and putting pressure on Mayfield.
Ohio State's front seven is led by Hubbard along with highly-touted draft prospect Tyquan Lewis (6 ft. 4 in. 266 lbs.).
Lewis has a chance to raise his stock against a tough Oklahoma offensive line, which features star left tackle Orlando Brown (6 ft. 8, 340 pounds), who was voted preseason All-Big 12 coming into the season.
Oklahoma's offensive line was ranked Top Ten in the nation by Fox Sports coming into the season, while Athlon Sports ranked the Sooners' o-line 31st in the nation.
That's a large disparity, but needless to say, it's one of the team's strengths.
The Buckeye linebacking corps is not quite as strong as years passed, but Dante Booker, Raekwon McMillan, and Chris Worley could have their hands full with Oklahoma, as Mayfield loves to get his running backs involved in the passing game.
Even if the Sooners only run the ball a dozen times, like they did against Houston, those two running backs are dual threats.
Mixon caught five passes for 77 yards against Houston, while Perine made three catches for 28 yards.
How Ohio State's linebackers contain Oklahoma's running backs both on the ground and through the air will be another area to watch on Saturday.
One of the best things Ohio State has going for them at this point of the season is health.
Aside from Sprinkle, the Buckeyes are in great shape and it might be a good thing that they are facing Oklahoma this early in the season because it's difficult to say how much depth Ohio State's defense has, when so many players are untested.
Ultimately, if Ohio State loses any key veterans this season, their chances of reaching the playoff will be slim, unless an unexpected underclassmen has a breakout season.
The Buckeyes still have tough tests against Michigan, Michigan State, and Nebraska near the end of the regular season and perhaps by those games, head coach Urban Meyer will have some more proven players who he can trust in primetime.
This game should give a clear picture of which Buckeye linemen and linebackers are up to the challenge of playing against the top teams in the nation, opposed to which players may need some more time to develop.
Will the Buckeyes' front seven rise to the occasion? That's precisely what this game will answer, to give a better idea of how "championship-ready" these young Buckeyes really are.
We'll flip the field in our next episode on Thursday, and take a look at how Ohio State's offensive line and running back committee matches up against Oklahoma in part three of our five-part series.

NEO Sports Insiders Newsletter
Sign up to receive our NEOSI newsletter, and keep up to date with all the latest Cleveland sports news.