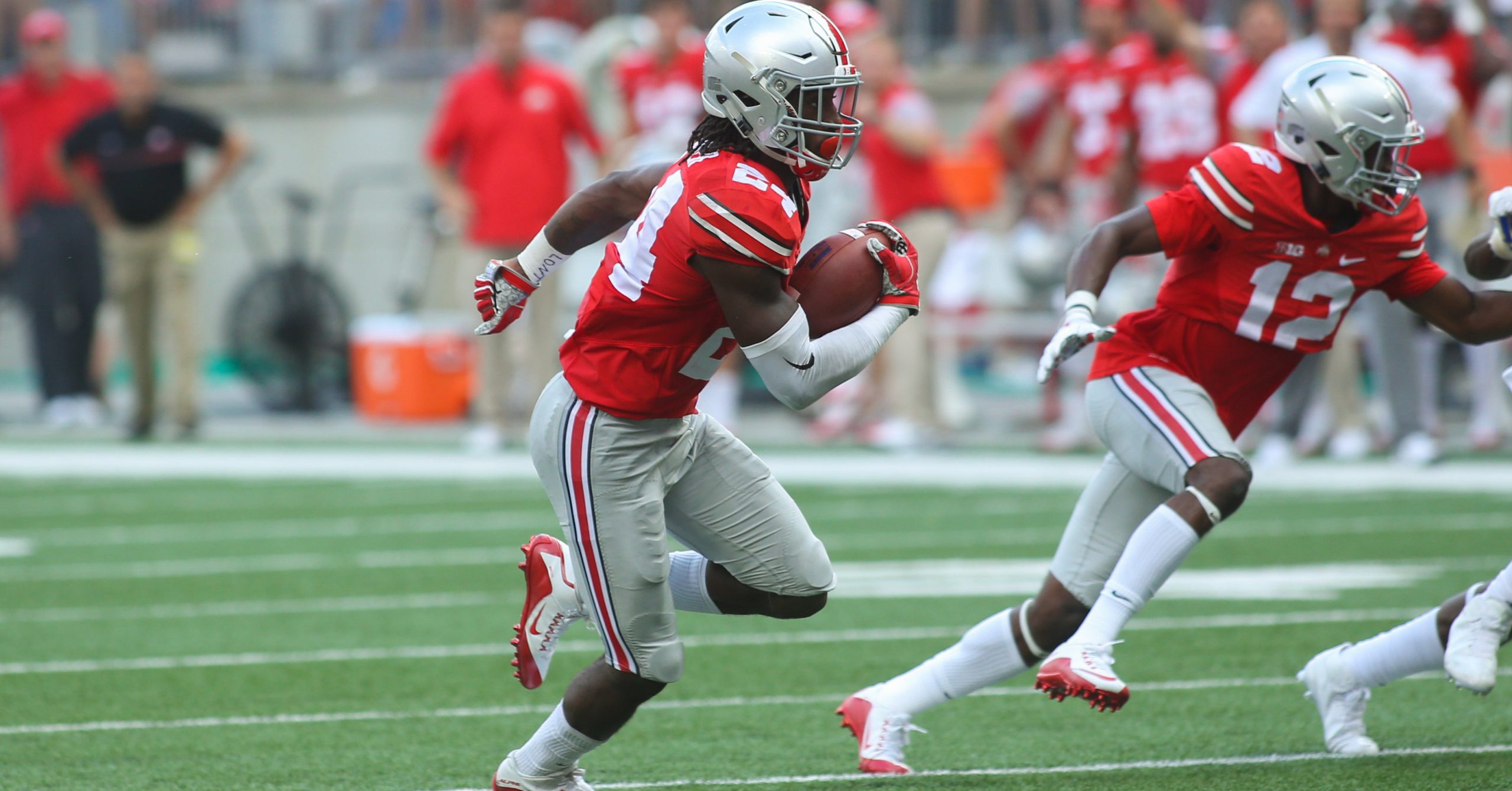 As the (3) Ohio State Buckeyes (2-0) prepare for their big showdown with the (14) Oklahoma Sooners (1-1), we begin our five-part series to preview this clash and prepare fans for what to expect.
Each day leading up to kick-off, we'll break down different key matchups to watch.
In Part 1, we'll take a look at Ohio State's secondary, and how it will match up against the Sooners' passing attack.
Without going too in-depth as to how these teams got to this point, here are some basic numbers leading up to this game.
Ohio State's secondary: Seven interceptions in two games, three of which were returned for touchdowns.
Oklahoma QB Baker Mayfield: 38/53, 567 passing yards, 5 TD, 0 INT.
We'll start with some notes on Ohio State's secondary.
The star of the defense has been sophomore safety Malik Hooker, who came away with two interceptions in the 77-10 win over Bowling Green, and ran back a pick-six in the 48-3 win over Tulsa.
Of course the level of competition plays a huge factor, but Hooker is off to as a great a start as any player in college football.
There are only two players in FBS aside from the Buckeyes' safety who have intercepted three passes in 2016. Hooker could be the national leader in picks by the time this season is all said and done.
He's been referred to as a "ballhawk," has a nose for the ball, whatever you like to call it, he just has that "it factor," to come up with big plays.
It's even more impressive considering Hooker started his first college football game in Week 1 against Bowling Green and is only a sophomore.
After the BG game, head coach Urban Meyer revealed that Hooker's mother would not let him quit during his freshman year, when he was upset about a lack of playing time.
If that's not the textbook example of "mother knows best…."
Buckeye nation thanks his mom for the words of wisdom.
Hooker will be one of the players to watch on Saturday night in Norman, Oklahoma, and now we get to see what the rising star can do against top-level competition, as opposed to Tulsa and Bowling Green.
The other key player to watch in Ohio State's secondary is Marshon Lattimore, a product of Glenville High School.
The redshirt sophomore cornerback came away with two interceptions in the Week 2 win over Tulsa, one of which he ran back for a touchdown.
It's worth pointing out that the two touchdowns from Hooker and Lattimore were also somewhat of a product of bad weather.
Let's just say the decision for Tulsa quarterback Dane Evans to throw the ball with strong winds, heavy rains, and little time remaining in the first half, was ill-advised and questionable at best.
Nevertheless, the Buckeyes made Tulsa pay.
A remarkable stat about Ohio State's defense is that it has not allowed an offensive touchdown through two games, but has scored three defensive touchdowns.
The only touchdowns scored against Ohio State came via offensive turnovers.
Oklahoma will put that defense and the secondary to the test in Week 3.
When it comes to Mayfield, the junior quarterback from Austin, TX has done his share as far as helping the team win.
Even when Oklahoma fell to (6) Houston, Mayfield completed 24-of-33 passes for 323 yards, threw two touchdown passes, and no interceptions.
His two favorite targets are sophomore Mark Andrews, who caught two touchdowns in the loss to Houston and has over 150 receiving yards in two games, and senior Dede Westbrook, who caught 12 passes in two games, collecting more than 100 receiving yards.
Lattimore (6 ft. 1 in.) and Gareon Conley (6 ft. 0 in.) will be the two starting cornerbacks. It'll be interesting to see what Meyer decides to do with these two players in the matchup.
Lattimore has been more impressive in two games to start the season, but Conley, a junior out of Massillon Washington High School, has more experience.
Conley started all 13 games in 2015, which could make him the lead candidate to handle Andrews (6 ft. 5 in.) to start the game.
However, if Oklahoma starts to take advantage of the mismatch, perhaps we'll see an adjustment from Meyer, and see how Lattimore can handle the challenge.
It'll be a tall task for Lattimore and Conley, as Andrews will definitely have the size advantage and Westbrook put up impressive numbers against Houston, but this is an opportunity for both of the Buckeyes to establish themselves as "shutdown corners."
Running backs Joe Mixon and Samaje Perine are also threats in the passing game, as the pair combined for eight catches and over 100 receiving yards against Houston.
We'll spend more time focusing on what Oklahoma's running game can do later on this week in our preview series, but keep an eye on those two during Saturday's game, as they may test Ohio State's linebackers, when Mayfield opts to check down or the Sooners run designed screen plays.
Coming into this game, it's tough to get a read on how great Ohio State's defense really is.
Up to this point, they've been outstanding as a whole, but it's the secondary that stood out most.
The title of this episode "Is the Secondary For Real?" is a rhetorical question. It's impossible to know after two games against low-level competition.
However, what is certain is that they went above and beyond the call of duty in the first two games, made one highlight play after another, and look well-beyond their years, considering the two stars are only sophomores.
As of now, it appears Ohio State's secondary is in fantastic shape for the next year and beyond, especially if Hooker and Lattimore manage to stay healthy.
Is Ohio State's secondary for real? We're about to find out. The Sooners will put them to the test in a hostile road environment.
Will inexperience play a factor? Will the young sophomores struggle under the pressure of a high stakes game?
Mayfield is one of the best quarterbacks in the nation, has yet to throw an interception, but did lose a costly fumble against Houston, and appeared to lose his poise late in the game.
Ohio State's front seven will be a big factor in getting to Mayfield and stopping the Sooners' rushing attack, which we will go into more depth in our next edition of this OSU-Oklahoma preview.
Something's gotta give in this one.
5 TD's and 0 interceptions from Mayfield. 7 interceptions from Ohio State's secondary (5 from Hooker and Lattimore).
It's just one aspect of several to look forward to on Saturday.
Check back on Wednesday night for part two, when we preview the battle between Oklahoma's rushing attack, and the Buckeyes' run defense.

NEO Sports Insiders Newsletter
Sign up to receive our NEOSI newsletter, and keep up to date with all the latest Cleveland sports news.