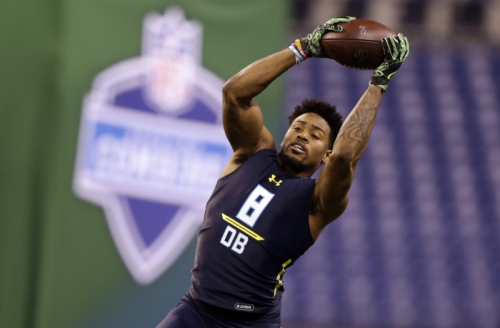 According to Cleveland 19 news, Gareon Conley has been accused of sexual assault. Originally the station was not giving out the players name.
On the morning of April, 9 police responded to the Westin Hotel in Downtown Cleveland and a police scanner described the situation as a 23-year-old woman who was a "victim of sexual assault".  The woman accused a former college football and top draft prospect.
Beyond these details, there are no additional ones to go along with this because there is no police report, which is quite odd.
Carl Monday from WOIO – TV had this to say on the status of the police report.
"CBS Cleveland 19 has asked for the Cleveland police report multiple times, and has been given no response as to why an initial or completed report isn't available nearly two weeks later. Our team was first told to contact Cleveland Sex Crimes, then was referred to Chief Calvin Williams. In compliance with Cleveland public record retention policy, our investigative team formally filed several record requests. Cleveland Public Records told Cleveland 19 in a response to our request for the incident report that they were waiting for the report from police."
Carl Monday also noted that a police report on a completely unrelated sexual assault from the same day is already available. Normally, police reports do not take that long to be filled so this makes the situation even more strange.
Gareon Conley's attorney told WOIO that the accusations are false and that Conley will return to Cleveland following the NFL Draft to be interviewed by police.
The woman told police that she had met Conley and his friends in a hotel elevator and asked her to have a foursome with his friend and another girl. The woman declined but Conley unbuttoned the woman's pants and pulled them down and proceeded to have sex with her. The woman told him to stop and that it hurts.
Once Conley was done the woman told police that Conley kicked her out of his hotel room. The woman went to the hospital and had a rape kit following the incident.
Police have interviewed two friends of Conley's that slept over in the hotel room. Both friends have told police that Conley did not have sex with the woman and that she was mad because Conley had kicked her out of the room.
A police report was finally issued on Tuesday and has been obtained by Deadspin.

NEO Sports Insiders Newsletter
Sign up to receive our NEOSI newsletter, and keep up to date with all the latest Cleveland sports news.