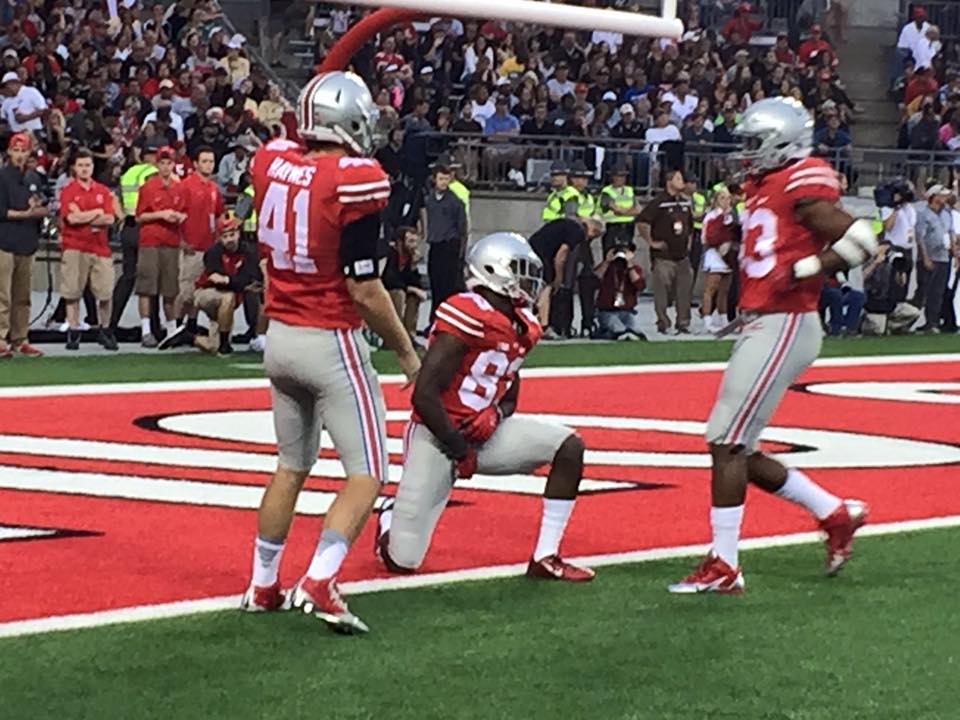 NEO Sports Insiders' OSU reporters Spencer Davies & Jeff Seemann share their thoughts on Saturday's Ohio State matchup with Indiana.
Jeff: Indiana has given the Buckeyes problems in recent years, but Ohio State has still dominated the series.  Is there any reason to fear the Hoosiers on Saturday?
Spencer: There are always reasons to be a little nervous entering conference play as it is, and the fact that it's Kevin Wilson's undefeated Indiana Hoosiers on their home turf makes it even tougher.
Through four games, they've already matched their win total from last year. It's a high-powered offense led by running back Jordan Howard, who leads the NCAA in rushing with 645 yards on the season already. And with Ohio State's defense allowing 122 yards per game on the ground, Howard could keep his pace.
Indiana's quarterback is no slouch either. In his senior year, Nate Sudfeld has impressed. He's thrown seven touchdowns and only one pick on 61 percent completion. His main target is Ricky Jones, who's caught three of those TD's.
It's a confident team that's definitely got a shot of upsetting a Buckeye team still trying to find its bearings.
Spencer: Cardale Jones was solid in the first half of last week's game against the Broncos, but he fell off a little in the second half. Which Cardale will we see this week?
Jeff: Considering the Hoosiers' defense is struggling, I would hope the good Cardale returns to us. If he can avoid the turnovers, he has an opportunity to dominate.
Indiana is allowing 32 points per game on a fairly weak schedule, but that's not what should scare Hoosier fans heading into the Ohio State game.  The fact that they are allowing 360 yards per game through the air should terrify them.  Add in another 140 yards per game on the ground, and you're looking at a team that might put 700 yards on the board.
Cardale's biggest problem has been tough to decipher, but if the offensive line opens up holes like they should, we'll see a return to the glory days of Cardale.  The guy is a beast when he's bowling over defenders on his way to 15-yard carries.  Expect to see a lot of Ezekiel Elliott, too.  That should weaken the porous defense up for big things.
Jeff: The defense struggled at times last week….kind of a "bend but don't break" scheme for the Western Michigan game.  The Hoosier offense is better than WMU, so what can the Buckeyes do to get back to the powerful defense we saw in the early stages of the season?
Spencer: It starts up front.
The battle in the trenches has to be won, and with the Buckeyes talent on that defensive line, I don't see why they can't do that.
It's only been three games for him this year, but we have yet to see Joey Bosa play like the true impact player he was last season. Adolphus Washington and Tommy Schutt need to follow suit as well.
If the Buckeyes can do that, they'll be able to stop the run. In that case, the game would ultimately be decided through the air, which–with the Ohio State secondary–would be the best case scenario for Luke Fickell and Chris Ash.
Spencer: After last week's 38-12 win over Western Michigan–especially after the scare against Northern Illinois–how do you feel about the Buckeyes entering conference play?
Jeff: I'm not scared or worried just yet….titles are not won in September, despite the multitude of "Ohio State is in trouble" articles pounding us daily.  Last year, we were written off as dead by this time, and we all know how that season ended.  Urban Meyer has always been great at getting his teams to peak at the right time, and I expect the same this year.
That being said, I am not happy with what I have seen over the past three games.  I expect more, but I know we'll get it.  But I am very grateful that we're not playing the Big Ten schedule of 2012 when we opened up with Michigan State.  I think we'd be facing a loss if we had a tougher early schedule during Big Ten season.
However, in order for me to get back on the happy side, I need to see improvements ASAP.  Zeke busting out for 150 yards would be a good start.  So would a big day from either Cardale or Braxton Miller.
I'm not worried yet, but ask me that question again in three weeks, and we'll see how I feel at that time.
Jeff: It's prediction time….and I haven't been very good at this, aside from the W/L column. I'm confident in the offense, worried about the defense.  Going to go with an Ohio State win, 50-28. Barely covering the spread.
Whaddya got?
Spencer: Give me the Buckeyes, 38-27. It's going to be close in the first three quarters, but then as usual Ohio State will finally start handing the ball off to Elliot and all will be fine.

NEO Sports Insiders Newsletter
Sign up to receive our NEOSI newsletter, and keep up to date with all the latest Cleveland sports news.