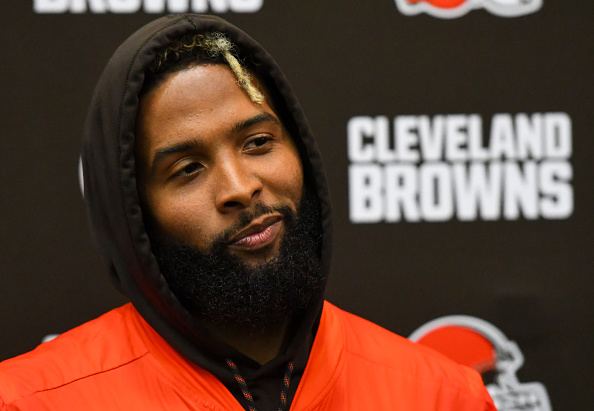 As the old rebellious saying goes, rules are meant to be broken. In the case of Odell Beckham Jr. and the Richard Mille watch he worse during Sunday's loss to the Titans, the star wideout doesn't think he's breaking a rule at all. Which is why he plans on continuing to wear the piece during Browns games.
"I'll still be wearing it," Beckham Jr. told the media on Tuesday.
"You've got to look into the rulebook," he continued. "It says you can't wear any hard objects. The watch is plastic, but people have knee braces on that are hard and made out of metal and you don't see them taping it up. No jewelry on, so I'm good."
According to Cleveland.com, the 26-year-old wideout bought the watch from a Richard Mille boutique in Los Angeles for nearly $200,000.
Beckham Jr. was noticeably miffed by the media outrage surrounding his decision to wear the watch this past weekend. In his eyes, it's a non-issue that is only a story because he did it.
"If it ain't this, it's something else," he said. "If it wasn't the watch, it would've been the way that I tie my shoes.
"I would love for them to talk about football and what I do on the field, if I messed up on the field or if I didn't do well on the field, talk about my performance. Don't talk about any extracurricular, that's just it. If anybody else would've worn the watch, or if it was a $20 watch, it wouldn't have been no problem."
As Ian Rapoport of the NFL Network reported on Monday, Beckham Jr. is not expected to be fined for his apparel choice. The NFL generally takes uniform alterations very seriously so the league  is expected to address the situation with Beckham Jr. and the team.
According to Beckham Jr. the NFL has not reached out to him personally to this point and if he's right in his interpretation of the rule, they may not have a case at all.

NEO Sports Insiders Newsletter
Sign up to receive our NEOSI newsletter, and keep up to date with all the latest Cleveland sports news.