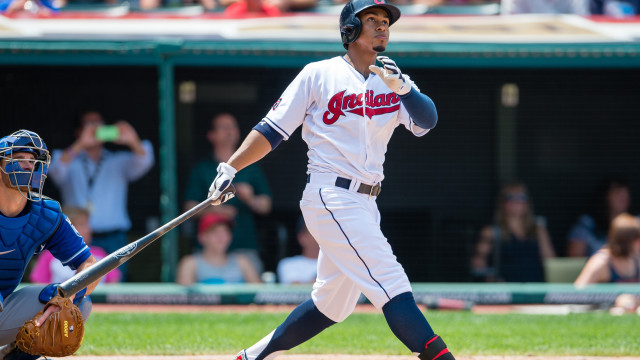 We are one day away from Opening Day in Cleveland!
Don't look out the window. Never mind that white precipitation falling from the sky. Or the trees with no leaves whipping in the wind.
Close your eyes and open them at 4 PM tomorrow afternoon. BASEBALL is Back!
Here's the number one reason why the Tribe will rock in 2016:
Francisco Lindor.
Is this putting too much pressure on a young kid? Is this setting the bar too high for him? Maybe.
But Lindor was a flat out superstar in his rookie year.
He may not be a household name yet, but he played as great as any rookie in Cleveland Indians history.
Lindor hit .313 with 12 home runs and 51 RBI in 99 games. If you average that out to a full season, that's close to 20 homers and 90 RBI.
That's not even taking into account his defense.
Lindor made highlight plays every single night at shortstop. It got to the point where it was just expected that he would make at least one run-saving play per game.
We haven't seen a shortstop like him in Cleveland since Omar Vizquel.
He's only 22 years old. Between Lindor and Carlos Correa of the Houston Astros, we have two of the best shortstops in all of baseball entering their second seasons in the league.
They will certainly be guys to watch for All-Star spots and their rivalry has the potential to be similar to the days when Nomar Garciaparra, Alex Rodriguez, and Derek Jeter were all contending for the claim of best shortstop in baseball.
I can see a similar competition between these two guys.
When Lindor arrived in June of 2015, his impact in the lineup was noticeable from the start.
But he really picked it up in late-July, August, and September.
It's worth noting that the Tribe was 35-41 at the end of June, but finished the season going 46-40 from July onward.
Lindor is a huge reason for that.
Now we get a chance to see the superstar for a full season, barring injury. I cannot wait to see how this first-round draft pick from 2011 develops and blossoms into an All-Star for years to come.

NEO Sports Insiders Newsletter
Sign up to receive our NEOSI newsletter, and keep up to date with all the latest Cleveland sports news.