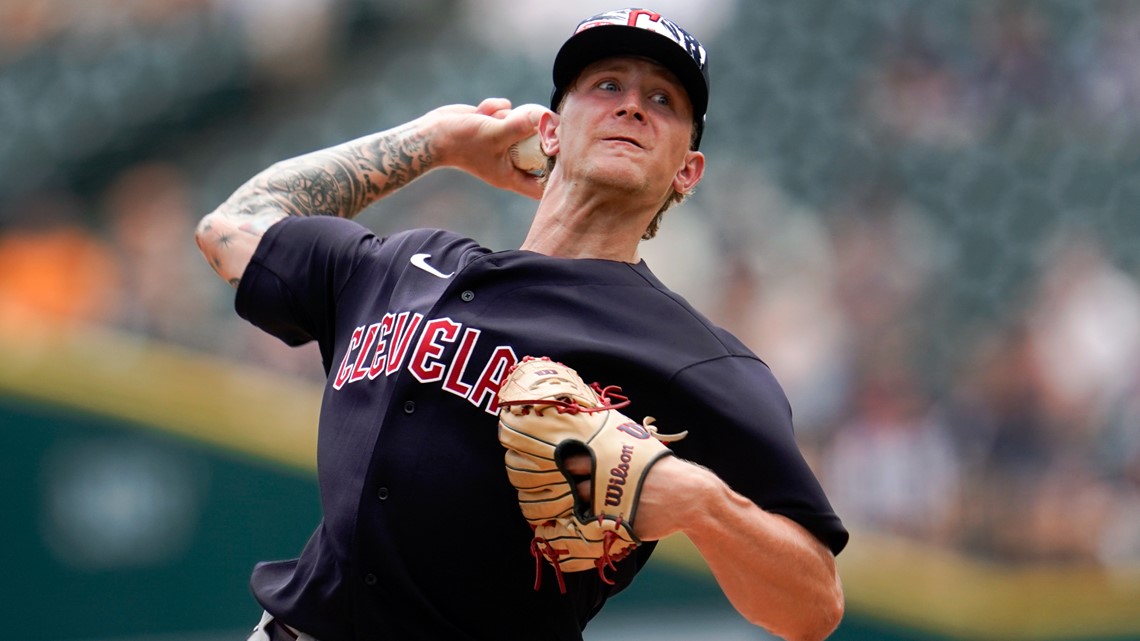 Game 1
Is there a better way to spend a 4th of July than watching the Cleveland Guardians take on the Tigers in Detroit?
Did I mention it was a doubleheader? The Guardians entered the day 2 games behind the Minnesota Twins for the
first- place spot and the Tigers started in 4th place at 12.5 games back. Taking the mound for the Guardians was Zach
Plesac who entered the game with a 3.86 ERA. Lately however, he has been a lot better than his ERA shows. Over the
last 6 games, Plesac has pitched 36 innings with an ERA of 2.00 and 27 strikeouts. He would try to continue his
success of late and take advantage of a struggling Tigers team. On the other side of things, the Tigers started Garrett
Hill who made his first ever career start. Hill is the #26 ranked prospect on the Tigers who has a career ERA of 2.70
in 64 games in the minors.
Another Good Plesac Start
Zach Plesac struggled to start the game walking the leadoff hitter Riley Greene, then immediately giving up a single
to the number 2 batter, Willi Castro. Javier Baez struck out then Miguel Cabrera quickly picked him up with a 2-RBI
double. Plesac didn't let the early skid phase him however, as he breezed through the rest of his start going 6 innings
without allowing another run. Plesac finished the day with 6.0 IP, 6 H, 2 BB, and 2 ER.
A Debut to Remember
Garrett Hill of the Tigers had a great day on the mound today. He started off the game retiring the first 6 batters
before giving up a leadoff walk to Gabriel Arias to start the 3rd inning. Among those first 6 outs was his first
strikeout that came after a 94 MPH fastball to Josh Naylor. Naylor may have given Garrett Hill his first major league
strikeout, but he wouldn't go down that easy. 2 innings later, Garrett Hill gave up his first career home run to none
other than Josh Naylor. That would be the only run given up the entire game as Hill goes 6 innings with 2 H, 3 K,
and 1 BB.
All it takes is a little spark, yeah?#ForTheLand pic.twitter.com/pqapl3zRuC

— Cleveland Guardians (@CleGuardians) July 4, 2022
James Karinchak Makes His Return
James Karinchak started off the season on the IL with a shoulder injury. After a long wait, he finally made his return
to the team today in the 7th inning, down 1 and in a tough situation with runners on 1st and 3rd. Although he gave
up a run to Javier Baez, Karinchak looked fairly good striking out three.
Josh Naylor Exits game in 7th Inning
At the top of the 7th inning with 1 out, Josh Naylor checked his swing in a 2-2 count. Following the checked swing, he
appeared to be feeling major discomfort in his lower back. He completed the at-bat working a walk but got pulled
immediately after. Naylor finished the game 1 for 2 with a walk and a home run.
Final
Josh Naylor's home run would be the only run the Guardians get all game. They lose 4-1 to the Detroit Tigers with
the final run coming from a Tucker Barnhart RBI double.
Player of the Game
Garrett Hill and Jonathan Schoop both share the Player of the Game honors today. Hill dominated on the mound for
6 innings. Schoop went 4 for 4 with 4 singles, a stolen base and scoring a run.
Game 2
The 2nd game of the double header started at 6:40. After struggling to mount any offense during game 1, the
Guardians looked to change that in Game 2. Konnor Pilkington took the mound for Cleveland with an ERA of 4.31 as
he tried to end the slump, he finds himself in. Konnor has given up 4 runs in each of his last 3 appearances. The
Tigers bring out a pitcher by the name of Alex Faedo. Faedo came into the game with an ERA of 4.84 and had been
struggling as of late. In Faedo's last 3 starts, he has given up a combined 15 runs in just 11.1 innings pitched.
Struggling Starters
Konnor Pilkington struggles as he gives up 3 earned runs in 4 Innings. Alex Faedo didn't fare much better as he gave
up 3 runs in just 3.2 innings. Scoring started in the 3rd inning as Schoop got his 5th hit of the day leading to a single
and an RBI fielder's choice by Riley Greene. The Guardians answer with a 3-run 4th inning that starts with an Amed
Rosario walk. A base hit by Jose Ramirez and a Franmil double lands Amed at home. Andres Gimenez followed up
with a sacrifice fly scoring JRam then Owen Miller singles to left field scoring Franmil. The Tigers took Faedo out
and he finished his day with 3.2 innings pitched and 3 earned runs. Eric Haase of the Tigers starts the bottom-half of
the 4th with a routine pop-up that gets dropped by Konnor and Sandy Leon colliding. 2 singles later, Eric Haase
scores to make it 3-2 and Victor Reyes comes up to bat. Victor Reyes gets an RBI infield single that ties up the
game. Konnor Pilkington gets out of the inning and finishes the day with 4 hits and 3 earned runs in 4 innings
pitched.
Miggy's 1,000th at bat Against Cleveland
Miguel Cabrera entered game number 2 with 999 at-bats against Cleveland. In his 1,000th, he hits a laser to center
field and lands for a single. In 1,000 at bats, Cabrera has gotten 50 home runs, 171 RBIs and an OPS of .920.
Final
The Tigers bullpen shut the Guardians out. Tyler Alexander, Alex Lange, and Joe Jimenez combine for 2 hits, 4
strikeouts and 0 runs allowed in 5.1 innings. The Guardians bullpen struggled as Trevor Stephan and Brian Shaw
both allowed an earned run. The Tigers take game 2 with a final score of 5-3.
Player of the Game
The player of the game for game 2 is Tyler Alexander. Alexander came in the game with the score tied and shut the
Guardians out for over 3 innings. Of course, it helps when your team gives run support but 3 innings of scoreless
baseball from your relief pitcher doesn't come too often.

NEO Sports Insiders Newsletter
Sign up to receive our NEOSI newsletter, and keep up to date with all the latest Cleveland sports news.