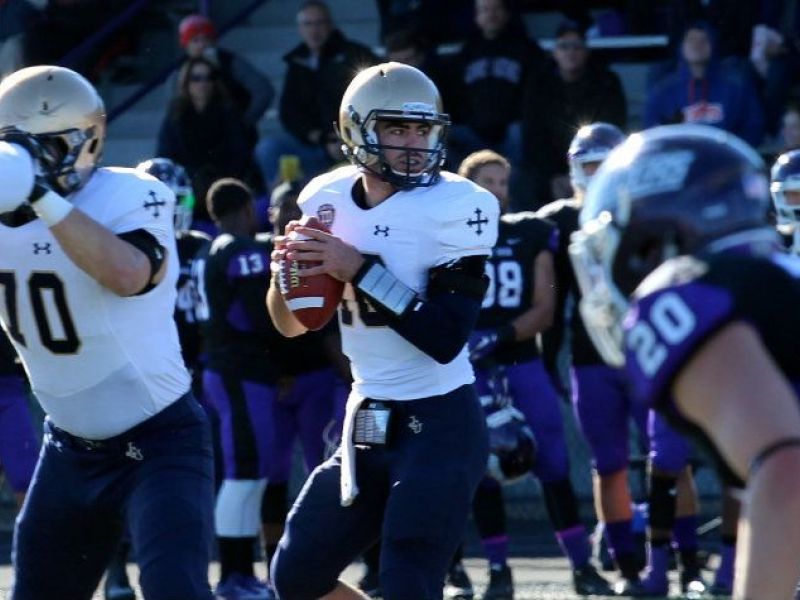 UNIVERSITY HEIGHTS – The John Carroll-Mount Union rivalry follows a blueprint, with the top-ranked Purple Raiders usually taking an early lead before the Blue Streaks piece together a promising rally down the closing stretch.
Saturday afternoon's bout lived up to the hype of an instant, yearly classic.
Despite facing a 17-0 deficit, JCU battled until triple-zeroes illuminated a scarlet-red coloring on the scoreboard, coming back to tie the game at 24-24, before falling 31-27 against UMU at Don Shula Stadium.
Senior William Woods had a banner day to end his collegiate career, hauling in a career-high nine receptions for 93 yards and two touchdowns, while senior Mason McKenrick notched a team-high nine tackles and one sack in the hard-fought, losing effort.
The defeat hands the No. 2 Purple Raiders the Ohio Athletic Conference title, a perfect 10-0, 9-0 OAC record and a top seed in the 2017 NCAA Tournament beginning next week.
Woods thrives on center stage (again)
One year removed from his historic touchdown catch that propelled John Carroll to its first OAC title since 1989, Woods displayed his best performance in the biggest game once again. His seven-yard TD prior to the intermission brought the margin to 10 points (17-7), providing just enough momentum heading into the second half.
The East Cleveland native furthered his breakout day with a 16-yard strike midway through the third quarter, downsizing the deficit to three points (24-21).
Quarterback Anthony Moeglin developed a rapport with the wideout right from the outset, targeting him on countless occasions throughout the late-game drama.
Canganelli provides spark on special teams
Freshman Michael Canganelli was all over the place on kickoff returns, tallying 33, 64 and 95 yards on three of his four opportunities, the last of which was a touchdown at the inception of the second half.
Although listed as a running back, Canganelli has made an impact in a variety of fashions, providing depth and explosiveness when his team needed it the most.
Kicker Matt Danko rounded out the offensive production with a pair of field goals from 23 and 32 yards, giving him a 72.2% conversion rate on the campaign.
Drama unfolds
Following Danko's 23-yard FG, Moeglin threw an interception at the culmination of the third quarter, providing Mount Union with favorable field position in a 24-24 tie.
Quarterback D'Angelo Fulford took advantage and found Braeden Friss for a 25-yard strike with 11 minutes remaining in regulation.
Danko chipped in another field goal and the Moeglin-Woods tandem hooked up on a critical fourth-down play, but the pendulum of momentum swung back to the Purple Raiders on a pair of sacks within the last 90 seconds.
Weather and attendance
John Carroll (6-4, 6-3 OAC) and Mount Union (10-0, 9-0 OAC) drew 3,444 fans under cloudy skies and 30-degree temperatures.
OAC update
Muskingum (2-8, 1-8 OAC) crushed Wilmington (2-8, 1-8 OAC), Ohio Northern (7-3, 6-3 OAC) topped Baldwin Wallace (6-4, 5-4 OAC), Heidelberg (7-3, 6-3 OAC) cruised past Capital (1-9, 1-8 OAC) and Otterbein (6-4, 5-4 OAC) beat Marietta (6-4, 5-4 OAC).
Up next
The Blue Streaks take on the Wisconsin-Stevens Point Pointers to begin the 2018 campaign at a date and time to be announced later.
Photo credit: John Carroll University Sports Information Department
John Alfes has covered John Carroll University athletics since September of 2014. Follow him on Twitter @JohnAlfes for breaking news and in-depth coverage all season long.

NEO Sports Insiders Newsletter
Sign up to receive our NEOSI newsletter, and keep up to date with all the latest Cleveland sports news.