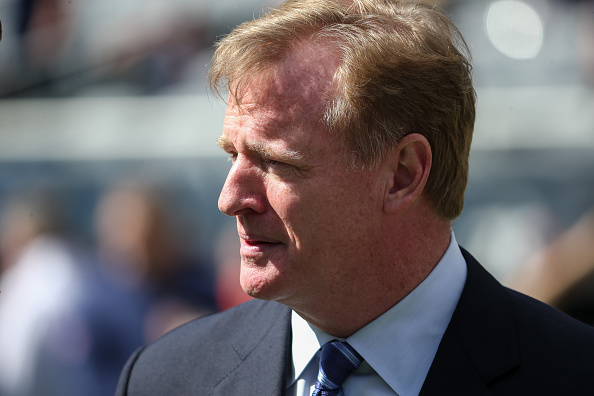 NFL Commissioner Roger Goodell was quoted Sunday in an article on ESPN.com discussing his views on daily fantasy sports, like Draft Kings and FanDuel.
The commissioner said there is a "great distinction" between daily fantasy sports and season-long leagues.
"Season-long fantasy– it's for fun…It's social. It's an opportunity to enjoy the game…Daily fantasy's taken a little different approach…We want to make sure we understand how it would be done. We love people who are going to engage in the game and have fun with it. It's not about making money. It's about enjoying the game and enjoying the team, enjoying the players you pick," Goodell told reporters at a forum in Minneapolis.
Goodell went on to say that he did not think daily fantasy sports had any impact on the integrity of the game, but noted that he is concerned about the well-being of the fans, telling reporters, "I also want to make sure that, specifically our fans, when you play something, I want to make sure there are proper consumer protections. That's important for us."
It was nice of the commissioner to take time out of his busy schedule to give his two cents on daily fantasy.
DraftKings and FanDuel have certainly given their two-cents and then some, (to the tune of more than $200 million spent on advertising this season) to the league.
I can appreciate where Goodell is coming from in terms of wanting his paying customers (fans of the league) to not feel like they are being misled or cheated out of money by playing daily fantasy sports.
It should be stated, however, that there are no cases of people being held at gunpoint and forced to make a decision between Devonta Freeman or Todd Gurley.
When I read that the commissioner believed season long fantasy is "about enjoying the game and enjoying the team, enjoying the players you pick," I couldn't help, but wonder how daily fantasy sports does not incorporate those values, as well.
The Cleveland Browns are on a bye week in week 11 of the NFL regular season, and yet I, a die-hard Browns fan, was glued to the TV all Sunday to watch the 2-7 Ravens take on the 4-5 St. Louis Rams in a 16-13 barnburner.
Meanwhile I was flipping back and forth between that and the marquee matchup between superstar quarterback Brock Osweiler and the lowly Chicago Bears.

NEO Sports Insiders Newsletter
Sign up to receive our NEOSI newsletter, and keep up to date with all the latest Cleveland sports news.