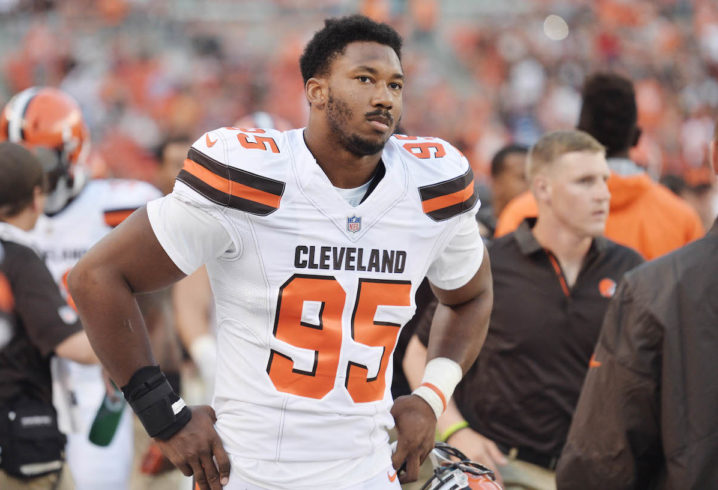 CLEVELAND – The NFL has never been shy about their efforts to protect quarterbacks. Nowadays breathing on a quarterback the wrong way could draw a flag.
So when Myles Garrett was called for roughing the passer in the second quarter of the Browns 21-21 tie with the Steelers, Sunday, it was hardly surprising. On the play in question, Garrett chased down Steelers QB Ben Roethlisberger on a third-down play from the Browns eight and landed on top of the 36-year-old one second after he had released the football.
It was an almost impossible hit to avoid, once Garrett had left his feet. But, with the NFL cracking down on defensive players dropping their full weight on quarterbacks, out came the flags. One play later, Pittsburgh was punching in their first touchdown of the game.
Naturally, Garrett didn't like the call.
"I thought that was a perfectly legal hit," Garrett pleaded after the game. "When I hit him, I just had momentum, so of course he went down pretty quick, but I don't know what is a proper way to take him down. I'm going to need some evidence or them to demonstrate for me themselves."
According to the NFL, Garrett was right. His hit on Roethlisberger was legal according to the NFL's senior vice president of officiating Al Riveron.
"The rule specifically says 'most, if not all, of your body weight,' " Riveron explained to NFL.com's Tom Pelissero. "So we want that player to make an effort. And the last three or four weeks, we have pulled extensive video to show the clubs exactly what we're talking about, and we probably last week showed 5 to 1 or 6 to 1 of legal hits, or legal contact, as opposed to illegal contact. Because the question we get all the time is, well, what do you want our players to do?
"Well, they have to not put the weight on the quarterback. And this one (on Garrett) yesterday showed, even though there is somebody weight on (Steelers quarterback) Ben (Roethlisberger), this is not what we would consider contact that rises to the level of a foul."
This rare admittance of a miscue from the league is refreshing from the sense that it provides fans some clarity on a controversial rule. However, it's too little too late at this point since there's no changing the outcome of Sunday's game now. What's most unfortunate is that the penalty had a direct impact on the final score.

NEO Sports Insiders Newsletter
Sign up to receive our NEOSI newsletter, and keep up to date with all the latest Cleveland sports news.