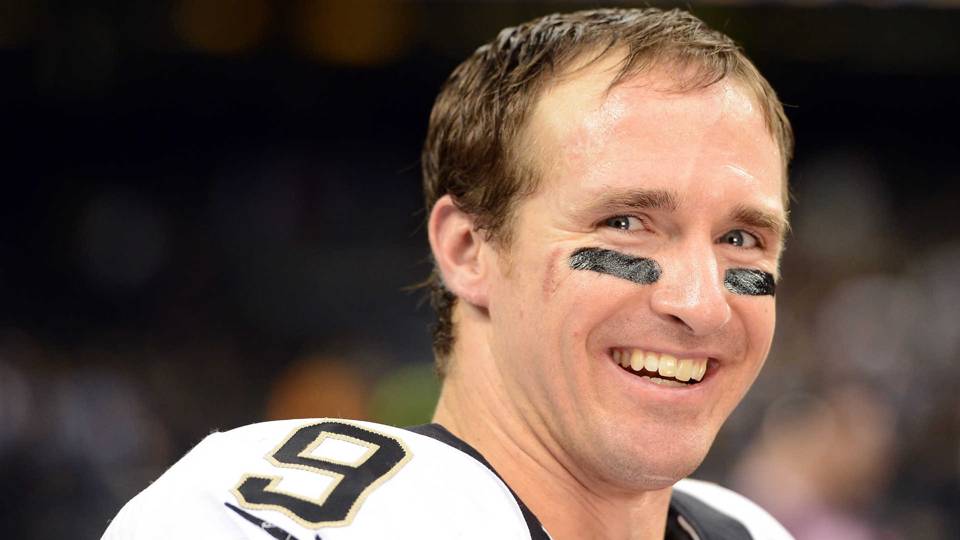 BEREA, OH – It's pretty common practice nowadays for NFL rookies to draw comparisons to players who came before them. For Browns quarterback Baker Mayfield and his 6-foot-1 height, one of his most common comparisons has been to future Hall of Fame QB Drew Brees.
It's not hard to see why. Standing at 6-feet tall, Brees' – who will general the New Orlenas Saints offense when they face the Browns this Sunday – has consistenly been one of the league's best quarterbacks despite his non-prototypical stature. Brees has thrown for over 4,000 yards in each of the last 12 seasonsand eclipsed 5,000 yards five times, boasts a career 67 completion percentage and is closing in on the top spot for career passing yards and passing touchdowns.
Browns fans would certainly love to see Mayfield, the No. 1 overall pick in April's NFL Draft, follow a similar career trajectory. Brees, however, thinks the Heisman winner can be even better.
"I think that he can be a lot better than me," Brees said with a laugh via conference call on Wednesday. "He has all of the tools. He is more athletic. He probably could run around better. He has a stronger arm. He has all of the tools."
That's some high praise from one of the elite passers in the game. Speaking from experience, Brees also isn't worried about Mayfield's height holding him back.
"At some point, you just have to look at results," the 39-year-old said. "You have to let your mind go past the measurable –maybe how big a guy is or how fast he runs or that kind of stuff and just turn on the tape, and does the guy compete? Does the guy make plays? Does the guy win football games? Obviously, he has proven that he can do all of those things."
Mayfield certainly proved all that at Oklahoma where he won the Heisman Trophy, threw for over 40 touchdowns in back-to-back seasons and helped carry Oklahoma to two College Football Playoff appearances in 2015 and 2017. Proving it at the NFL level is a different beast though and for now Mayfield is stuck holding a clipboard behind current Browns starter Tyrod Taylor.
While the rookie waits for his opportunity, he's clearly caught the attention of the quarterback he's been compared to throughout his journey to the league. Ironically, a short stature isn't the only thing the duo shares though. Both Mayfield and Brees grew up outside of Austin, Texas but until their respective teams square off on Sunday they've never crossed paths.
"You know what is funny? To this day, I have never spoken with Baker, but he is from just outside of Austin, Texas, Lake Travis High School, which is just right down the road," Brees explained. "I followed his college career. I could not have been more impressed with what he was able to accomplish in college, especially last year. Really impressed with the way he plays the game. I think he is a great competitor.
"Like I said, I never met him so I can't say that I know him at all, but that just my observations from afar is that I think he is going to be a really good professional quarterback. I love his competitiveness and his playmaking ability."
In some ways, Mayfield has Brees to thank for being drafted first overall and the 18-year veteran takes pride in having paved the way for shorter QBs to get their shot in the NFL.
"I do take a lot of pride in that, Brees said. "When I came in the league, my rookie year was in San Diego in 2001, and (Former NFL QB) Doug Flutie was the starting quarterback. You talk about a guy that has overcome the odds on every step of the way with his size and the preconceived notions that people had about his ability to play the position.
"I had a chance to learn from one of the absolute bests in my opinion, especially when it came to just having at times to make plays because of your size and maybe certain limitations. He would get the job done. I had a chance to learn form a guy like that. I owe him a lot of credit. We call it the '6-0 and Under Club.' All of the 6-0 guys, we kind of know what it is like. We kind of have the chip on our shoulder because we have heard it our whole life."
Follow: @Spencito_

NEO Sports Insiders Newsletter
Sign up to receive our NEOSI newsletter, and keep up to date with all the latest Cleveland sports news.