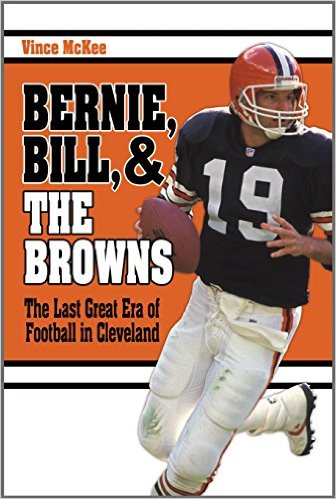 A shocking new book is about to uncover the truth behind what really happened with Bernie Kosar getting cut from the Browns in 93 and why they actually left for Baltimore in 95.
The riveting and highly controversial book is entitled, "Bernie, Bill & The Browns"
You can go behind the scenes of these shocking moments by clicking here https://amzn.to/3rZ2Gin
When the Cleveland Browns selected Bernie Kosar in the 1985 Supplemental draft, few knew just how much that would impact the next decade of Cleveland Browns football. They were coming off of a rough patch, but had a long history of winning. The fans were passionate and ready to support a winner.
What happened next was a decade of ups and downs the likes of which were dramatic enough that it often seemed like a Hollywood script was unfolding before our very eyes. There was a drive, a fumble, even retired quarterback Don Strock made his return straight off of a golf course.
Beloved coach, Marty Schottenheimer, left and Bud Carson arrived to take the Browns back to the verge of the Super Bowl in 1990, only to fall short, once again being defeated by the emerging icon, John Elway, wearing number seven for the Denver Broncos.
Bill Belichick would arrive soon after in 1991, a visionary before his time that never quite got it with the Browns, and by the time he departed, cut a hometown hero and was the captain of sinking ship as Modell announced the move on that dreadful November day.
One could wonder what would have happened had the Browns not left Cleveland in 1995, but no one can dispute the absolute thrill ride the hometown boy, Bernie Kosar, from Boardman Ohio took us all on for ten glorious years.
This is the story of Cleveland Browns, the passionate fans and a decade that truly was the last great era in Cleveland football.
For the first time ever, 20 years later, the truth behind what really happened is revealed, and it is shocking! Players were actually happy Kosar got cut. Players also resented the fans for booing them in 95. So much is revealed that will shock you when you read it. The truth is on these pages!
Interviews include Brian Brennan, Reggie Langhorne, Tommy Vardell, Leroy Hoard, Matt Stover, Ed Sutter, George Lilja, Felix Wright, Brian Kinchen, Brian Hansen, and Michael Jackson
If you want to find out what really happened, then you need to order your copy today before the limited amount that was made sells out. You can click here to place your order

NEO Sports Insiders Newsletter
Sign up to receive our NEOSI newsletter, and keep up to date with all the latest Cleveland sports news.