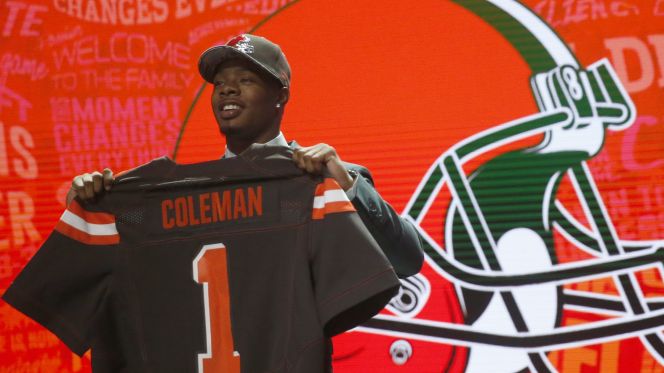 Well, it's a special Sunday Six Pack which takes a look at the Draft and predictions for the upcoming Cavs/Hawks series.  who knows what else will be included.  Enjoy!
Forget slow brewed coffee. The new Browns regime likes instant coffee.  The Browns finally drafted a wide receiver. In fact, they drafted four of them including first rounder, Corey Coleman at number fifteen. I love that the Browns have finally caught on that in today's NFL, you need to be able to pass, catch, and score touchdowns.
I am not at all upset about the selection of Cody Kessler. Yes, I can see the argument that he may have been drafted too high but really does it matter? He is this teams developmental QB.  He will not challenge RGIII. He will most likely be the third string guy and eventually be the career backup in Cleveland as long as Hue Jackson is the coach.
Scooby Wright III is already an early favorite to be a fan favorite.  Him and Delly will make a dynamic duo in the hearts of Cleveland fans.
Speaking of the Cavs. They will finally start to play some games again as they open the 2nd round against the Hawks tomorrow.  I see the Hawks winning one game in this series.  Cavs in 5.
The Indians have had a solid start to the season. Better than the past couple of years. I know this past week has been bad by losing three games in walk off fashion.  I think being close to .500 starting the month of may is a very positive sign.  The Indians just have to improve the bullpen going forward and have to hope there is no more injuries to the starting rotation.  I like this team a lot and can see them having a great season.
I love good barbecue. I love smoking meat on my Big Green Egg.  Did a slab of baby backs last week and by far they were the best I have ever done. Shout out to Killer Hogs (www.killerhogs.com)! Their BBQ rub is on point!
That will do it for this week.  I will be back to the Friday Six Pack next week.  Me and the guys at Sports on Tap will be live at Z's Cream & Bean in Hinckley, OH (2706 Boston Road) for another show. Stop on up to talk sports or listen live at www.mixlr.com. We start at 7pm.  Thanks for reading!
CHEERS!

NEO Sports Insiders Newsletter
Sign up to receive our NEOSI newsletter, and keep up to date with all the latest Cleveland sports news.