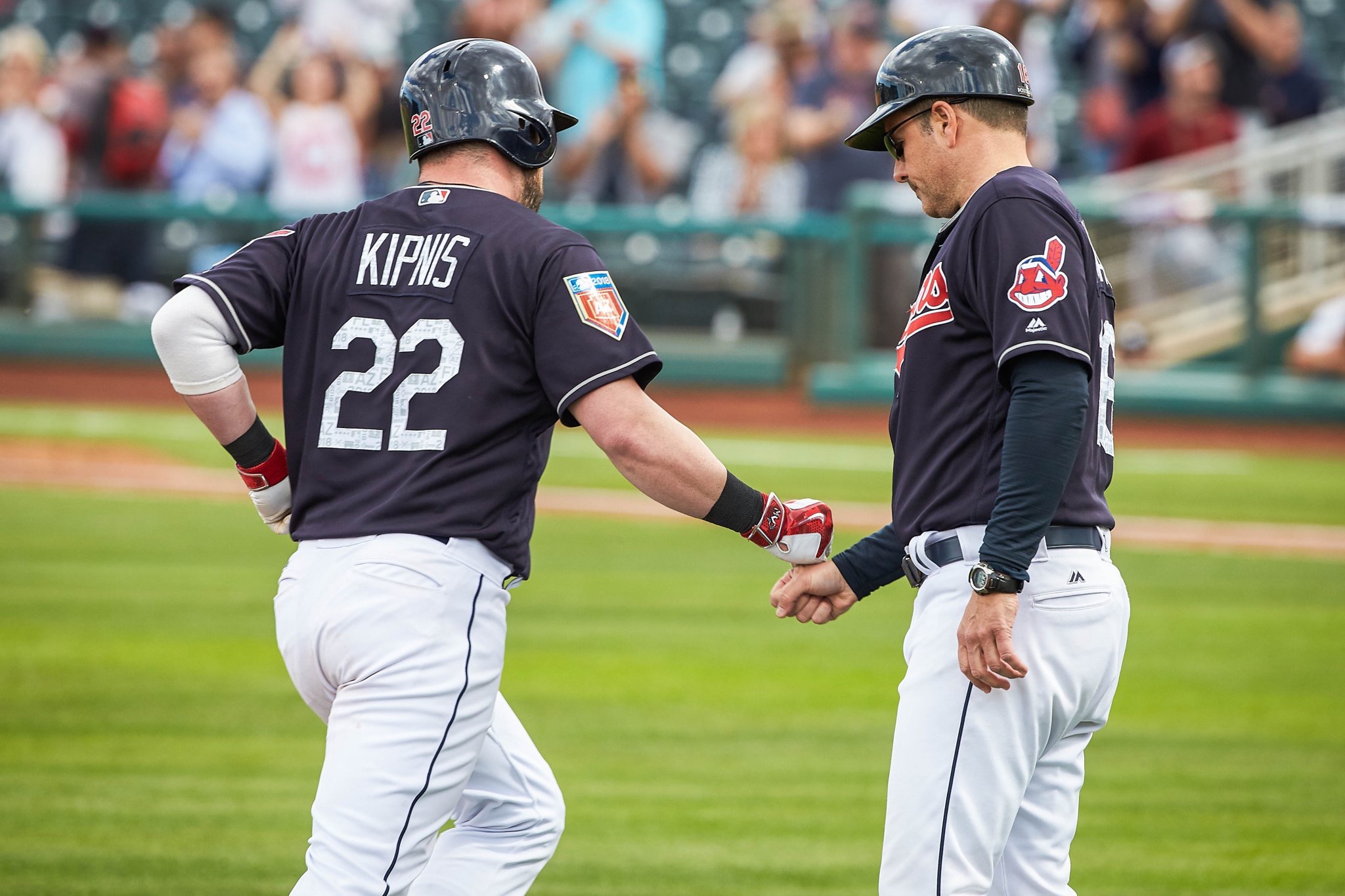 The Indians took on the Cincinnati Reds and came up short losing 7-6. Carlos Carrasco started Tuesday's game and pitched in 2 innings, gave up 2 hits, 1 run and struck out 4 batters.  Francisco Lindor started the game with a leadoff homer. Jason Kipnis makes fans speculate if he has come to spring training as himself or if a robot has taken over his body by hitting his 6th homer of the spring.
To elaborate more on the amazing start to spring that Kipnis has had, he tied the record for most homers in a Cactus League season.
Fact: @TheJK_Kid just tied the club record for most HRs in a Cactus League season! ? #TribeSpring

His 6th(!) in as many games: pic.twitter.com/YHr4p3ATaC

— Cleveland Indians (@Indians) March 6, 2018
When Kipnis has been asked if he has changed up his swing he has had this to say:
Did Jason Kipnis (6 homers in 6 games) overhaul his swing? Is he the newest convert in the air-ball revolution?? Kipnis: "No. If you ever hear me say the words 'launch angle' or anything like that, I'm lying right to your face."

— Jordan Bastian (@MLBastian) March 6, 2018
As mentioned in yesterdays' NEOSI Indians Spring Training roundup,  single-game tickets options have become available online today up until March 19th.
Indians manager Terry Francona commented on if Ryan Merritt or Josh Tomlin will take the 5th spot the rotation:
"I don't think we want to name our five guys, too much can happen like injuries and things like that. I don't know if there is a lot of competition for the five spots, saying that things happen, so we keep our options open and we give the guys innings that need innings and at the end of spring we say this is how we are situated."
Francona commented on Melvin Upton Jr. today:
"We've always brought guys in knowing that we are going to have a guy, or two, or three to make our club and we have had a lot of success with those guys. This spring we brought in Upton (Melvin Upton Jr.), Barnes (Brandon Barnes), Raj (Rajai Davis), three right-handers. The next two weeks are really important for them. They will get the consistent at-bats early because they are fighting for jobs."
The Indians manager also spoke on what he is looking for in Francisco Mejia this spring:
"He's going to play, we are looking to get to know him. The biggest thing is to see if he is ready if something happens to one of our catchers. We are trying to get those questions answered in the spring, but it is difficult to determine during spring."
Francona comments on how he feels Trevor Bauer has improved as a pitcher:
"I feel that he has been light years ahead and has matured a ton. I think he is much more comfortable in his own skin. He might talk different than other guys but he is very close to what good major league pitchers do. The more he commands his fastball, it sets up his breaking ball and changeup. He may wind up the first throw of each inning by taking that step, other than that there is not a lot of difference."
In a twist, Terry Francona asked the Indians in-game reporter Andre Knott jokingly if he will pick up his game up, and what has he done over the winter to pick up his game:
"I took my microphone to everywhere I've been to. You'd be surprised." (Then the room filled with laughter)

NEO Sports Insiders Newsletter
Sign up to receive our NEOSI newsletter, and keep up to date with all the latest Cleveland sports news.