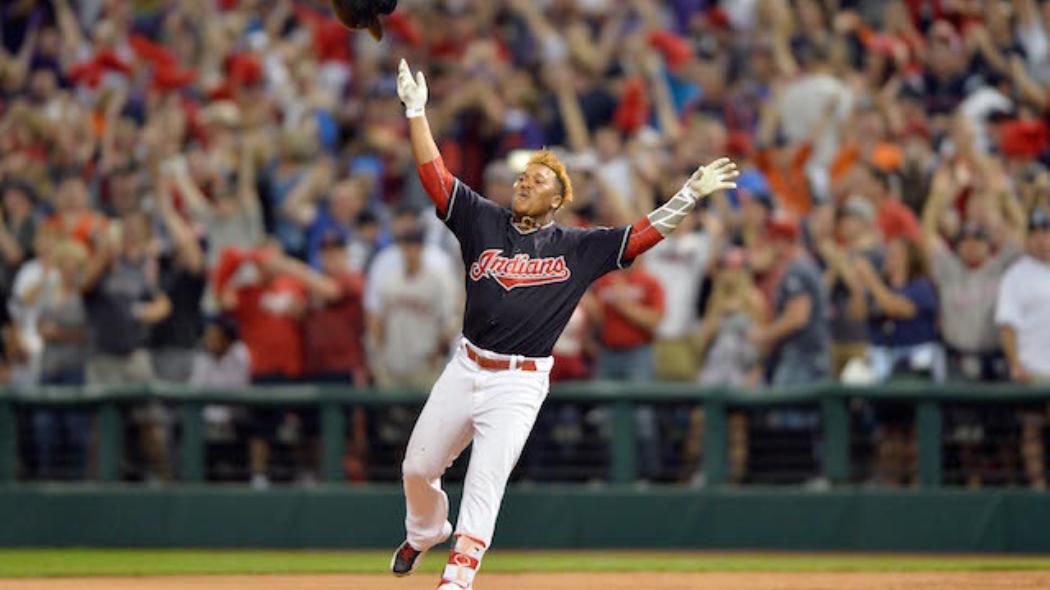 The Indians took on the Milwaukee Brewers (lost 5-4) and Kansas City Royals (won 3-1) today and split both games during their split squad action Sunday. Carlos Carrasco started Sunday's game against the Brewers and pitched in 3 innings, gave up 1 hit, allowed 0 runs and struck out 6 batters.
Ryan Merritt started the Royals game and pitched 2 innings and struck out 2. Francisco Lindor started the game with a leadoff homer against the Brewers, also in the game against the Brewers the Indians recorded a triple play.
The Indians triple play today was a rarity the way it was done, the last time a 5-5-4 triple play during the regular season was August 8, 1950.
This is correct. I mistakingly missed the 1950 one while scanning SABR's triple play database. So, the last 5-5-4 in regular season was 8/17/1950, St. Louis Browns. Against… the Indians. https://t.co/21LdRp0v4h

— Jordan Bastian (@MLBastian) March 12, 2018
On MLB.com Jordan Bastian posted a video of Indians manager Terry Francona, Brewers manager Craig Counsell, and Brewers catcher Stephen Vogt commented on the triple play by Jose Ramirez.
Francona had this to say about the triple play:
"Actually thought Josey did a good job. He tagged the right guy, and I think he had better awareness than the umpires did. He did a good job on that play."
Brewers manager Craig Counsell had the following to say:
"They could have got four outs on that play. Very easily. It's the crazy thing. I think everybody in our dugout said that they have never seen anything like that. Exactly where the ball was hit, lead to it."
Brewers catcher Stephen Vogt had this to say about the triple play:
"Obviously it was a play I've never seen before. Bases loaded nobody out and then there is a little bloop. Jam shots you have to go back,if I take off and he catches it in the air. Kudos to him on his part he made a really good play. I tried to avoid the tag but he tagged me and it was one of those perfect spin shots to the bag, it was no mansland nobody really knew what to do. I pulled the people in the dugout and people that have played the game for 50-60 years and nobody has seen anything like it before. Next time bases loaded and there is a little bloop shot, I'll sit on the bag and see what the third baseman does and just wait and see what happens."
Bastian also wrote a piece on how Danny Salazar is hoping that being patient with his injury pays off. Salazar also mentioned that he getting on the mound is really close and he is getting there.
Salazar said the following regarding the injury situation:
"It's frustrating. It's the middle of Spring Training. I should be throwing four innings in a game right now. It's a little bit different, but I'm not the only guy that's been through this. I just have to take it day by day and get better."
The Indians also agreed to contract terms for the 2018 season with all 22 of the pre-arbitration (0-3 years) eligible players on the 40-man roster. The following is the list of players that agreed to those contract terms:
OF Greg Allen
RHP Cody Anderson
INF Willi Castro
INF Yu Chang
RHP Mike Clevinger
INF Yandy Dίaz
INF Erik Gonzalez
RHP Nick Goody
C Eric Haase
SS Francisco Lindor
C Francisco Mejίa
LHP Ryan Merritt
RHP Julian Merryweather
LHP Shawn Morimando
OF Tyler Naquin
LHP Tyler Olson
RHP Adama Plutko
UTL Rob Refsnyder
INF Eric Stamets
RHP Ben Taylor
INF Gio Urshela
OF Bradley Zimmer
Monday the Indians will be facing the Texas Rangers at 4:05 EST. Trevor Bauer will be making his fourth start of the spring.

NEO Sports Insiders Newsletter
Sign up to receive our NEOSI newsletter, and keep up to date with all the latest Cleveland sports news.