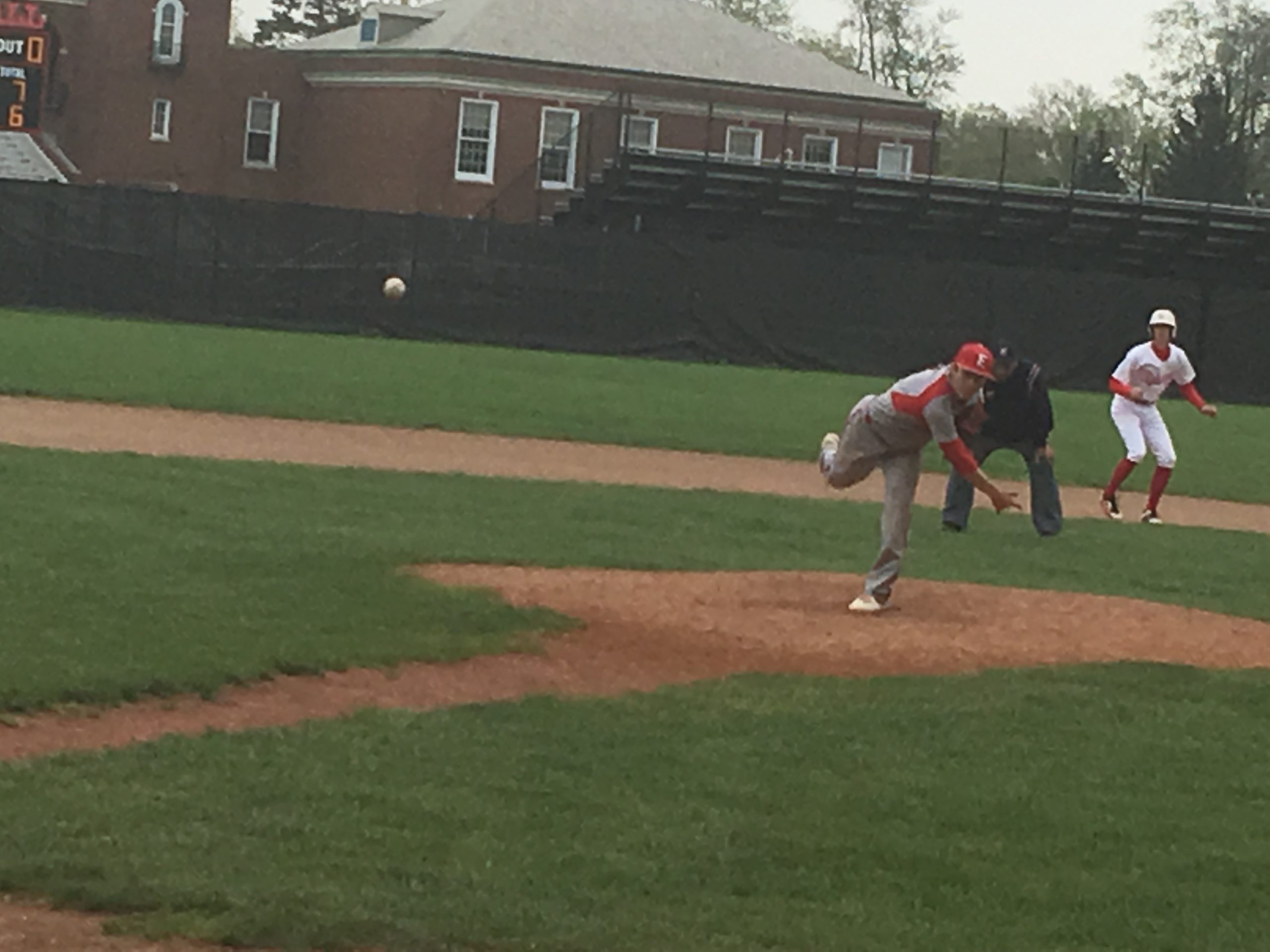 Shaker Heights, Ohio – Senior designated hitter Cal Nagusky hit a go-ahead two-run single in the sixth inning to propel Shaker Heights to an 8-7 victory over the Elyria Pioneers on Saturday afternoon.
The Shaker offense got off to a hot start, with three straight batters reaching on singles in the bottom of the first inning to load the bases. Senior shortstop/pitcher and Ohio Wesleyan commit Charlie Neel followed with a grand slam to put the Red Raiders on top, 4-0.
They would add another run in the first when Justin Phillips scored on a wild pitch, and another in the second when Charlie Neel delivered a single to right field to score Ben Wilson and increase the lead to 6-0.
Elyria would get on the board in the third inning when Carter Hyde delivered an RBI groundout to score Evan Engle, who doubled to start off the inning.
The Pioneers would score five runs in the fifth inning to tie the game, capped off by a sacrifice fly by Noah France. France's flyball was caught in right field by Torrey Roper, who threw out the runner, but the umpire ruled that the ball was carried out of play, automatically advancing both runners a base.
After Elyria starter Michael Benetto's early game struggles, Kevin Reddinger and Evan Engle came on in relief held the Red Raiders scoreless through the next 3 1/3 innings. That would set the stage for the Pioneers to take the lead on a single by Engle in the sixth inning.
In the bottom half of the inning, Shaker Heights would rally to take the lead. Ethan Young was hit by a pitch, then Charlie Neel singled for his third hit of the day. After a failed bunt attempt, Will Clawson singled to left to load the bases for Cal Nagusky, who drove in a go-ahead two-run single to give the Red Raiders the lead.
Cal Nagusky delivers a go-ahead two-run single to left field to give @ShakerBaseball the lead in the bottom of the sixth. pic.twitter.com/vJ3AcwZmz9

— Tony Bogan (@TBoges2010) May 12, 2018
"We kinda got complacent there being up ahead early. There was a little bit of panic when it was tied up, but I just wanted to put the ball in play somewhere." said Nagusky.
Charlie Neel would close the door in the seventh inning to give the Red Raiders the victory. He had a big day at the plate, going 3-4 with a grand slam, two singles, and five runs batted in.
"I've been here four years and all the hard work finally paid off. There was no feeling like hitting the home run." said Neel.
"These guys are a very resilient bunch." said Shaker Heights head coach Michael Babinec. "They play hard from first pitch to last. That big inning for Elyria was all self-inflicted wounds, with three hit batters and an error on what should have been an inning-ending double play. It's a funny game sometimes, but these guys show heart. The seniors came through for us when we needed it. Any win is a good win." he added.
Shaker Heights improves to 10-13 overall and improves to 5-8 in the Greater Cleveland Conference. They close out the season with a home game on Monday against Chagrin Falls and a road game on Wednesday at Medina.
Despite the loss, Elyria head coach Ed Piazza said that he hopes that Saturday's game will light a fire ahead of Monday's match with St. Ed's.
"You can't come out and make the same mistakes today against St. Eds, or it will be over quick." said Piazza. "I think they're gonna learn from this and come back on Monday ready to play. Now it's just making the plays and situational baseball. It's hard to overcome hit batters and walks. If we can overcome that stuff and not do it, we'll be okay." he added.
Elyria drops to 16-12 overall and 4-10 in the Greater Cleveland Conference. They play against St. Edward on Monday afternoon in the district semifinals at the Pipe Yard.

NEO Sports Insiders Newsletter
Sign up to receive our NEOSI newsletter, and keep up to date with all the latest Cleveland sports news.