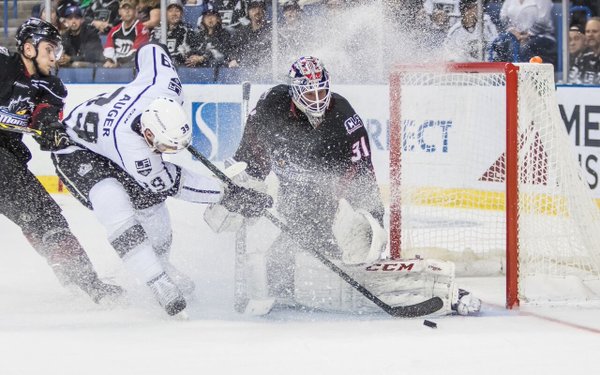 The Lake Erie Monsters fantastic postseason run had another great chapter in the storybook on Saturday night, when the Blue Jackets affiliate stole Game 1 of the Western Conference Finals out in Ontario, California, taking on the Reign.
Lake Erie bounced back quickly after going down 1-0, scoring three unanswered goals. But the Reign fought back and made it a game before Alex Broadhurst scored the game-winning goal in the third period.
Monsters Head Coach Jared Bednar gave goaltender Anton Forsberg his first start of the playoffs after Joonas Korpisalo had started the previous eight games, going 5-2, but struggling in his last three starts.
Forsberg and the Monsters defense held the Reign scoreless in the first frame, but Ontario goaltender Peter Budaj did the same, as neither team could score in the first 20 minutes.
Sean Backman struck first for Ontario, giving the Reign a 1-0 lead at the 4:23 mark of the second period.
The Monsters showed their resiliency yet again, as they have all postseason, scoring three goals in a three-minute time span to enter the third period on top by a score of 3-1.
Here's Lukas Sedlak scoring his fifth goal of the post-season to tie the game at 1.
.@monstershockey answers right back to tie the game up. #ONTvsLE #CalderCuphttps://t.co/4zY83eYwbB

— AHL (@TheAHL) May 22, 2016
Josh Anderson would follow it up, scoring his sixth goal of the playoffs before Ryan Craig came through with this beauty to make it 3-1.
Make that three unanswered goals for @monstershockey​ ??? #ONTvsLE #CalderCuphttps://t.co/ke3zkLJkzc

— AHL (@TheAHL) May 22, 2016
The Monsters would head into the second intermission leading by two, but Ontario fought back, thanks to a crucial goal from Nic Lowd, just 1:38 into the third period.
Joel Lowry made a beautiful move to tie the game up at the 8:16 mark of the third period, giving Ontario faithful some hope that they could defend home ice in Game 1.
What a move by Joel Lowry ? #ONTvsLEhttps://t.co/GEcrpsNkmQ

— AHL (@TheAHL) May 22, 2016
The Monsters rallied back thanks to Broadhurst's goal with 11:25 remaining in regulation, which proved to be the game-winner.
To watch Broadhurst's game-winning goal and all highlights from the game, click here (fast-forward to the 3:20 mark of highlight video for the goal.)
Lake Erie's defense would hold firm for the final 11 minutes and Forsberg would earn his second victory of the playoffs in his first start, making 27 saves on 30 shots.
Budaj saved 30 of 34 shots in the losing effort. The two teams are back in action at 10 PM Eastern on Sunday night in Ontario, where the Monsters look to take a 2-0 lead before they come back to Cleveland.