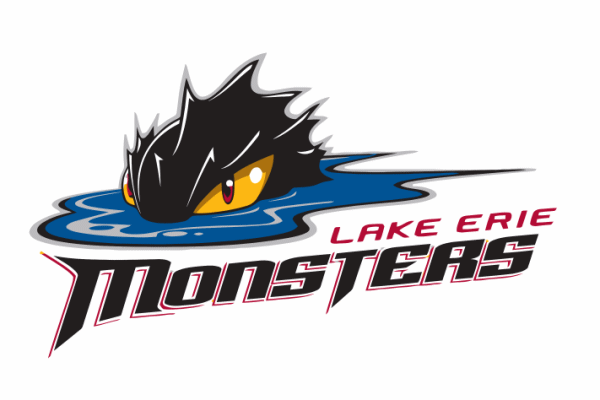 The most untold event in sports is the in-arena entertainment during the intermissions. Part of the craziness is checking the concession stands hoping that it was dollar-dog at the far-end stand. Or wondering why a bag of Kit Kats cost $4. The joys of watching people waste their money on overpriced food. But also the stupidity of me paying the same price for that average hot dog that still makes you hungry afterwards.
This is why the necessary action during intermissions take place inside the arena and at your seats. At the first intermission for the Lake Erie Monsters' game versus the Rockford IceHogs (what a name), we hear the Valley Forge High School band try to make a mark for the fans. Then it was the two Zamboni going to work with the lucky kids waving as they how no fear falling off the machine. They are just happy to be on.
But it was the second intermission that showed how entertainment can be forced and teased. The Monsters girls performed  for a very short 30 seconds! I was extremely disappointed because it looked like they were going to keep going. But the highlight of the intermissions was the "Trink" race (yes that was spelled correctly) which consisted of the Monsters worker forcing the bike to move so that the game can magically be close at the end.
Since the game is on a Thursday night, it is naturally "College Night" with 80's and 90's music throwback at Quicken Loans Arena. So the contest I could relate was the "Flip Cup" contest where fans get to prove whether fans were drinking or studying in front of the home fans. It was truly a throwback to the times in college where I was in high pressured situations to perform in front of a crowd. Certainly, I never had to play with cameras in my face in front of 10,000 people with prizes on the line. But if I was drinking, I would think I was ready. Fortunately, the participants involved were sober.
Intermissions are needed for valuable entertainment. It helps when the Monsters win games like this one over the IceHogs 4-2. The cool thing about intermission, it's ran like Las Vegas. What happens in intermission….

NEO Sports Insiders Newsletter
Sign up to receive our NEOSI newsletter, and keep up to date with all the latest Cleveland sports news.