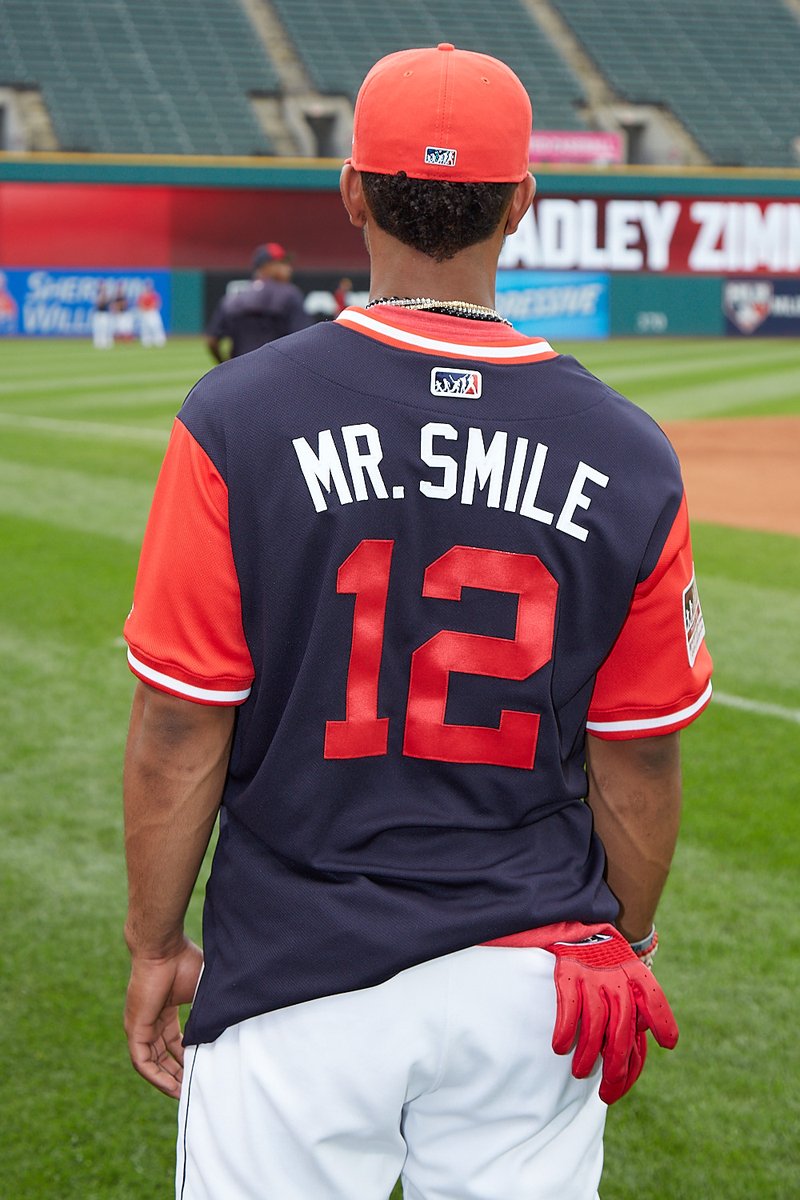 The Indians are going to have a different look when they take the field the weekend of August 26-27 when they take on the Kansas City Royals at Progressive Field.
Today MLB announced a new "Players Weekend," where players will wear "colorful, non-traditional uniforms featuring alternate designs inspired by youth league uniforms."
The league announced that players will instead of having their names on their unis like normal will have nicknames instead, and you can see below the list of Indians players and their nicknames.
Players will wear and use uniquely colored and designed spikes, batting gloves, wristbands, compression sleeves, catcher's masks, and bats.
Here's the Indians list of nicknames:
Players
Allen: Pollo
Almonte: El Varon
Armstrong: Armie
Bauer: Bauer Outage
Brantley: Dr. Smoothh
Carrasco: Cookie
Chisenhall: Big Lon
Clevinger: Sunshine
Crockett: Crock
Encarnacion: EE
Gomes: Gomer
Gonzalez: La Parita
Goody: Goods
Guyer: BG
Jackson: AJax
Kipnis: Kip
Kluber: Klubes
Logan: Booner
McAllister: Z-Mac
Miller: Miller Time
Olson: Oly
Otero: OT
Perez: Bebo
Ramirez: Ramirez
Robertson: Sparky
Salazar: Sally
Santana: Slamtana
Shaw: Geek
Smith: Sidewinder
Tomlin: Scrubs
Urshela: Gio
Zimmer: Machine
Coaches/support staff:
Alomar: Santos
Bere: Dad
Callaway: Mick
Camacaro: Dog Head
Francona: Tito
Mlls: Millsie
Pacione: Pecks
Quatraro: Q
Sarbaugh: Sarby
Excited to participate in #PlayersWeekend Aug. 25-27!

Players will wear youth league-inspired unis, w/nicknames! https://t.co/yeE4vNjb9C pic.twitter.com/0GsOLZMchS

— Cleveland Indians (@Indians) August 9, 2017
Here's a list of all of our guys' chosen nicknames for #PlayersWeekend.

Should be fun! https://t.co/yeE4vNjb9C pic.twitter.com/iAWfXDqIOo

— Cleveland Indians (@Indians) August 9, 2017

NEO Sports Insiders Newsletter
Sign up to receive our NEOSI newsletter, and keep up to date with all the latest Cleveland sports news.