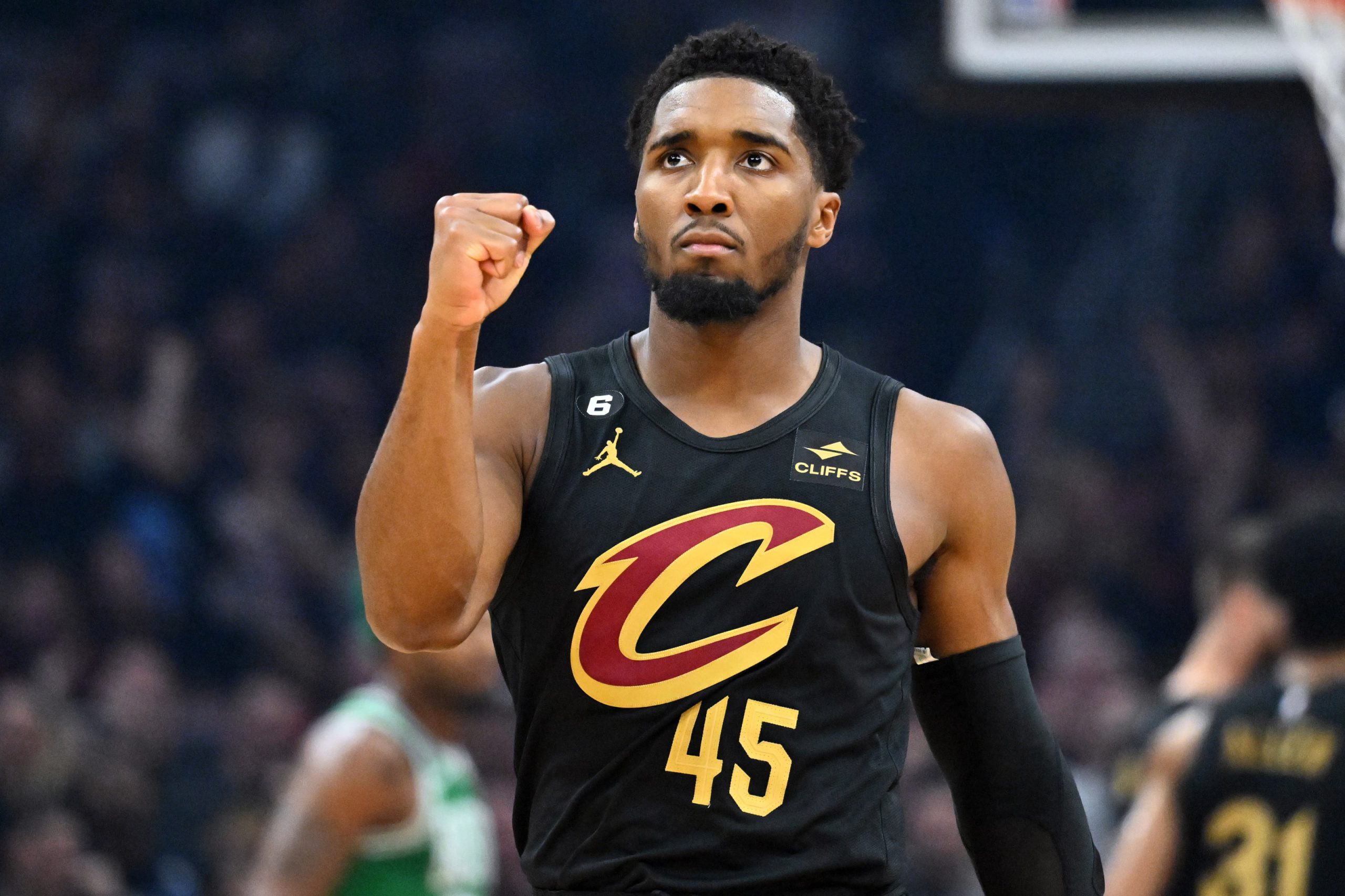 Donovan Mitchell has been everything and more so far this season, but his performance against the Bulls on January 2nd went a big step further. Mitchell led his Cavs team to a comeback win, and set a single game scoring record with 71 points. 
Mitchell scored more points in this game than any other Cavalier in over 52 years of franchise history. At times, he single handedly brought his team back from a 21 point deficit with 1:50 left in the first half. 
71 PTS
8 REB
11 AST
W

Donovan Mitchell sets a new scoring record for the Cleveland Cavaliers and becomes only the 7th player in NBA history to score 70+ points in a game. pic.twitter.com/qbOwr3sqyH

— NBA (@NBA) January 3, 2023
1st Quarter
Mitchell started slowly, scoring only 5 points in the opening quarter that saw Chicago build a 34 – 27 lead. Mitchell's loan basket was a three pointer, and he made 2 of 4 free throws.
The Cavaliers only made 7 of 16 shots from the floor. Fortunately, 3 of the 7 made baskets were three pointers, keeping the score closer than it seemed.
2nd Quarter
Led by DeMar DeRozan, the Bulls continued to expand their lead. Six baskets inside the paint for the Bulls, and two technical foul shots bumped the Bulls lead up to 18 points at the half, 65 – 47.
It would have been even worse, but Mitchell started heating up – scoring 11 points in the quarter, including 8 in the last 1:33.
Mitchell Time in the 3rd Quarter
Without making a three pointer, Mitchell went off: 6 for 9 from the floor, and a perfect 12 for 12 from the foul line, for 24 grand points. And the Cavaliers needed every single one of those points, out-scoring the Bulls by 13 points.
Mitchell scored nearly 55% of the Cavalier 3rd quarter points – 24 of the team's 44 total. He was unstoppable, and scored on drives and floaters. And when he didn't score, he got fouled and drained the foul shots. PERFECTLY.
Thanks to Mitchell, the Cavs were only down by five points, 96 -91. He also had two nice assists in the last minute of play to Kevin Love and Cedi Osman.
Clutch 4th Quarter Play by Mitchell
The Cavs needed 5 more points in the quarter than the Bulls to catch up, including 3 points in the last four seconds of play. 
It was a wild ending to the 4th quarter:
Love made one of two free throws to tie the game at 123 all with 1:08 left
LeVert left Nikola Vucevic for a wide open three to give the Bulls a 3 point lead at 37.0
Allen dunks on a nice Mitchell assist to put the Cavs down one at 126 – 125
At 18.1 left, Ayo Dosunmu drains two free throws to put Bulls back up by three
Allen makes a hook shot at 8.2, Cavs down by one
Cavs foul Coby White, and he makes both at 7.1 – Bulls lead back to three
Bulls foul Mitchell before he can attempt a three pointer at 4.1
Mitchell makes the first, and intentionally misses the second free throw, and somehow manages to get his hands on the rebound and score a close in basket to tie the game
DeRozan misses – Overtime!
"We were treated tonight to one of the greatest performances in the history of the NBA."#LetEmKnow | @cavs pic.twitter.com/IyiF5xk6xT

— Bally Sports Cleveland (@BallySportsCLE) January 3, 2023
Overtime is More Mitchell Time
Mitchell, not satisfied with 58 points through the game's four quarters, decided to continue to dominate, totally taking over the overtime with a perfect 4 for 4 from the floor, including 3 dagger three point shots. He also added 2 perfect free throws, for 13 of the Cavalier 15 points.
The overtime performance by Mitchell was a perfect exclamation mark to a phenomenal scoring performance. Mitchell played in fifty minutes of the fifty three total game minutes, and his energy level never waned. 
MITCHELL SCORED 55 POINTS IN THE 3RD AND 4TH QUARTERS AND OVERTIME!
Put it in writing. ✍️ #LetEmKnow pic.twitter.com/iphvVYYPwv

— Cleveland Cavaliers (@cavs) January 3, 2023
Final Dribbles-Mitchell's 71
Allen had a nice game, with 21 points and 8 rebounds. Cedi Osman contributed 19 points off the bench, including 4 three pointers. Kevin Love had 12 points and a game high 17 rebounds.
DeRozan paced the Bulls scoring with 44 points, and Zach LaVine chipped in 26.
BUT, this game belonged to Donovan Mitchell:  22-34 from the floor, 7-15 from three, 20-25 free throws, 8 rebounds, 11 assists, in 50 beautiful minutes of play.
Mitchell's 71 was the most by an NBA player since Kobe Bryant netted 81 back in 2006. Phoenix guard Devon Booker scored 70 in a game back in 2017. Donovan Mitchell's 71 puts him in the same rarified air as Wilt, David Thompson, Elgin Baylor and David Robinson.
Cavs play the Phoenix Suns in Cleveland on Wednesday, then embark on a five game road trip.
Get tickets here!
HISTORY.@ThatsJared | #LetEmKnow pic.twitter.com/3Mi0ilSqfe

— Cleveland Cavaliers (@cavs) January 3, 2023

NEO Sports Insiders Newsletter
Sign up to receive our NEOSI newsletter, and keep up to date with all the latest Cleveland sports news.