Midpark Berea Tailback Bryce "The Beast" Agnew redefined the term "Iron Man" this season. The fireplug of a tailback never stopped working and was a leader on the team both in spirit, courage and rushing yards. He never said no to any assignment and was the ultimate team player.

Agnew played both running back and linebacker and rarely ever sat out a snap. On offense he managed to compile an incredible 864 yards on only 137 carries in a pass happy offense. He cashed those chances in for 12 touchdowns on the ground and also earned the Week 7 NEOSI Player of the Week.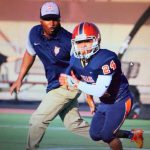 The Beast was the total package on offense as he also caught 29 passes for 285 yards and 3 more touchdowns. Agnew never fumbled the ball either. Can you imagine that? Over 165 touches with zero fumbles? That my friends is reliable consistency. He replaced star running back Darius Holland as the feature back and the Titans improved upon their 2016 record with Agnew at the helm.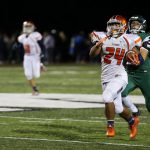 It also must be noted, that Berea Midpark ran a lot of QB draws with Trevor Bycznski near the goal line and in a lot of other short yard scenario's or his numbers would have been even greater. Also combine the fact that he split time with another stud in the backfield by the name of Jabriel Williams and that my friends is damn right incredible!
But you don't become the "Ironman" by only playing one side of the ball, Agnew was everywhere and involved on almost every single snap this season. On a defense that improved from last season, Agnew alongside Beau Bachie helped control the middle and keep the Titans in games late when they absolutely needed a stop.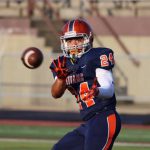 Bryce finished the season with a whopping 35 tackles, 22 of them solo and 2 interceptions. Considering the young man played almost every snap, that is remarkable!
NEOSI would like to congratulate Bryce Agnew on being this seasons Iron Man.
Full Photo Credit to Biz Sleibi

NEO Sports Insiders Newsletter
Sign up to receive our NEOSI newsletter, and keep up to date with all the latest Cleveland sports news.