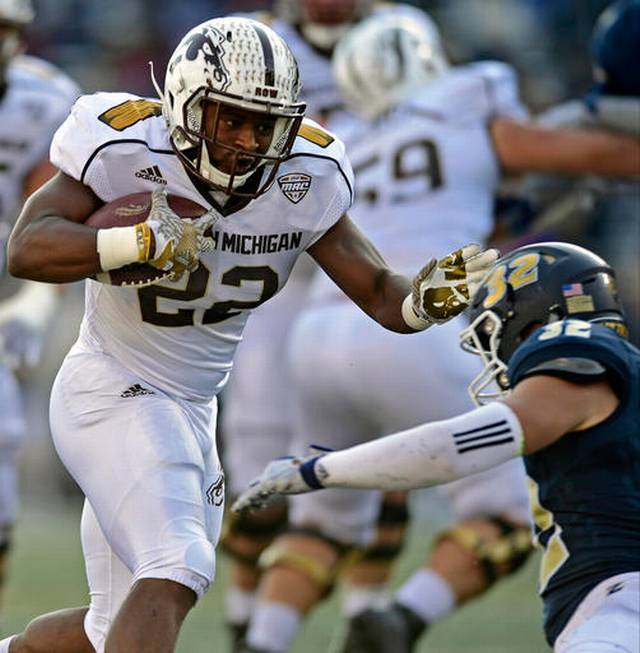 East Division
Offensive Player of the Week: Ohio RB A.J. Ouellette
Ohio senior running back A.J. Ouellette (Covington, Ohio) broke the 100-yard rushing mark for the first time this season with a game-high 135 yards on 13 carries and two touchdowns in a 52-14 win over Ball State on Thursday, Oct. 25. Ouellette rushed for a nine-yard touchdown in the second quarter and followed it up with a 44-yard touchdown scamper in the third quarter.
The Bobcats' 411 yards rushing marked the eighth-most in a single game in program history and the most since Ohio piled up 414 rushing yards in a 38-21 win over Ball State on Oct. 22, 2005. Ohio scored six rushing touchdowns, the program's most in a single game since scoring six in a 47-7 rout at Eastern Michigan on Oct. 4, 1997.
Defensive Player of the Week: Akron LB John Lako
Akron junior linebacker John Lako (Monroe, Mich.) led with a career-high 23 tackles, two tackles for loss and a fumble recovery in a 17-10 win over Central Michigan on Saturday. It marked the fourth consecutive game for Lako to lead the Akron defense. Lako recovered a fumble late in the first quarter.
The Zips turned the turnover into three points with a 43-yard field goal by Nick Gasser, giving Akron a 10-0 lead. Lako had a crucial tackle for loss of one yard on a 4th-and-1 in the fourth quarter, stopping Central Michigan's next to last drive. After seven games, the former walk-on is the Zips' defensive leader with 78 tackles, 5.0 TFL for a loss of 12 yards, three hurries, and a fumble recovery.
Special Teams Player of the Week: Ohio K Louie Zervos
Ohio junior kicker Louie Zervos (Tarpon Springs, Fla.) made all seven of his extra point attempts and converted a 23-yard field goal in a 52-14 win over Ball State on Thursday, Oct. 25 at Peden Stadium. Zervos converted from 23 yards out with 9:54 left in the second quarter to give the Bobcats a 10-7 advantage, a lead Ohio did not relinquish en route to scoring 52 points that went unanswered until Ball State scored a touchdown late touchdown in the fourth quarter.
West Division
Offensive Player of the Week: Toledo WR Cody Thompson
Toledo senior wide receiver Cody Thompson (Huron, Ohio) caught six passes for 63 yards and three touchdowns in a 51-24 win at Western Michigan on Thursday, Oct. 25. It marked his second game with at least three receiving touchdowns this season (Sept. 22 vs. Nevada).
Thompson now has 29 career touchdown catches, adding to his Toledo record. Thompson also passed the 3,000-yard receiving yards mark, as he now has 3,015 receiving yards, the most of any active player in the FBS.
Defensive Player of the Week: Northern Illinois DB Mykelti Williams
Northern Illinois junior safety Mykelti Williams (Indianapolis, Ind.) was part of a spectacular defensive effort in a 7-6 win at BYU on Saturday afternoon. Williams came up with a critical interception with less than two minutes left in the fourth quarter and BYU looking to drive for a game-winning field goal.
Williams' interception, his first of the year, returned the ball to NIU with 1:47 on the clock and allowed the Huskies to close out the one-point victory. Williams also made five tackles, four solo, in the game and had a pass break-up. The Huskies held BYU without a touchdown, limited them to 3-of-15 on third downs and held them to 93 rushing yards.
Special Teams Player of the Week: Northern Illinois P Matt Ference
Northern Illinois sophomore punter Matt Ference (St. Louis, Mo.) played a huge role in the Huskie defense's ability to hold BYU out of the end zone in 7-6 victory at BYU. Ference helped control field position for much of the game as he punted nine times for a 46.8-yard average, the best single game average of his NIU career.
Three of his nine punts forced BYU to start from inside its 20-yard line, including one that bounced out of bounds at the one-foot line with 6:24 to play and NIU clinging to a 7-6 lead. Another punt was fumbled, forcing BYU to start from its five-yard line. He had six punts of 47 yards or longer, including three punts of 50 yards or more. The hang time he was able to get limited BYU to nine return yards on the four punts they were able to return.
via MAC communications team