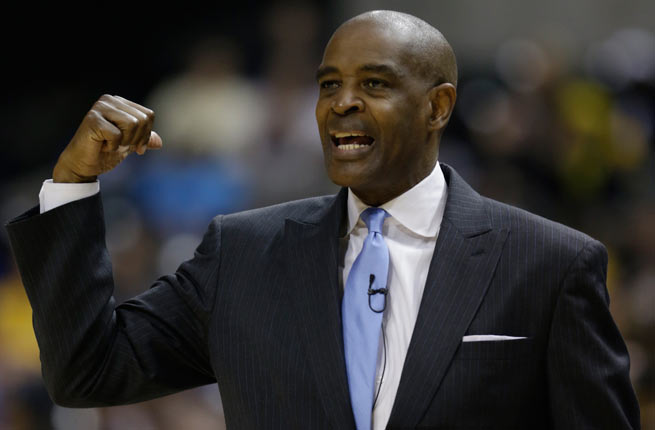 Cleveland- In case you haven't heard by now, the Cleveland Cavaliers have fired head coach Ty Lue and the Cavs offered the position of interim HC to assistant Larry Drew. The Cavaliers also informed assistant Damon Jones that he was going to be let go as well. Jones was known as one of Lue's closest confidants on the coaching staff, so this is no surprise.
So it's kind of ironic that I was planning on writing State of the Cavs today way before this news dropped. Luckily this new creates even more of a big picture for me to dissect as I breakdown the current State of the Cavs. I would like to update fans once a month on how things are going for the Cavaliers, with that being said this will be an opinion piece so while some of the information will be factually based other parts will be based on what I see and think.
Immediate ripple effect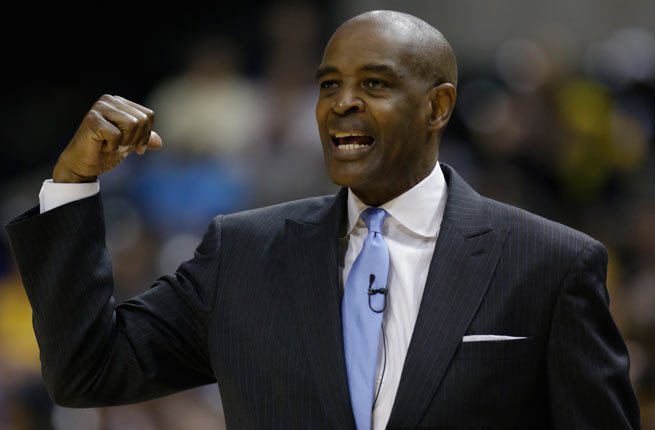 A new era of Cleveland Cavaliers basketball was going to begin this season regardless if Lue remained the head coach or not, but his firing creates a clean slate for the franchise going forward. With Larry Drew "filling" the position it will be a familiar voice to help the transition early on. Drew also has experience coaching this roster, during the time that Lue needed to step away for health reasons. Although having experience is nice, the locker room may need more than a familiar voice.
The reason for letting Lue go can easily be traced to the fact that the Cavaliers are sitting at (0-6) and as much as I hate to be the bearer of bad news the Cavs November schedule is brutal (Nuggets, Celtics, Lakers, Rockets) just to name a few opponents. Now while the bad start can be blamed on Lue, he was not the only issue with this Cavaliers team. An optimist would look at this situation and think beat the Hawks on Tuesday and get the monkey off your back. Then maybe beat the Hornets (Nov.3) and Magic (Nov.5) get yourself sitting at (3-7) through the first 10 games. Not a great start but at least you have a few wins under your belt and you still have the attention of your locker room.
The locker room dynamic right now is unique. I say that because you have two different camps represented in the Cavaliers locker room, and no its not young guys and Vets. There are the players that played in multiple NBA finals together then the guys that were brought over in last seasons block buster trade. It was no secret that Lue had a soft spot for the more experienced guys, while the front office felt differently. Chris Fedor of Cleveland.com wrote a similar sentiment this afternoon in his piece.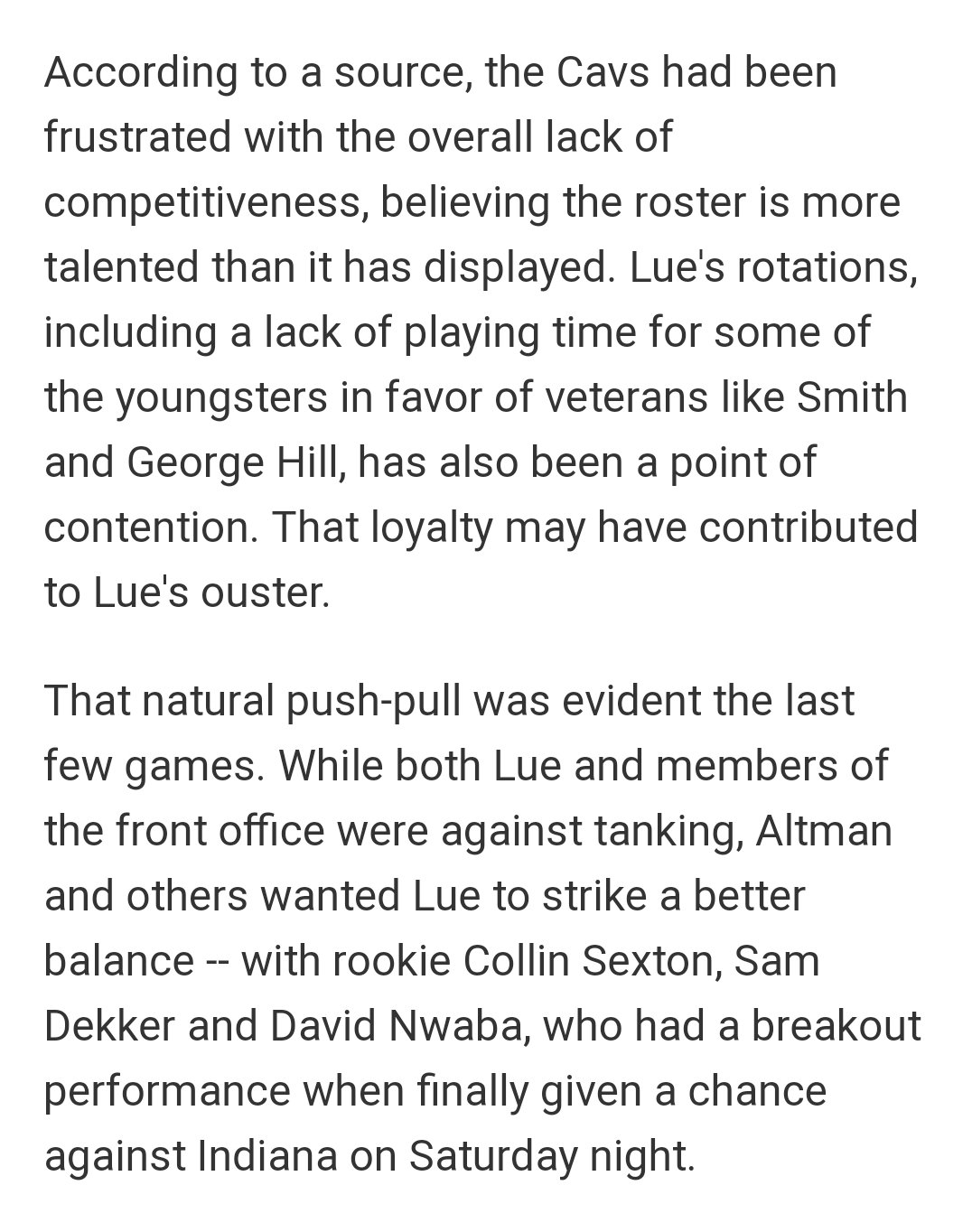 It appears right now that the direction the front office wish to go is different than the direction Ty Lue wished to go. What that exactly means is up for spectulation, their was an interesting quote in the statement released by the Cavaliers. General Manger Koby Altman wrote, " this is a different team equation," they needed a different voice and new approach. While this is going on the Cavs are in talks with Larry Drew to be that new voice in the locker room, because currently that is all he is.
Shams Charania of the Athletic reported that Drew would simply be the voice of head coach, while the organization figured things out. Drew wants the Cavaliers to commit to him beyond this season, and frankly you can't really blame him. Dan Gilbert doesn't exactly have the best history when it comes to head coaches. Which makes Sunday's news all the more troubling, it really came out of nowhere. It feels as if the move came out panic, because if Lue had such a short leash to begin with… then why even bring him back this season?
Lue helped bring a championship to a city that was starving for one, if Gilbert and Aultman believed in the summer that a divide between the front office and coaching staff could arise the move should have been made then. Now the Cavaliers find themselves in a bad situation, sitting at (0-6) with a vacancy at head coach coaching a roster that clearly has it flaws.
Buckle up Cavs fans the next few months will be interesting.
Rest of the season
This is where things get extremly interesting for the Cavliers as the roster they have now will most likely not be the one they finish the season with. Now this is a sentence all Cavs fans have read before, as the roster has been shook up the past four seasons. This difference this season though is that the moves will be predicated on a future rather than a win now approach. Now when I say a future I don't want your mind to directly go to tanking, even though that very well may be the end result of all of this.
One thing we know for sure is that Cavaliers forward Kevin Love is expected to miss extended time as he recovers from a foot injury. Adrian Wojnarowski of ESPN reported that the Cavaliers are preparing for Love to miss more than a month with a toe injury.

NEO Sports Insiders Newsletter
Sign up to receive our NEOSI newsletter, and keep up to date with all the latest Cleveland sports news.