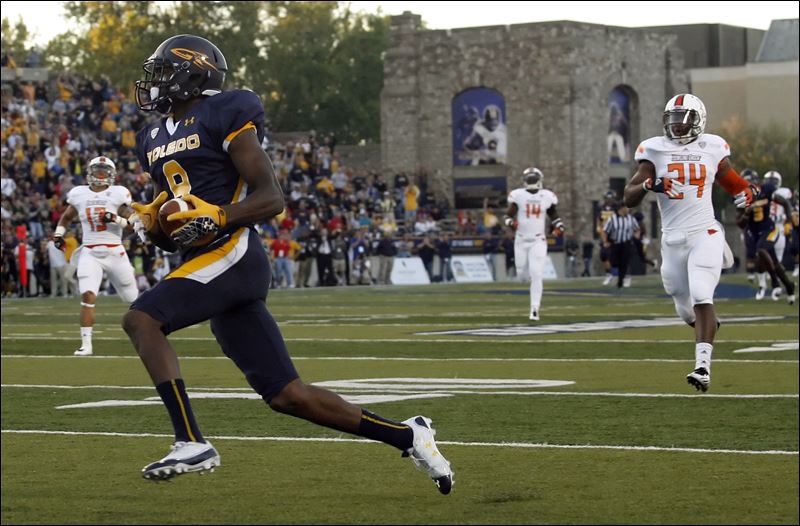 This Week's MAC Schedule
Tuesday, October 30
*Kent State at Bowling Green, 8:00 pm ET (ESPNU)
*Miami at Buffalo, 8:00 pm ET (ESPN2)
Wednesday, October 31
*Ball State at Toledo, 7:30 pm ET (ESPN2)
Thursday, November 1
*NIU at Akron, 7:00 pm ET (CBS Sports Network)
*Ohio at Western Michigan, 7:00 pm ET (ESPNU)
Saturday, November 3
*Central Michigan at Eastern Michigan, Noon ET (ESPN3)
MAC QUICK NOTES:
• Week 10 features the continuation of midweek MACtion with five games. Week 10 begins with two games on Tuesday, Oct. 30 at 8:00 pm with Miami at Buffalo (ESPN2) and Kent State at Bowling Green (ESPNU); one game on Wednesday, Oct. 31 at 7:30 pm ET with Ball State at Toledo (ESPN2); and two games on Thursday, Nov. 1 at 7:00 pm ET with Ohio at Western Michigan (ESPNU) and NIU at Akron (CBS Sports Network).
• In MAC crossover games this season, the East and West Divisions are tied, 5-5. In each of the last eight consecutive years (2010-2017), the MAC West Division has topped the East Division in regular season head-to-head crossover games.
• The MAC concluded its non-conference schedule on Saturday, Oct. 27th as NIU defeated BYU, 7-6, while Eastern Michigan suffered a 37-22 loss to Army. The MAC completed the regular season with eight FBS non-conference wins this year.
• Buffalo (7-1) and Western Michigan (6-3) are already bowl eligible. Both Northern Illinois (5-3) and Ohio (5-3) are one win away from bowl eligibility and both programs have the opportunity for their sixth win on Thursday, Nov. 1. NIU has been bowl eligible in nine of the last 10 seasons, while the Ohio Bobcats have been bowl eligible nine consecutive years.
MAC WEEKLY NOTES
• Northern Illinois won its fourth consecutive game with a 7-6 win at BYU on Saturday, Oct. 27 and the Huskies improve to 5-3 overall, 4-0 to lead the MAC West Division. NIU's defense was spectacular and totaled five sacks, eight tackles for loss and limited BYU to only 93 yards rushing and only two field goals. NIU quarterback Marcus Childers' one-yard touchdown run held up as the winning score. NIU won 7-6, and it marked the first time in 30 years to win a game with seven points or less (7-6 win over Akron on Sept. 3, 1988).
• Ohio improved to 5-3, 3-1 in the MAC East as the Bobcats totaled 411 yards rushing yards in a 52-14 win over Ball State on Thursday, Oct. 25. The 411 yards rushing was the eighth-best in a single game in Ohio history and the most since 414 rushing yards in a 38-21 win vs. Ball State on Oct. 22, 2005. Ohio scored six rushing touchdowns, the program's most in a single-game since scoring six in a 47-7 win at Eastern Michigan on Oct. 4, 1997. Ohio running back A.J. Ouellette had 135 yards and two touchdowns, while quarterback Nathan Rourke added 11-19 passing for 127 yards and one touchdown and 77 yards rushing and two scores.
• Toledo posted a 51-24 win at Western Michigan on Thursday, Oct. 25 to snap the Broncos six-game winning streak. Toledo scored on eight consecutive possessions (five touchdowns and three field goals). Toledo quarterbacks Mitchell Guadagni and Eli Peters combined for 247 yards passing and five touchdowns. Toledo wide receiver Cody Thompson had six catches for 63 yards and three touchdowns and topped the 3,000 yards receiving plateau as his 3,015 yards receiving is the most of any active player in the FBS. Senior kicker Jameson Vest converted three field goals and now has 68 field goals made for his career and is tied for first in Toledo history (68, Rusty Hanna, 1989-92) and tied for fourth in MAC history.
• Akron jumped out to a 17-0 lead over Central Michigan and hung on for a 17-10 final on Saturday, Oct. 27. Akron running back Van Edwards rushed for a career-high 112 yards and one touchdown, for his third 100-yard rushing game in his career. Akron linebacker John Lako led with a career-high 23 tackles as the Zips snapped a six-game losing streak in the series against the Chippewas.
• Eastern Michigan senior linebacker Kyle Rachwal collected a game-high 14 tackles in a 37-22 loss to Army on Saturday, Oct. 27. Rachwal became the 17th player in school history to surpass 300 tackles in his career.
provided by MAC Communications team

NEO Sports Insiders Newsletter
Sign up to receive our NEOSI newsletter, and keep up to date with all the latest Cleveland sports news.