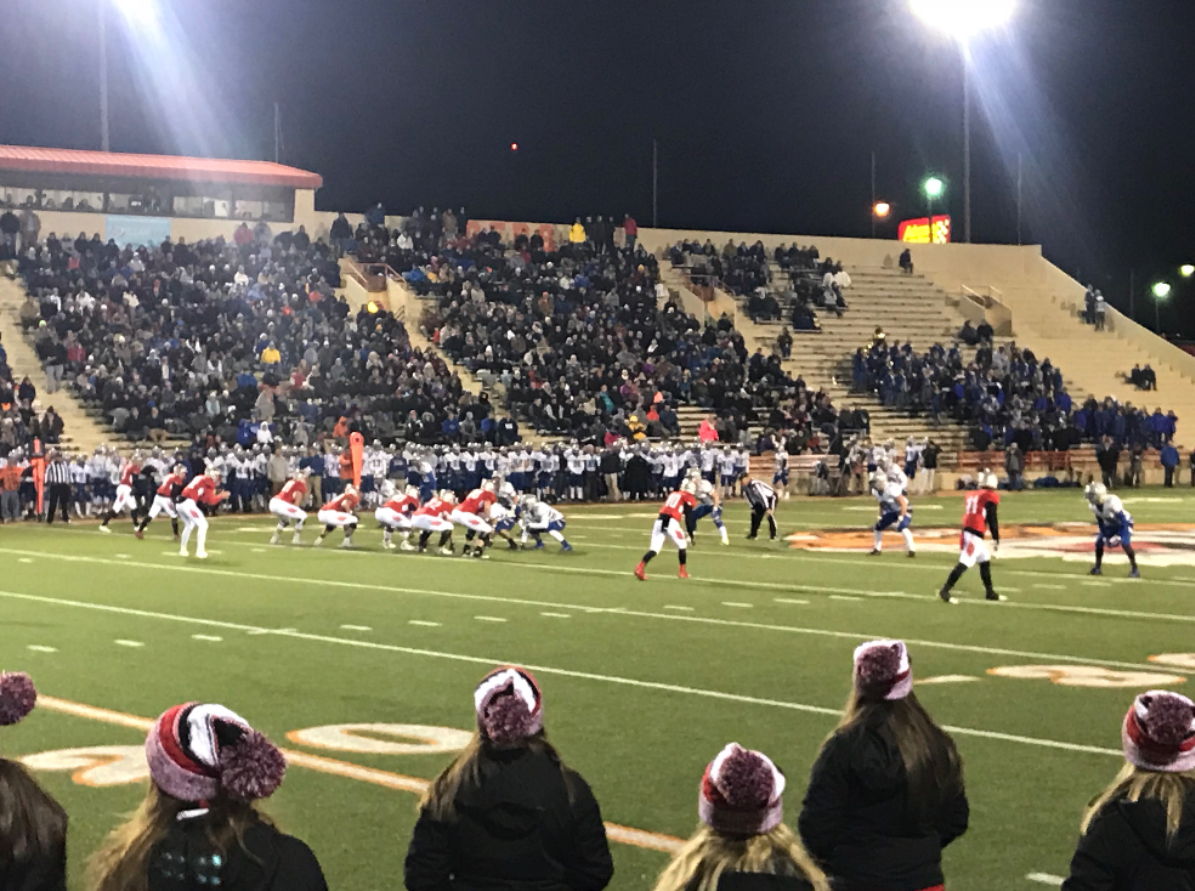 MANSFIELD, OH- The game didn't start off on the right note for the Mentor Cardinals. After a punt on the first drive, Olentangy drove the field 80 yards and scored from a Matthew Webb 1-yard touchdown run. The stout Mentor defense, being tough all year, went on to block the extra point. The next drive ended quickly, as a tipped pass led to a Liberty interception. Luckily, the defense of Mentor would force them to punt not too long after the interception.
Tadas Tatarunas would then correct his mistakes, as he led the Cardinals down the field for a touchdown. It was a perfect pass to senior Matt Hartman for 23 yards. Mentor would hold a one-point lead after the first quarter.
The second quarter would be a defensive battle for both teams. A plethora of punts occurred as it was tough to break out a big play late in the first half. The defense from Olentangy was solid all night against the run on Mentor. It was through the air where the Cardinals took advantage of the Liberty defense.
Mentor was well balanced running the ball all night. In fact, it was Tadas Tatarunas that led the Cardinals on the ground. The senior quarterback would handle 20 carries for 78 yards and two key touchdowns. Chris Edmond was the next man up carrying the ball 14 times and then Logan Shea also saw four carries.
It wasn't easy finding gaping holes or trying to create yards against the Olentangy defense. This was probably the toughest run defense the Cardinals have faced all playoffs, and that says a lot playing teams like St. Ignatius and St. Edward.
Halftime adjustments were needed for both teams in order to secure a win and move on to the State Championship game next week. It was Mentor who struck first. Coming out of halftime, the Cardinals put together an impressive 95-yard drive, a drive that took up nearly five minutes.
Facing a 3rd and 22, Tatarunas found senior wide receiver Luke Floriea 30 yards downfield for a key first down. A few plays later, Tatarunas ran it in two yards out to give Mentor a 21-6 lead.
"He showed leadership by running and passing," coach Trivisonno said. "He did a great job tonight, it was impressive."
After a long kickoff return by Olentangy following the Mentor touchdown, the Liberty would only need to draw up one play to answer back. A jump ball throw to the big 6'4" junior Benjamin Roderick cut the Cardinal lead. The 2-point conversion was good, and it was a tie game at 14.
Back-and-forth this game went through the third quarter. The next drive for Mentor resulted in another touchdown. Tatarunas' first rushing touchdown of the game would give Mentor a 21-14 lead. That would end up being the score heading into the final 12 minutes of the game.
After an Olentangy turnover-on-downs, the Cardinals stepped up big and added to their lead. Tatarunas ran it in to give Mentor a 27-14 lead for the moment. After a missed extra point, that score would stand with just above five minutes left in the game.
The talented Olentangy offense would quickly drive down the field, scoring seven points in just over two minutes. Mitchell Okuley found his senior running back Johnny Wiseman 17-yards out to cut the Mentor lead to just six points.
After that, the Cardinal defense stepped up and forced a turnover on downs on Olentangy's final drive. With just under a minute left, Mentor had the ball, up six, with no timeouts for the Liberty. Two kneel downs later and the Mentor players started the celebration on the field with their fans.
The Mentor defense is led by junior standout Noah Potter, Dan Garcar and Mike Brey. It's been tough all year to score points on this defense as they held top teams St.Ignatius and St.Edwards to a combined 34 points. Tonight they held Olentangy to just 21 points. It was another very solid outing from the Cardinal defense.
"Our defense was really good tonight," coach Trivisonno said. "They did some different things and they created a lot of problems."
The win puts Mentor in the State Championship game. Mentor will face Pickerington Central on Friday, December 1st for the Division 1 State Championship. The game is set to take place at Tom Benson Hall of Fame Stadium in Canton Ohio at 8:00 p.m.
"It is an awesome feeling," coach Trivisonno said on his team being one win away from a state title. "These kids have battled and fought and done what they needed to do."
| | | | | | |
| --- | --- | --- | --- | --- | --- |
| Team | 1 | 2 | 3 | 4 | Final |
| Mentor | 7 | 0 | 14 | 6 | 27 |
| Olentangy Liberty | 6 | 0 | 8 | 7 | 21 |
Player of the Game: QB Tadas Tatarunas
The senior quarterback just keeps getting it done when it matters the most. He completed 22-of-32 passes for 251 yards and a touchdown. He also ran the ball a team-high 20 times for 78 yards and two touchdowns.

NEO Sports Insiders Newsletter
Sign up to receive our NEOSI newsletter, and keep up to date with all the latest Cleveland sports news.