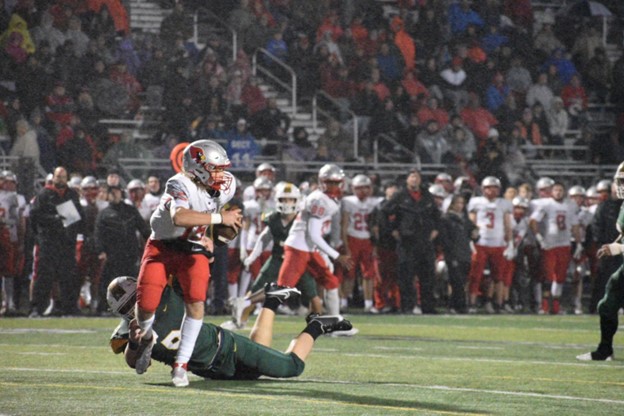 Mentor senior running back Mitchell Waite ran for 194 yards and three touchdowns, and the Mentor defense forced three turnovers to defeat the Medina Bees 42-21 in the Division I Region 1 semifinals on Friday night in Twinsburg.
The game was characterized by steady rain that did not stop until the fourth quarter. This rain made the ball slippery and really benefited the Cardinals, who ran the ball with consistent success, outgaining the Bees 260-114 on the ground.
First Half
The game started with back-to-back-to-back touchdown drives for the Mentor Cardinals, launching them to a 21-0 lead early in the 2nd quarter. Sandwiching these touchdowns were two Medina drives that ended with a turnover on downs. The first was due to a pass breakup by Mentor defensive back Caden Markowski, who was all over the field on Friday. The later was due to a dropped pass due to the slick ball from the rain.
Highlighting the early scoring was a 30-yard touchdown pass to Mentor tight end Justen Hodge, and a 34-yard run by Mitchell Waite. What set apart the Mentor offense versus the first meeting against Medina was the lack of turnovers – Mentor took care of the ball and simply took advantage whenever Medina made a mistake.
Medina made its best attempt at a comeback in the second quarter, where they were able to stop Mentor twice and recover an onside kick. Leading the defensive charge for Medina was defensive end Nathan Nunn, who had 2 sacks and a few tackles for loss. With the defense stepping up, Medina quarterback Danny Stoddard led two touchdown drives in the second quarter, finding his star receivers Brennen Schramm and Austin Knowles for touchdowns on consecutive drives.
However, before the end of the half, Mentor took advantage of great field position and sophomore quarterback Scotty Fox led a touchdown drive, a 11-yard touchdown to wideout Jacob Fox, to put Mentor up 28-14 before the end of the half. A huge story of the game was the field position battle – Mentor's average drive started at their own 42-yard line, which made life easy for the offense. Fox did not have a huge game on Friday – but he did not turn the ball over in the rain and was a great manager of the game.
Second Half
Despite being down 14 going into the half, Medina did not seem to make many adjustments in the second half. Medina opened the half with two more turnover on downs, giving them five at that point in the game. Running a five-wide offense, Medina's inherent lack of a running game hurt them severely with the poor weather. Further, Stoddard was consistently hounded by the Mentor secondary led by Markowski and Mentor defensive back Caleb Pohto, who had an interception of his own in the 4th quarter.
Also, Mitchell Waite started to really get going as a runner in the second half against Medina. Waite was a bullet up the middle for the Cardinals, rushing for 194 yards on 30 carries as the workhouse for Mentor with two touchdowns in the second half.
There was no point in the second half where Medina was really in the game, never pulling the game closer than two touchdowns. Mentor seemed to be able to handle the dynamic passing attack of Stoddard and the Bees, who only threw for 6.3 yards per attempt. Whenever Stoddard threw the ball, it always seemed to be into double or even triple coverage.
What's Next
Next week, Mentor will face St. Edward at a TBA location in the Division I Region 1 finals.
Scoring Summary
1st Quarter
Mentor: Justen Hodge from Scotty Fox, 30 pass (kick good, 8:56)
Mentor: Scotty Fox, 1 run (kick good, 2:55)
2nd Quarter
Mentor: Mitchell Waite, 34 run (kick good, 11:54)
Medina: Brennen Schramm from Danny Stoddard, 36 pass (kick good, 8:28)
Medina: Austin Knowles from Danny Stoddard, 11 pass (kick good, 4:25)
Mentor: Jacob Fox from Scotty Fox, 11 pass (kick good, 1:14)
3rd Quarter
Mentor: Mitchell Waite, 3 run (kick good, 6:05)
Medina: Carlos Corchado from Danny Stoddard, 9 pass (kick good, 4:39)
4th Quarter
Mentor: Mitchell Waite, 10 run (kick good, 5:15)
Notable Stats
Mitchell Waite (Mentor): 30 rushes, 194 yards, 3 TD, 2 catches, 20 rec yds
Scotty Fox (Mentor): 12-24, 145 yards, 3 total TD, 11 rushes, 64 yards
Holden Cerny (Mentor): 5 catches, 41 yards
Danny Stoddard (Medina): 31-58, 366 yards, 3 TD, 3 INT, 17 rushes, 114 rush yards
Jack Wojciak (Medina): 11 catches, 152 yards
Brennen Schramm (Medina): 6 catches, 107 yards, 1 TD

NEO Sports Insiders Newsletter
Sign up to receive our NEOSI newsletter, and keep up to date with all the latest Cleveland sports news.