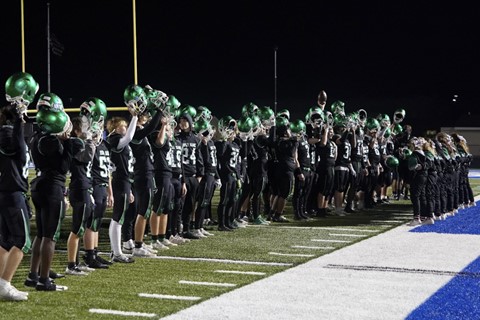 BRUNSWICK, OH –
It was a rainy Friday night at Brunswick High School with a Division 3 Region 10 Semi-Final matchup. Number 1 seed Holy Name came in off a come from behind win against Lutheran West last Friday night. Meanwhile, number 5 seed Mansfield Senior has come off 2 straight shutout wins in the playoffs. The semi-final matchup was going to be interesting in spotty weather conditions.
Mother Nature Plays Ball
Throughout much of the first half, rain was falling hard in Brunswick. This made the field conditions slick, and ball handling difficult. Both teams fumbled the ball in the backfield on multiple occasions. However, each team only lost one of those fumbles. They happened on back-to-back plays! Mansfield coughed it up first giving Holy Name possession. On their first play of the drive, Holy Name gave the ball right back to Mansfield. This set them up in great field position that eventually got them on the board with a field goal.
Mansfield Takes Over 1
st
Half
After the field goal, Mansfield seemed to gain all the momentum. On their next possession, Mansfield wide receiver Keontez Bradley took a handoff 86 yards for a touchdown. This gave Mansfield a 10-3 lead in the first quarter. After multiple defensive stands by Mansfield, their offense came back ready to play in the second quarter. Late in the quarter, QB Duke Reese found WR Amar Davis for a 39-yard touchdown. Heading into halftime, the Tygers led the Green Wave by a score of 16-3.
Green Wave Start Strong
Holy Name was looking to come back against Mansfield much like they did against Lutheran West last week. Their defense started off strong forcing a turnover on downs from Mansfield. On their opening possession of the half, they were very methodical. They used the passing game in the drive as much as they had all game. Senior running back Austin Wondolowski capped off the drive with a 3-yard touchdown run. On the ensuing kickoff, Holy Name tried an onside kick and recovered. This set the Green Wave up at the Mansfield 45 yard line. They capitalized on the recovery by taking a quick 2-play drive to the endzone. Senior quarterback Jayvon Williams finished the drive with a 26-yard TD run. This put Holy Name on top 17-16.
Holy Name Defense Seals the Game
After giving up big plays and playing choppy defense in the first half, Holy Name's defense picked up in the 2nd half. They started the half with a big turnover on downs that set up their offense around midfield. After their offense scored on two straight drives, the defense forced two straight Mansfield 3-and-outs. The closest the Tygers came to scoring in the 2nd half was on their final drive. Mansfield had the ball inside Holy Name's 30 with less than 2 minutes to play. The Green Wave stepped up yet again. They forced multiple incompletions and the 2nd Mansfield turnover on downs of the 2nd half. Holy Name's defense held Mansfield to just 65 total yards in the second half. They led Holy Name in the 2nd half to their 17-16 victory.
Next Week
With their win over Mansfield, Holy Name advances to the division 3 region 10 finals. They will face Padua Franciscan who defeated Norton 35-7 in their semifinal matchup. The game location is yet to be decided at this time.

NEO Sports Insiders Newsletter
Sign up to receive our NEOSI newsletter, and keep up to date with all the latest Cleveland sports news.