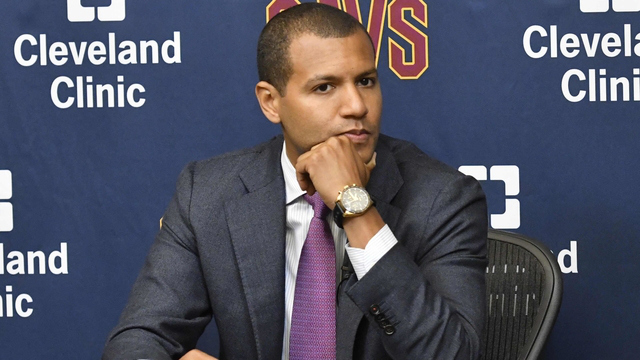 Cleveland-It has been a few weeks since the Cleveland Cavaliers and Larry Drew mutually agreed to part ways and their coaching search is beginning to take shape. There have only been four names talked about as official candidates, but the Cavaliers list is expected to be much longer than whats released to the public.
Cleveland has already spoken with Jamahl Mosley and Juwan Howard, while receiving permission to speak with Portland assistants Nate Tibbets and David Vanterpool. It was also reported by Marc Stein of the New York Times, that J.B. Bickerstaff is also expected to be someone the Cavaliers look at.
With that being said, it is expected Cleveland is still a ways away from naming a coach. There is no timetable for Cleveland to name a new coach, and nor should there be. The Cavaliers organization has an opportunity this off-season to begin building something for the future, a hopefully bright future.
The Cavs have a number of young players that hope to be building blocks for the organization going forward. Collin Sexton, Larry Nance Jr and Cedi Osman are all apart of the Cavaliers young core, plus the Cavaliers have a lottery pick in the June draft.
The NBA Draft lottery is on May 14th, a date that all Cavs fans need to keep an eye on. As mentioned above, there is no timeline for the search, this is a day to mark on your calendars. At this point in time the Cavaliers are tied with (New York and Phoenix) for the best odds to land the number one pick. Thanks to a tie-breaker with the Suns, the Cavs can fall no lower than sixth in the draft.
Not only is the lottery important in terms of the future of the franchise, but also the coaching search. Once Cleveland knows where they will be drafting, it will be easier for the front office to interview candidates and understand their vision for the Cavaliers going forward.
During his end of the season press conference Cavs GM Koby Altman gave some insight into what type of candidates they're looking for. "I think it's important that we find a leader who's in it for the long haul, who really wants to be a part of Cleveland, our city, and this team and can help us grow every day," explained Altman. "I think we have to be obsessed with the process of getting better and be not so much results-driven. And so that's the person I need to find."
As of now, Koby Altman and company are vetting candidates to create their short list of guys whom they want to interview. This process is going to take some time, and as a Cavs fan, this is what you should want.
Buckle up Cleveland, a new era of Cavaliers basketball is about to born. Below are some of the possible coaches that could end up as the Cavaliers head coach.
J.B. Bickerstaff- Former Memphis Grizzles coach
In what was a surprising move, the Grizzlies decided to let go of Bickerstaff on April 11th. Bickerstaff took over for Memphis after they let go of David Fizdale in 2017, the second time he stepped in for a fired coach.
After the Houston Rockets fired Kevin McHale in 2015, it was Bickerstaff who stepped in for the final 71 games of the season. Despite a record of 85-131 as a head coach, all indications out of Memphis point to his former players liking him. The one knock against Bickerstaff would be his reputation in player development is not strong, which could prove costly during the hiring process.
He his the son of former NBA coach, Bernie Bickerstaff who currently works as a senior basketball advisor with the Cavaliers.
Jamahl Mosley- Dallas Mavericks
Mosley was an assistant with the Cavaliers from 2010-14, before joining Rick Carlisle in Dallas. The Mavericks assistant has experience with USA Basketball as well as he spent time with Greg Popovich at Team USA's mini-camp last summer.
One of the more enticing things about Mosley is his coaching on the defensive end.Prior to this season, Mosley was named the defensive coordinator for Dallas, where he was able to instill his own philosophies as a coach.
Juwan Howard- Miami Heat
Howard played 19 seasons in the NBA, before retiring and joining Erik Spoelstra's staff in 2013. Since joining the Miami bench, Howard has done a lot of work with Heat big men Hassan Whiteside and 2017 first- round pick Bam Adebayo.
Last off-season Howard interviewed for the Detroit Pistons, New York Knicks and Charlotte Hornets job openings, after being bypassed he returned to Miami.
Nate Tibbets-  Portland Trail Blazers
Nate Tibbets has worked his way up through the coaching ranks, starting as an assistant with the University of Sioux Falls (2001-2005). Upon leaving the college ranks, he joined the Sioux Falls Skyforce coaching staff in the NBA Developmental League in 2005. Where he was eventually named the head coach before the 2007-08 season.
In 2009 he became the head coach of the Tulsa 66ers and lead them to the D-League Finals in their first ever trip to the playoffs. In 2011 the Cavaliers named Tibbets an assistant coach, where he coached until the 2013-2014 season when he joined Terry Stotts in Portland.
Last season he interviewed for the Atlanta Hawks vacancy before Atlanta decided to with Lloyd Pierce. Tibbets is very well respected around the league, and fits the mold of what Cleveland is looking for.
David Vanterpool- Portland Trail Blazers
Much like Nate Tibbets, David Vanterpool has worked his worked his way through the basketball world. Vanterpool started coaching with European power CSKA Moscow, upon retiring from the club.
In 2017-18, he joined Portland's staff after two season in Oklahoma City as the Director of Pro Personnel. Since joining the Trail Blazers, Vanterpool has worked closely with stars Damian Lillard and CJ McCollum.
A five-time coach for the NBA's Basketball Without Borders initiative, where he ran coaching clinics in the Bahamas in 2017.Last summer Vanterpool was a member of the coaching staff for the Team USA mini-camp.
Over the last few summers Vanterpool has been interviewed by numerous teams and is one of the hottest coaches on the market.
Alex Jensen- Utah Jazz
Utah assistant Alex Jensen has experience in the Cavaliers organization, serving as the Canton Charge head coach from 2011-2013. During his tenure in Canton, Jensen compiled a 57-43 and earned coach of the year honors in 2013.
Prior to coaching the Charge, Jensen joined his college coach Rick Majerus on the Saint Louis staff for four seasons.
Jensen joined Quinn Snyder in Utah upon leaving Canton, where he has become a highly touted player development specialist. According to Jensen himself, he boasts Jazz big man Rudy Gobert as his star pupil.
Just like David Vanterpool, Jensen was named an assistant coach for Team USA during the summer mini-camp.
Jordi Fernandez- Denver Nuggets
Fernandez was born in Spain before working his way through the coaching world. His first big break came via the Cavaliers in 2000 when he was
Unlike most of the other candidates Fernandez didn't have a professional career to lean on, in fact he realize as a young child in Badalona, Spain that his future wasn't playing the game, but rather teaching.
While working on his PhD, Fernandez traveled to the U.S to work for IMPACT Basketball's player development program. It was in 2009 at one of IMPACT's camps where former Cleveland Cavaliers coach Mike Brown noticed Fernandez's coaching.
Brown and the Cavaliers hired Fernandez in a player development role before he eventually landed with the Cavaliers G- League affiliate, the Canton Charge. After four seasons in player development role, Fernandez was named head coach in 2014.  Serving as the Charge head coach from 2014-2016, Fernandez's impact is still felt throughout the Cavs organization. Mike Gansey, Koby Altman's chief assistant, and the Charge former general manager still speaks highly of his former coach.
"You talk to him for five minutes, and you feel like you're his best friend or you're an important person," Gansey said. "He makes you feel wanted so much … He's just got that personality and that presence, especially with players."
The Cavaliers organization had five coaches and three general mangers during Fernandez's seven seasons with Cleveland, but one thing never changed. His work ethic. Mike Malone, the current head coach of the Denver Nuggets spoke highly of his current assistant. "He gets his foot in the door," Malone said of Fernandez, "and he's going to find a way to continue to fill gaps and do things are necessary for the team and the staff to move forward."
Last summer was an important one for Fernandez, he lead the Nuggets summer league roster. According to the Denver Post, he was in charge of teaching the Nuggets' style of play, everything from floor spacing to how Denver planned on defending the three-point line.  The opportunity was a chance for Fernandez to get back to his roots, to what he feels most comfortable with, teaching the game he loves.
Fernandez is almost done with his PhD in sports psychology, where he has been researching the effectiveness of an offensive play can be determined by the team's behavioral patterns before a shot goes up. This season as he's helped the Nuggets to a top ten offense in the NBA, producing a 116.23 offensive rating per 100 possessions this season.
Adrian Griffin- Toronto Raptors
In 2014 when the Cavaliers last interviewed head coaching candidates, Griffin's name was a popular one, but Cleveland wasn't sure he was ready to sit in the head chair. Now five years later, Griffin's name is once again one to keep an eye on.
The 44 year old, has 2o seasons  of experience in the NBA, working in Chicago, Orlando, Oklahoma City and Toronto. Add in his work with Team USA and it's not difficult to see why Griffin is an enticing candidate.Shortly after being named the Toronto Raptors head coach, Nick Nurse turned to a familiar face to be his lead assistant.
Griffin and Nurse meant in 2007 while Nurse was the head coach of the Bull D-League affiliate the Iowa Energy. While Griffin's career was coming to an end, Nurse noticed Griffin's basketball IQ and tagged him as a future coach.
When asked what makes Griffin a great coaching candidate, Nurse leans on that experience. "He's 20 years in the league now," Nurse said. "He brings experience from the player side. He has really worked with some great coaches. He has a really outstanding defensive pedigree. He's a good person and a stabilizing force for some of our young players."

NEO Sports Insiders Newsletter
Sign up to receive our NEOSI newsletter, and keep up to date with all the latest Cleveland sports news.