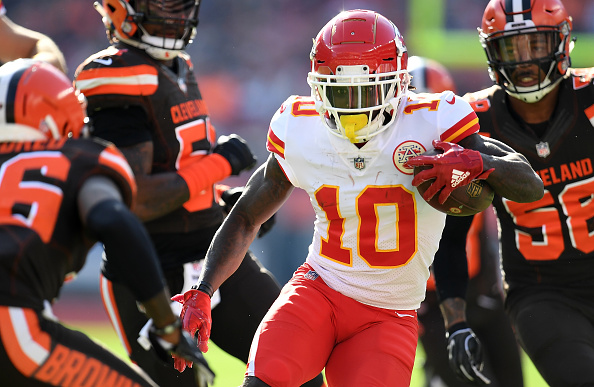 As of this writing, Tyreek Hill is still a member of the Kansas City Chiefs. The consensus belief is that won't be the case for long.
Due to the release of disturbing audio involving Hill's fiancé confronting him about circumstances that led to their three-year-old son breaking his arm, the star wideout has been suspended indefinitely. Many around the league, though, believe he should be released.
It'd only be natural, then, to wonder if Hill ends up joining the Cleveland Browns. After all, it was John Dorsey who drafted him in Kansas City. Cleveland's GM has already signed one Chiefs reclamation project this offseason, so it wouldn't be far-fetched to think he'd pursue Hill if he were released.
I truly hope he doesn't. While Dorsey has shown a tendency to offer second chances, he needs to draw a line when it comes to Hill.
Technically, you could argue he's already given the Chiefs wideout a second chance by drafting him in the first place.
Hill had been dismissed from Oklahoma State after pleading guilty to domestic assault and battery, leading many to assume he'd go undrafted. However, as Kansas City's GM, Dorsey took him in the fifth round in 2016.
It's this connection which leads many to believe Hill could find himself in Cleveland if he's cut by the Chiefs.
Once again, though, this is an opportunity Dorsey shouldn't even consider offering.
While Hill hasn't officially been charged of any crimes, the audio released last night is damning to say the least. His fiancé brings up how terrified their son is of him, and details the abuse in question. At one point, Hill threatens her, as well.
Frankly, it sickened me to see some hear this and think "the Browns should go after Hill if the Chiefs cut him." People heard audio detailing the abuse of a three-year-old child and only considered the benefits Hill could offer on the football field.
It's one thing for fans to feel this way, but it's completely different if we're talking about a GM.
Dorsey has to see this for what it is. It's a potential repeat offense from someone he once put his trust in, only now the victim is a child. If Hill were cut without charges coming down, this shouldn't be viewed as an opportunity to snag a Pro Bowl talent without paying too much.
Of course, one of the main reasons people assume Dorsey would see it that way is the simple fact he made a similar move just a couple months ago.
Cleveland's GM offered a second chance to another player he drafted in Kansas City, running back Kareem Hunt. He was signed just months after being cut by the Chiefs for lying about an incident involving shoving and kicking a woman.
The Browns understandably took quite a PR hit for this move, and it's one many (myself included) still aren't very comfortable with.
It's also a move which appeared to signal to the rest of the league that, if you find yourself in trouble off the field, no worries, Cleveland will welcome you with open arms.
This is essentially the message Dorsey would endorse if he pursues Hill after a potential release. It's a reputation neither he nor the team should want to have.
Mind you, I'd feel this way even if Hill is never technically charged. I would hope Dorsey does, as well. The situation has already become extremely ugly as it is, and is something the Browns shouldn't feel compelled to get involved in by acquiring him should the Chiefs move on.
I understand Dorsey's reputation as someone willing to give out second chances. He gave both Hunt and receiver Antonio Callaway opportunities many felt they didn't deserve.
But how far is too far? At what point do you determine a second chance shouldn't be offered? At what point do you realize a player's issues are bigger than the talent he brings to the table?
I would hope this realization comes with Hill.
The fate of the Chiefs' wideout remains to be determined. If, however, Kansas City moves on, Dorsey cannot come sweeping in to pick him up.
He already gave Hill an opportunity to move on from his past, and the wideout appears to be wasting it. Why give him another?

NEO Sports Insiders Newsletter
Sign up to receive our NEOSI newsletter, and keep up to date with all the latest Cleveland sports news.