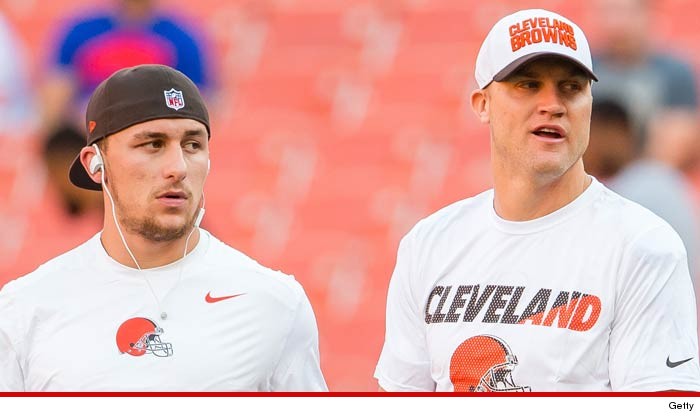 Josh McCown sat and watched Sunday as the Browns took yet another uppercut from an AFC North rival, losing to the Steelers in Heinz Field 30-9.
The team is sitting at 2-8 as they enter their bye week, and as we talked about Friday, the club has a rough slate the remaining six games, and it would be hard pressed to see them winning more than 2-3 games in the last six.
The biggest question with the team is what QB is going to be under center for those final six games?
McCown and Sunday's starter, Johnny Manziel have each won one game this year as the starter, with Manziel going 1-2 in three starts, and McCown going 1-6 in his seven starts (remember though he only played less than a quarter in the opening day loss to the Jets).
Today McCown spoke to the media in Berea, stating that he felt he was near playing against the Steeelrs, but instead was inactive as Austin Davis was the backup for Manziel.
"It was close. It was close," McCown said.
"Obviously, the doctors have to take everything into consideration and help you make the best decision that we can as a group and as a team. They thought it best to wait this one out so we move forward."
It's been a rough season for the QB, as he's taken a number of hard hits, with the Rams loss in St.Louis coming to mind as a game where he took a lot of punishment.
Sunday it was Manziel's turn to take a number of hits, as the Steelers defense pounded him for six sacks for minus 45 yards. McCown did give kudos to the toughness Manziel showed in the 21-point loss.
"I thought he did a really good job. I am very proud of him," McCown said.
"It is a credit to (quarterbacks coach) Kevin O'Connell and how he handles our room and the way we go about it every day with our preparation and then to Johnny himself for putting the time in. For everything that was put into the gameplan and that we ask the quarterback to do, I thought he handled himself very well. He did a lot of really good things."
McCown has been a pro since coming to the Browns, but the reality of it is that he may not see the field the rest of the season.
Manziel needs more time under center, and if the Browns are already looking to 2016, no matter who the coach or GM is, the right decision is to go with the second-year QB over the veteran QB in McCown.
Monday the question on if it has crossed his mind that he might not start again this season was asked to McCown, and as usual he dealt with it trying to stay as positive as possible.
"My mindset is always be ready to go. I was just pleased with how he was playing. I've been in a bunch of different quarterback rooms in this league and I just root for the guys in that room," McCown said.
"You want that room to do well because you know it can help our team. That was all. I was just really excited for him and the way he was playing more than anything.
"Like I said, if that's the case, that's the case, and we'll move forward accordingly. Like I said, just from a philosophical standpoint, you pick somebody in the first round and they start to play and start to do some good things, I understand it if that's the decision. We'll see what happens moving forward, but regardless, the point for us is to continue to grow and get better in that quarterback room and do everything we can to win this next football game."
Many think it's time to make the move for good for the Browns at QB, and for Manziel to be the quarterback under center the rest of the year.
Having lost 13 of their last 15 games, things can't get much worse for this football team, but if there's one thing that McCown won't do, it's make a public spectacle out of the QB situation if he's not going to play the rest of the year.
As of now, he hasn't been told what's going to happen, and with the Browns on bye this week and not playing another game until their Monday night game at home on November 30th against the Ravens, he probably won't know for awhile.
"I have not heard anything, and the same line that I have said since I got here: When that day comes, then Johnny will be playing and I won't; I will support and help him get ready just like I did this week and do everything I can to help him to play the best ball he can to help us win football games," McCown said.
"That is the way I view it – any player on a team, you do everything you can to help the team win and to serve the team in your role. If you are the starting quarterback, you go out there and play the best ball you can. If you are the backup quarterback, you help that guy get ready to go and help him play the best ball he can so that the team can win. It is about the team. That will be their decision, and we will adjust accordingly and move forward doing everything we can to make that quarterback room as productive as possible and get us back on [track].
"When you lose this many games in a row and things go this way, you just want to find a win. I don't care who does it. I just want our team to win. It is about our team."

NEO Sports Insiders Newsletter
Sign up to receive our NEOSI newsletter, and keep up to date with all the latest Cleveland sports news.