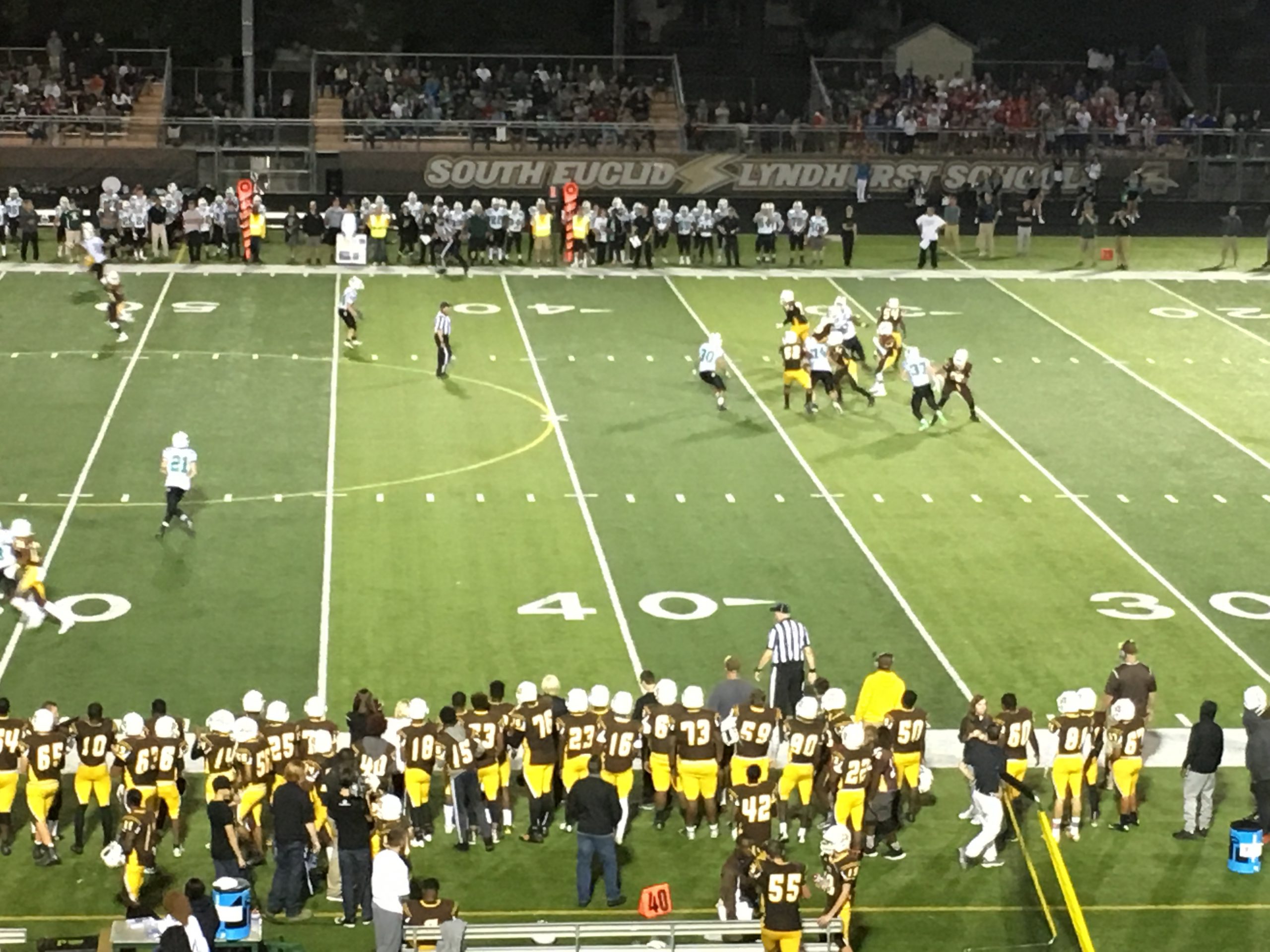 By: Michael Bohm
A long Mayfield touchdown on the very first play from scrimmage certainly seemed like an indication that the Wildcats would win their 13th consecutive game against Brush. Last season, the Arcs lost on the final possession. This year, it was finally the Arcs' time for redemption, overpowering Mayfield to emerge victorious, 37-24.
Right from the get, Mayfield attempted to assert their dominance over Brush from the previous 12 seasons, as Joshua Appling took a handoff on the opening play and scattered upfield untouched for a 70-yard score. But, after a Brush field goal and a defensive stop, Godwin Joe and the Brush offense picked up steam. Joe found wideout Andree Franks running deep across the middle. Franks broke a tackle and was off to the races, going 93 yards for the score, giving the Arcs the 10-7 lead.
Mayfield would respond when quarterback Jake Dostal escaped a collapsing pocket, stayed on his feet after nearly losing his balance, and found a wide-open Ben Sherlock in the corner of the end zone for a 44-yard score. A field goal in their next possession would be the final time that Mayfield would hold the lead.
Brush received the ensuing kickoff with a mere nine seconds remaining, from their own 2- yard line. Joe would throw a rocket deep to set the Arcs up at the 38 yard line with one second remaining. What happened next would make Aaron Rodgers proud, as Joe completed a spot on Hail Mary pass to his 6'4" target, Markel Toney, to tie the game up with the clock expiring.
Brush received the opening kick to start the second half, and marched right down the field to score in 54 seconds, capped off by a 27-yard completion to Donovan Johnson.
As the second half continued, Joe would also throw for touchdowns of 75, 41, and 11 yards, respectively, showcasing pinpoint accuracy and long range. All in all, Joe totaled 517 yards through the air, six touchdowns, and 130 yards on the ground.
The Arc offense was near unstoppable, as receivers had no difficulty gaining steps on their Mayfield counterparts, and Joe was just the man to find them. Not to mention, a crucial interception committed by Dostal, in which Joe made an impressive jumping catch to prevent what could have been a deep scoring play for Mayfield.
Coming out winners, Brush has won their third straight, improving to 3-1. They travel to Kenston next week in hopes improving their streak to four. Mayfield falls to 2-2 and will look to bounce back against Chardon.
PLAYER OF THE WEEK:
Godwin Joe, who ended the game with 18-0f-31 passing for 517 yards and six touchdowns, as well as 22 carries for 130 yards.

NEO Sports Insiders Newsletter
Sign up to receive our NEOSI newsletter, and keep up to date with all the latest Cleveland sports news.