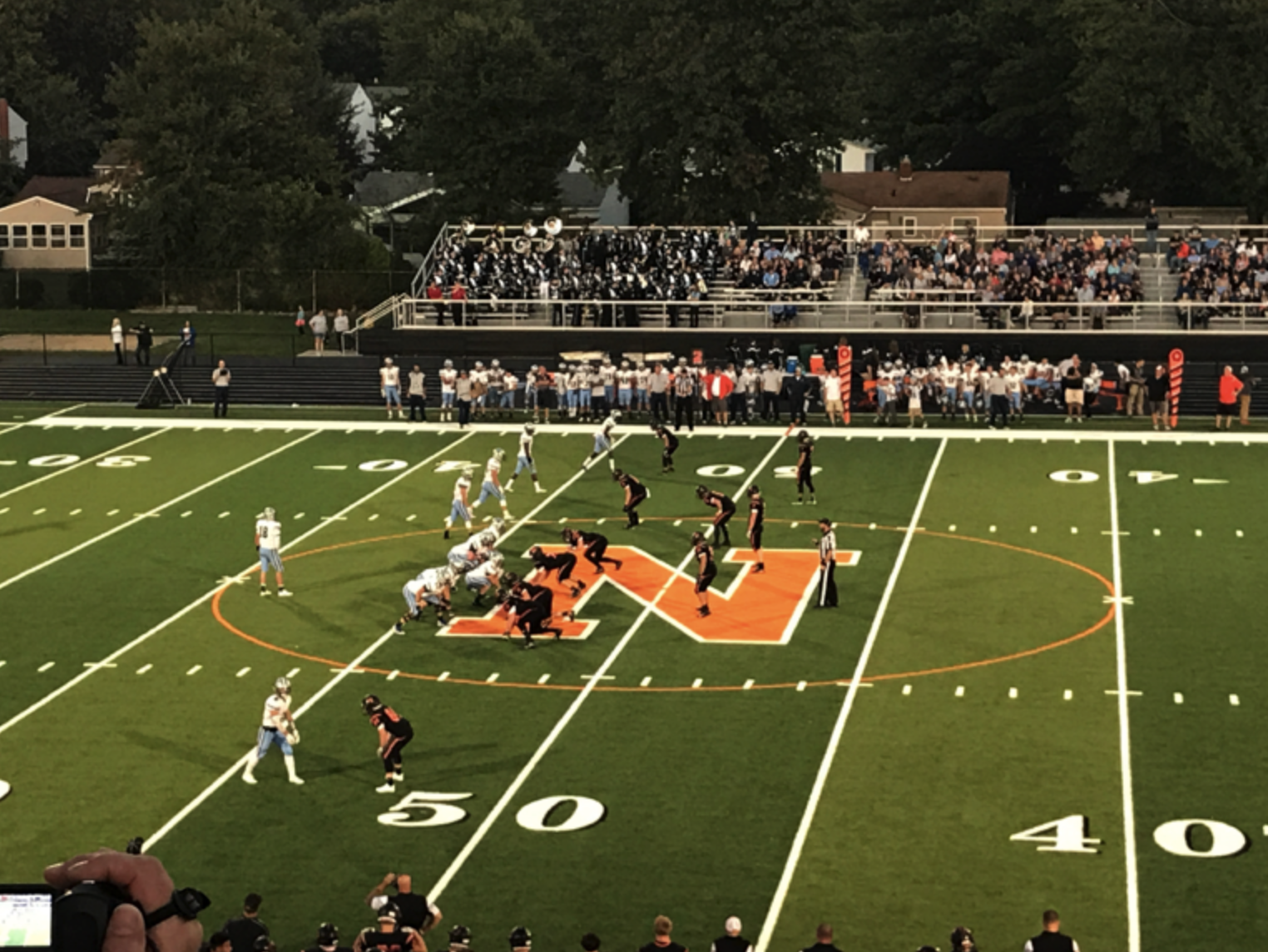 Eastlake, Ohio– It didn't take long for a Kenston touchdown Friday night in Eastlake. Kenston drove down the field on their first possession to open up the scoring.
Taking up only a minute and 58 seconds, running back Evan Pyle made his way into the end zone from nine yards out. It was a night where Kenston never trailed in the game, which turned out to become a very vital part in their win Friday night.
"We've been emphasizing that all year," head coach Jeff Grubich said, "We want to start fast and we want to take the fight to them right away. It's a good thing but unfortunately it was probably our cleanest drive of the night."
The first quarter started off quickly for the Bombers. A nice first drive got them up early on North. That ended up being the only score in the first quarter.
The Bombers had some trouble with penalties early on though. Two penalties, which added up to 20 yards, made the Rangers march down the field on their first possession. Tyler Mintz of Kenston came up big on the defensive end as he ended up intercepting Jake Tanski's pass when they got deep into the red zone.
Penalties were a big problem throughout the night for Kenston. Big plays made on the offensive end were getting called back all night for the team. in fact, two long touchown plays got called back due to holding calls on Kenston. That's a main problem the team as a whole needs to work on as the season goes on in order to take their play up to another level.
The second quarter is where the scoring started to break free. Eastlake North finally ended up getting on the board by a 25-yard field goal from Spencer Wood. It didn't take long for Kenston to answer back as Kee-Shaun Merrill returned the following kickoff 91 yards for a touchdown.
One key factor for the Bombers all night was there outstanding defense. As the game went on, you can tell the defense was wearing out the offense of Eastlake North. The big plays just weren't there for the Rangers. It wasn't just one guy that stood out on the defensive end, the line as a unit brought trouble all night to Eastlake.
"Conner Kure is a kid that's got a lot of playing experience. He made some great plays tonight and he's a selfless player." Coach Grubich stated.
One key standout on the defensive end for Kenston was Sophomore Tyler Mintz. Friday night he registered two interceptions, both coming in critical times during Eastlake's possession.
The speedy Sophomore now has four total interceptions on the season and that number is likely to continue to rise with the way he's been playing.
"I'm proud of that defense in general tonight. Those coaches got them adjusted at half time and the defensive players responded. Great effort by the defensive side of the ball." Coach Grubich said after a remarkable effort on defense Friday night.
Things got a bit interesting late in the fourth quarter. Jake Tanski threw a five yard touchdown pass to Tyler Dodd with 2:21 left in the game. Down 16-21 at that point, North ran a two-point conversion and they succeeded, cutting the deficit to only three.
Minutes later North tried an onside kick and successfully recovered it at the Bombers 49 yard line. But their luck would eventually run out after failing to complete four straight passes to give the ball back to Kenston with two minutes left in the game.
"It was a four quarter battle tonight." Coach Grubich said after the victory Friday night. "It was a playoff atmosphere tonight, it was a week 12 kind of game where it comes down to the final possession."
The win against Eastlake North improves the record for Kenston to 4-0 on the season. Next week they host Brush at home as they look to continue to an undefeated season. As for Eastlake North, the loss drops their record to 1-3. Next Friday night, the Rangers travel to Willoughby South, as that'll be a much needed win against their rival.
| | | | | | |
| --- | --- | --- | --- | --- | --- |
| Team | 1 | 2 | 3 | 4 | Final |
| Kenston | 7 | 7 | 0 | 7 | 21 |
| Eastlake | 0 | 10 | 0 | 8 | 18 |
Kenston: Evan Pyle 9-yard TD run 10:02 left in 1st Q 7-0 Kenston
Eastlake: 25-yard FG Spencer Wood 11:43 left in 2nd Q 7-3 Kenston
Kenston: Kee-SHaun Merrill 91-yard kickoff return 11:30 left in 2nd Q 14-3 Kenston
Eastlake: Chase Valletto 11-yard TD run 3:44 left of 2nd Q 14-10 Kenston
Kenston: Jon Tomcufcik 20-yard TD pass to Stanley Branson 7:22 left of 4th Q 21-10 Kenston
Eastlake: Jake Tanski 5-yard TD pass to Tyler Dodd, 2-point conversion good 2:21 left of 4th Q 21-18 Kenston
Player of the Game: Jack Porter, RB Kenston
It was a pretty solid night Jack Porter had against the Rangers in Friday nights win. He carried the ball 25 times for 120 yards. The offense pretty much revolved around Porter all night as he was the driving force to the Ranger defense.
"In the second half the offensive line opened up the holes for me." Jack Porter said, "Nothing was really hitting after the first series, but they put it together in the

NEO Sports Insiders Newsletter
Sign up to receive our NEOSI newsletter, and keep up to date with all the latest Cleveland sports news.