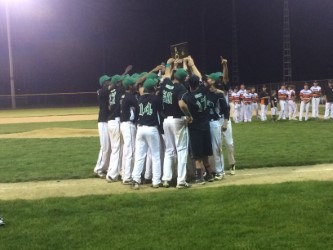 EUCLID, OHIO – After a rocky first few innings, the top-seeded Mayfield Wildcats rallied from a 5-run deficit to win the Division 1 Euclid District championship by a final score of 7-5.
Lefty Nico Ferreri started for the Wildcats and struggled with his command throughout his brief outing. He hit two batters in a row with the bases loaded, and was relieved by Ryan Walden before recording a single out. Walden limited the damage to a Chase Axelrod sacrifice fly that put the Rangers up 3-0 after the top of the first.
Mayfield Head Coach Don Ramer said they planned on using Walden in relief, but not quite so early in the game.
"We told Ryan to be ready, it could be early, it could be late, but he was going to finish it one way or another," Ramer said. "It happened a lot earlier than we anticipated."
Charlie Finucan started strong for North, recording the first eight outs of the game via strikeout.
"We were complacent, taking a lot of pitches," Ramer said. "I know he had good movement, he was moving the ball in and out but it was like we were star struck."
In the top of the third, the Rangers gave their starter two more insurance runs. Chase Axelrod singled home Dillon Rohm and Dylan Streb walked with the bases loaded to give North a 5-0 lead.
In the bottom of the 4th, the Wildcats' bats came to life. Mayfield batted around and used an RBI single from Bobby Snyder, a 2-run double from Angelo DelBalso, a wild pitch and a 2-run single from Sam Guerrini to take a 6-5 lead and chase Finucan out of the game. Jack Hollinshead added an RBI single against reliever David Kalinowski to give the Wildcats a 7-5 lead.
North Head Coach Dave Eberly said Finucan changed his approach once he allowed a baserunner.
"He got a runner on and he started changing his mechanics," Eberly said. "He started worrying about the runner a little bit too much and he started leaving the ball right over the plate and they're good hitters."
Ryan Walden was solid in long relief for Mayfield and earned the win. The lefty ended up pitching a complete game in relief, giving up two runs on two hits, walking five and striking out three.
Eberly said he had faith his team would come back and win even with two outs in the 7th due to the way his team has battled all season.
"We thought this was kind of our season," Eberly said. "We've been through every amount of adversity possible. I felt like we had the momentum, just thought it was ours. It just slipped away in one inning."
Ramer said he was proud of the way his team rallied and is looking forward to the regional tournament next week.
"We're blessed to move on and we'll represent the district well and we'll see what we can do," Ramer said. "But hopefully we'll throw better strikes come next week."
The WRC and District champion Wildcats improve to 18-5 on the year and move on to play Solon in the Canton regional tournament on May 26.

NEO Sports Insiders Newsletter
Sign up to receive our NEOSI newsletter, and keep up to date with all the latest Cleveland sports news.