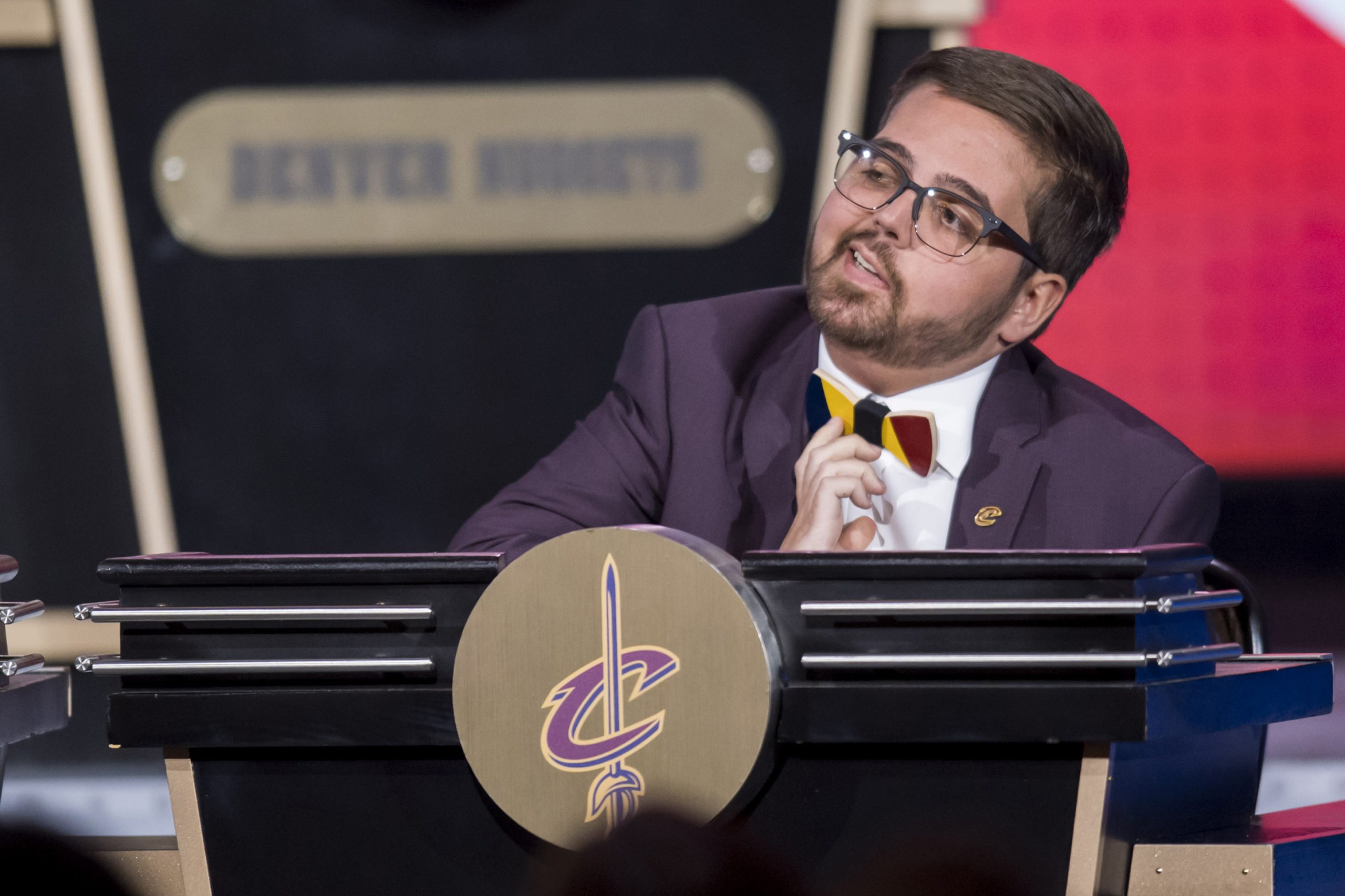 Cleveland- Today is the day basketball fans all across the country have been waiting for. Future's of NBA franchises will be changed by a few ping-pong balls. This is also the first year that the leagues three worst teams ( New York, Cleveland and Phoenix) all have the same odds (14%) to land the first overall pick.
While the number one pick is always the prize of the lottery, this season has a little extra at stake.
Zion Williamson.
The most hyped NBA prospect since the 2012 NBA draft, that saw the New Orleans Pelicans walk way with Anthony Davis.
While 14 teams are vying for the number one pick, only one lucky franchise will have the opportunity to draft Zion Williamson.
1. New York Knicks: 14.0 percent
2. Cleveland Cavaliers: 14.0 percent
3. Phoenix Suns: 14.0 percent
4. Chicago Bulls: 12.5 percent
5. Atlanta Hawks: 10.5 percent
6. Washington Wizards: 9.0 percent
7. New Orleans Pelicans: 6.0 percent
8. Memphis Grizzlies: 6.0 percent
9. Dallas Mavericks: 6.0 percent
10. Minnesota Timberwolves: 3.0 percent
11. Los Angeles Lakers: 2.0 percent
12. Charlotte Hornets: 1.0 percent
13. Miami Heat: 1.0 percent
14. Sacramento Kings: 1.0 percent
Due to the Cleveland Cavaliers winning the tie-breaker with the Phoenix Suns, the Cavs can fall no lower than the sixth pick in Tuesday's lottery. Lets take a look back at some of the success and failures of drafting in the top six in the NBA Draft.
1st pick
As mentioned above this is the prize of the NBA lottery, belief is that whomever lands the top spot will draft Zion Williamson. While popular belief is that the first pick is the easiest pick to make, historically speaking teams have often struggled with this decision. Cavalier fans have to look no further than the 2013 draft ( Anthony Bennett) to realize that number one isn't always a home run.
It would be easy to believe that the number one pick is supposed to become a cornerstone of your franchise, when in reality ones draft position matters as much as the guys making the decision. Below are the last 10 number one picks and while some of these guys have blossomed into great NBA players, a lot of these guys have become extremely flawed as their career has unfolded.
2018 Deandre Ayton
2017 Markelle Fultz
2016 Ben Simmons
2015 Karl Towns
2014 Andrew Wiggins
2013 Anthony Bennett
2012 Anthony Davis
2011 Kyrie Irving
2010 John Wall
2009 Blake Griffin
#2 Pick
While the second pick tends to hold less pressure than the first, it often leads to teams reaching on a guy or even simply taking whom they think the best available is. Which takes us back to trusting the guys in charge of making the pick. Depending on the year, there are often two or three guys in discussion for the top selection.
Which in theory would make this pick seem easy, but history shows us that is not always the case.
2018 Marvin Bagley
2017 Lonzo Ball
2016 Brandon Ingram
2015 D'Angelo Russell
2014 Jabari Parker
2013 Victor Oladipo
2012 Michael Kidd-Gilchrist
2011 Derrick Williams
2010 Evan Turner
2009 Hasheem Thabeet
#3 Pick
The third pick seems to feature more success than the second pick, particularly over the last five seasons. When selecting with the third pick, teams usually have the option to take a guy they've been high on through the whole draft process. Knowing that you probably won't be able to draft the "best prospects" teams often do everything in their power to make sure they land someone who can help their franchise here.
2018 Luka Doncic
2017 Jayson Tatum
2016 Jaylen Brown
2015 Jahill Okafor
2014 Joel Embiid
2013 Otto Porter
2012 Bradley Beal
2011 Enes Kanter
2010 Derrick Favors
2009 James Harden
#4, #5, #6 Picks
Many believe that the 2019 NBA draft falls off after the top three picks, which is not an uncommon trend over the years. Teams picking in this range, often are counting on those above them to make mistakes or simply crossing their fingers they select the right player. While picks 1-3 are attached with the hope of changing the direction of ones franchise, these next few picks are often just looked at as hopeful All-Stars.  Now that doesn't mean if the Cavs fall out of the top three, that fans should be disappointed, but rather they should adjust their expectations.
Some of the best picks in the drafts are made in the middle of the lottery. It doesn't happen often, but years like this one where their is no consensus big board it may be more likely.
#4 Pick
2018 Jaren Jackson
2017 Josh Jackson
2016 Dragen Bender
2015 Kristaps Porzingis
2014 Aaron Gordon
2013 Cody Zeller
2012 Dion Waiters
2011 Tristian Thompson
2010 Wesley Johnson
2009 Tyreke Evans
#5 Pick
2018 Trae Young
2017 De'Aaron Fox
2016 Kris Dunn
2015 Mario Hezonja
2014 Dante Exum
2013 Alex Len
2012 Thomas Robinson
2011 Jonas Valanciunas
2010 Demarcus Cousins
2009 Ricky Rubio
#6 Pick
2018 Mo Bamba
2017 Johnathan Isaac
2016 Buddy Hield
2015 Willie Cauley- Stein
2014 Marcus Smart
2013 Nerlens Noel
2012 Damian Lillard
2011 Jan Vesley
2010 Ekpe Udoh
2009 Johnny Flynn
The 2019 NBA Draft Lottery will be held at the Hilton Chicago on Tuesday, May 14. ESPN will air the results live at 8:30 p.m. ET. While the NBA Draft will be held June, 20th at Barclays Center in Brooklyn, New York.

NEO Sports Insiders Newsletter
Sign up to receive our NEOSI newsletter, and keep up to date with all the latest Cleveland sports news.