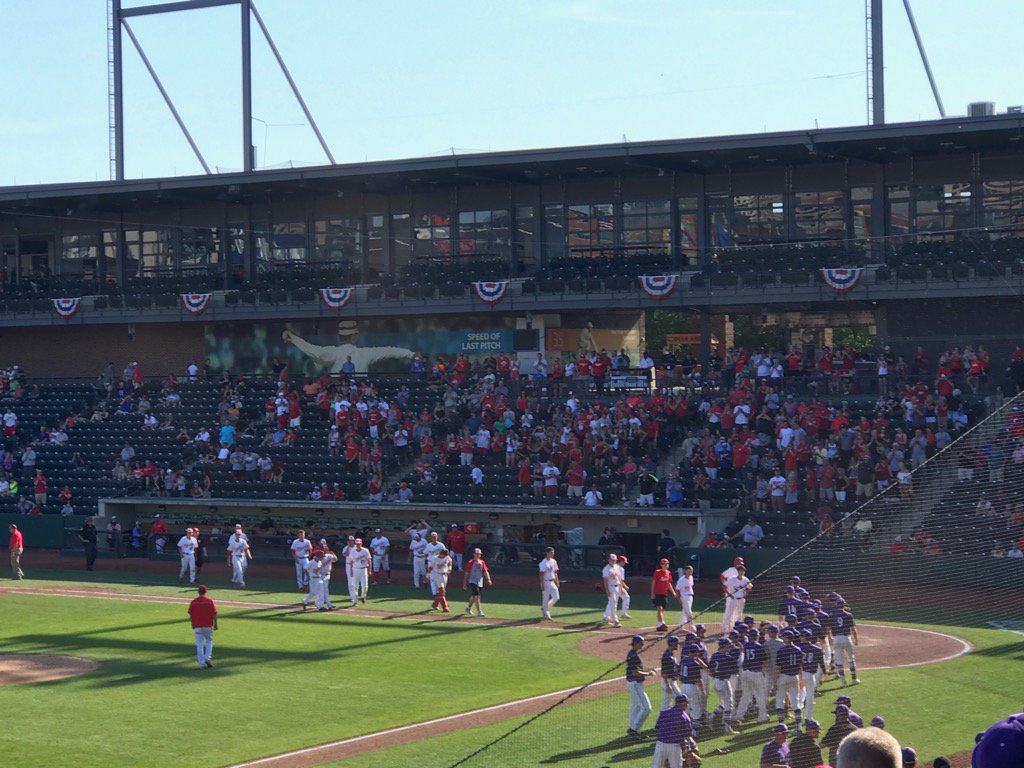 Massillon Jackson's historic 2017 run continues, as the Bears defeated Lakota West, 5-1, in a Division I State Semifinal at Huntington Park in Columbus.
Jackson (29-2) received another dominant outing from right hander Kyle Nicolas, who worked a complete game, allowing one run on three hits and striking out seven.
The senior touched 94 on the radar gun and acknowledged after the game he was especially pumped up to pitch on the biggest stage, in his final pitching appearance of his high school career.
"Coming in here, this atmosphere, obviously there's going to be a little nerves, but definitely with those four runs (in the top of the first inning), I came out strong and was felt like I could let it loose," Nicolas said.
"I decided to just pace myself after the first inning and that helped with my command because you can't always bring it back all the way and keep the same command that I try to use."
Jackson's offense came out hot, as the Bears scored four runs in the first inning, two of which came from a two-run single by Nicolas, who helped his own cause at the plate.
Cade Mottice started the game off with a single, swinging at the first pitch.
Dillon Dingler followed him up with a single.
Jake Mottice laid down a bunt and hustled down the line. The ball popped out of the first baseman's glove, allowing Cade Mottice to make the turn around third and score.
Nicolas delivered his two-run single and later scored on an RBI single from Jack Dear.
"We had great at-bats and you saw a lot of barrels on the ball," Jackson coach Bill Gamble said after the game.
"We got really aggressive early and got some good pitches. We hit them later, too but they were some "at-em" balls and their defense made some good plays. Jake Kates is a really good pitcher and he had some good defense behind him."
With a four-run lead, Nicolas mowed through the first three innings, as the only Lakota West baserunner reached first on an error.
Kates bounced back after a rough first inning, retiring 11 straight hitters, but his offense couldn't get going.
In the bottom of the fourth, Chase Wullenweber broke up the no-hitter with a leadoff single. Nicolas struck out the next three.
Lakota West finally broke through in the bottom of the fifth, as Eric Hooper scored after leading the inning off with a double.
Frankie Schmitt drove him in and stole second, but Nicolas limited the damage to one run.
Jackson added an insurance run in the top of the seventh, as Nick Harrison was hit by a pitch, Cade Mottice drew a walk, and Dingler drove Harrison in with an RBI single.
It was Dingler's third single of the day, as the Ohio State commit finished 3-for-4 with an RBI, a run scored and a stolen base.
"He can slow (the game) down," Gamble said.
"Not many athletes can do that. He's able to stay within himself. We saw him lose it a little early in the year, trying to do too much, but now he's just doing his part. It's also a credit to the guys around him for pulling their weight. Cade and Jake and K-Nic,
Nicolas came back out to work the bottom of the seventh and issued his first walk of the day to start the inning.
Hooper, who already doubled off Nicolas, sent a high fly ball to the gap in right center, but Harrison raced over to make a running catch, robbing Lakota West of extra bases and stopping a rally before it started.
"That was amazing," Nicolas said.
"I thought it was a double or a triple for sure, but that was one of the greatest plays I've seen."
Nicolas made quick work of the next two to end the game and send the Bears to the State Championship.
"He's been pitching like a No. 1 all year, even coming out of the bullpen at the beginning of the year (after basketball). When he takes the ball, he gets really greedy and we like that," Gamble said.
Jackson will play the winner of Strongsville vs. Olentangy Orange on Saturday night at 7 pm.

NEO Sports Insiders Newsletter
Sign up to receive our NEOSI newsletter, and keep up to date with all the latest Cleveland sports news.