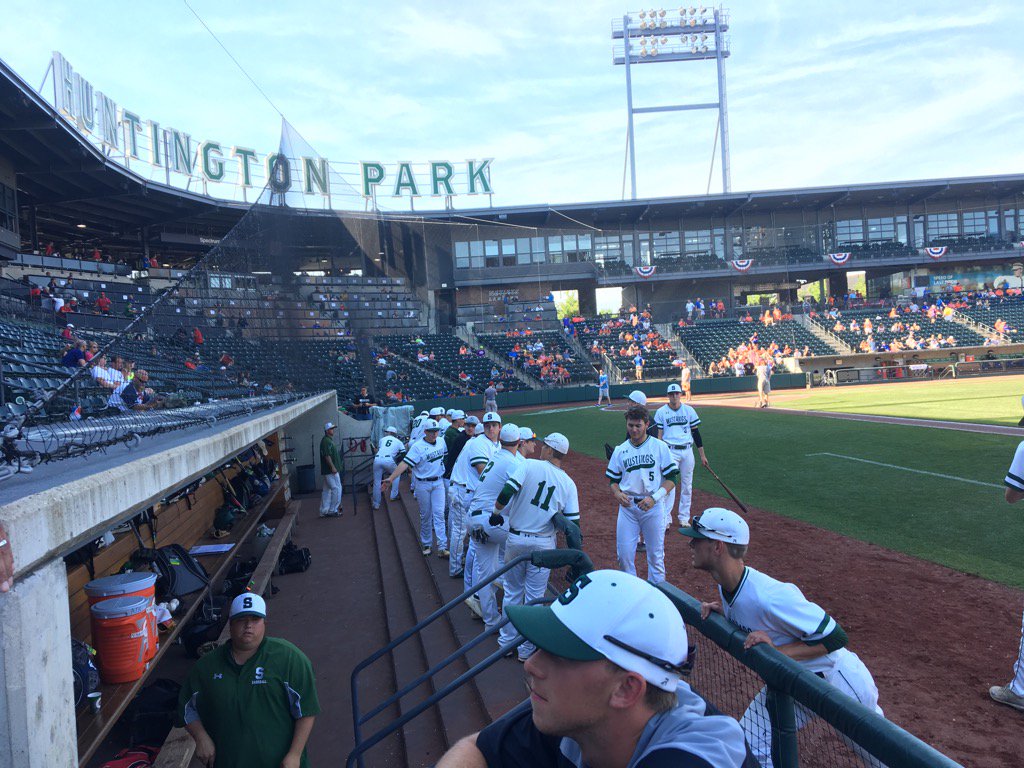 The Strongsville Mustangs continued their flair for the dramatic with a 3-2 win over Olentangy Orange in a Division I State Semifinal on Friday, June 2.
The game ended on a 4-6-3 double play, the second double play turned by Strongsville's middle infield on the night, as junior right hander Matt Brosky finished off the complete game.
FINAL: 4-6-3 double play sends @SHSVarsityBase to the State Championship! pic.twitter.com/3elalFPxai

— PBR Ohio (@PBR_Ohio) June 3, 2017
Minutes before the game-ending play, senior catcher Parker Shannon erased a leadoff single with a backpick, firing a strike to first base, where Trevor Denning was covering after first baseman Noah Trizzino charged up to protect on a bunt attempt.
"That was an incredible moment," Brosky said.
"We have practiced that play all year and sometimes we've been shaky, but that's exactly how you run it and how you want to do it. You couldn't ask for anything else."
Strongsville jumped out to an early 1-0 lead in the bottom of the first, as Shannon plated a one-out single, stole second, advanced to third on an errant throw and scored on a passed ball.
The Mustangs added two more runs in the bottom of the second, as Mitch Midea led the inning off with a single, Kyler Damm followed him up with a double, and Shannon delivered a clutch two-run single to make it a 3-0 game.
Shannon went on to finish 3-for-3 with three singles, three stolen bases, two RBI and a run scored.
"As I keep telling anyone who wants to listen, he's our best player. He's one of the best players in the state of Ohio," Strongsville Head Coach Doug Cicerchi said.
"Mercyhurst is getting an unbelievable talent. He's the heart and soul of our team. He's always been a great talent, but this year, he's turned into a true leader. We have a lot of leaders on this team, but I think he's the one, maybe even moreso than anyone else. Everything he's gotten, he's earned. This team has earned everything they've gotten."
"I was mentally ready to play today," Shannon said.
"I definitely felt like because I'm top of the order I wanted to start things off for our guys and I wanted everybody to follow me. I was just trying to get on base and let whatever happen after I got on."
Brosky worked four innings before surrendering a hit, and received some great defense behind him, including a sliding catch by center fielder Alex Gray.
The Pioneers came to life in the fifth, drawing back-to-back walks to start the inning and Cole Callaghan broke up the no-hitter with an RBI single.
Jason Schutte also drove in a run with an RBI single, but Midea made one of several great plays at shortstop to get the second out of the inning.
With runners at the corners, Brosky induced a flyout to Damm in right field, keeping the Mustangs in front, 3-2.
Orange had another opportunity in the bottom of the sixth, as Zach Stiteler started the inning with a leadoff single, but Brosky struck out the next two and induced a groundout to get out of the jam.
Another leadoff single to start the top of the seventh gave Orange a chance to do damage, but Shannon made the big throw to first.
Brosky then found himself in another tight situation after issuing his third walk of the day.
Rather than go to Midea as the closer, Cicerchi kept Brosky in the game, and as fate would have it, the junior induced a hard groundball to Trevor Denning, who made a quick throw to second, and the shortstop fired a bullet to first to catch the speedy Schutte by a fraction of a second.
Midea also serves as one of the team's best pitchers and was maybe a play or two away from being moved from shortstop to the mound.
"There was a thought to bring Midea in (to pitch) from the fifth inning on. There were about three or four times in the sixth and seventh inning we almost went to him. If we don't get an out there, (Brosky) was probably coming out there, but he gets the double play to win it," Cicerchi said.
"I know Trevor doesn't necessarily look like the prototypical second baseman, but he makes the routine play. That's all he did on both double plays. He made the routine play and got the first out first and then let Mitch do the rest using his athleticism and then turn the double play."
Brosky, the junior starter spent much of the last three innings under duress, but credited his teammates, especially the senior leaders for helping him remain poised.
"A lot's going through your head," he said.
"You're thinking too much, but I think that's what Parker does. He just slows my brain down and has me throw strikes and worry about the next pitch.  As a new kid this year, I transferred and I knew a lot of them before I came in, but these guys taught me how to be a part of a team."
Strongsville (25-8) advances to face Massillon Jackson (29-2) in a battle of two Northeast Ohio schools for the State Championship.
First pitch is 7 pm Saturday at Huntington Park in Columbus.